This article first appeared in City & Country, The Edge Malaysia Weekly, on February 10, 2020 - February 16, 2020.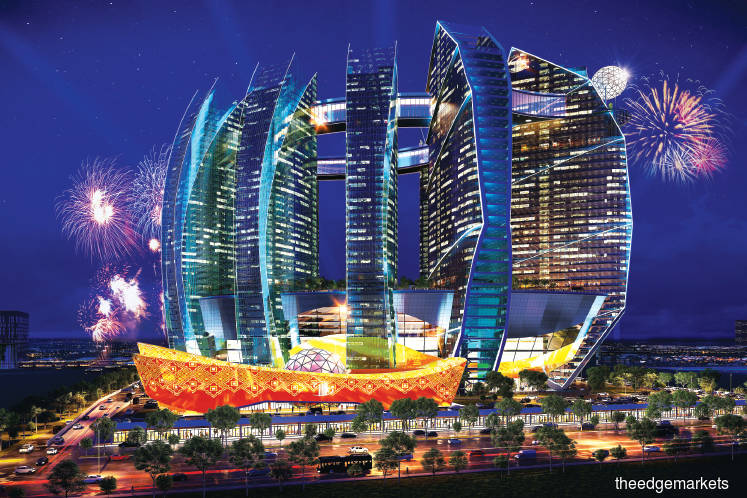 The company's latest offering, The Sail, will comprise nine towers with a total built-up of 991,096 sq m. Photo by Sheng Tai International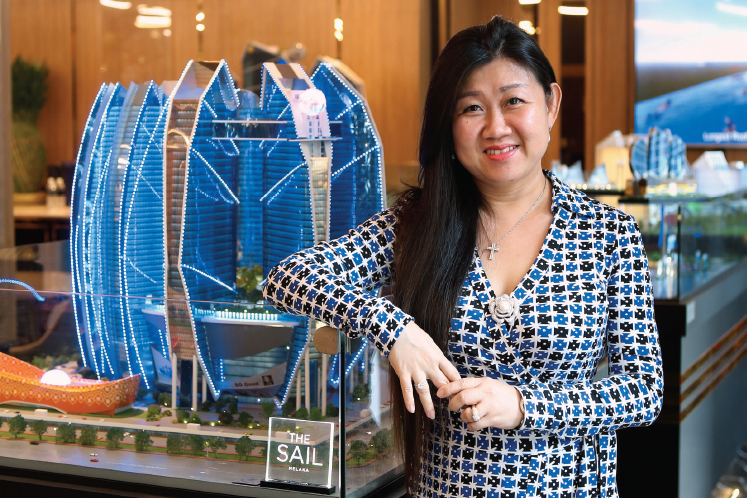 Leong: Property tourism has been the main driver of our company and marketing strategy. Photo by Mohd Izwan Mohd Nazam/The Edge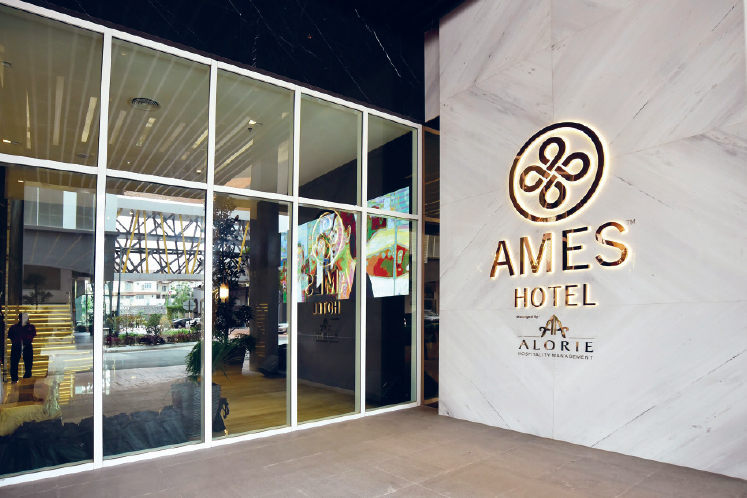 The completed Ames Hotel has a GDV of RM207.5 million
Sheng Tai International founder and chairman Datuk Leong Sir Ley has always had a passion for travelling, which led her to establish a company that is involved in tourism and property development. A lawyer by profession, she currently splits her time between Hong Kong and Kuala Lumpur.
"I do travel a fair bit and that has definitely influenced our business proposition and the unique selling points of our services and products [at Sheng Tai International]. Property tourism has been the main driver of our company and marketing strategy," Leong tells City & Country.
The company offers tours to Malaysia to interested buyers and investors from Hong Kong, Shanghai, South Korea, Japan and Australia. The tours include sightseeing as well as visits to the group's sales gallery in Ayer Keroh, Melaka.
"We are hands on and we do try to accommodate our different target markets, their needs and requests. The bottom line is that we would like to showcase the best of Malaysia and to convince potential buyers to purchase a property and live here. Alternatively, we also promote our products as potential second homes, and the Malaysia My Second Home programme.
"We conduct at least two seminars per week in the different countries. At the seminars, participants would be screened to identify the serious buyers, who would then be invited to join our property tours in Malaysia. The screening process includes checking their bank statements and so on," reveals Leong.
Those who participate in the tours are also invited to stay at accommodations under the group's hospitality division, such as Ames Hotel and Metra­Square Serviced Suites in Melaka.
"We have a main office in Hong Kong and opened another in Shanghai [last year]. We see between 600 and 700 participants per month," says the affable Leong.
Founded in 2012, Sheng Tai International has a few completed and ongoing projects — mainly in Melaka. Its portfolio includes Ames Hotel (with a gross development value of RM207.5 million), MetraSquare Serviced Suites (GDV: RM364 million),  and Regalia Beachfront Residence in Melaka (GDV: RM288 million). 
According to Leong, the developments that have been launched have mostly seen a take-up rate of 80% (on average).  "Our previous launches have generally been priced in the middle range of between RM300,000 and RM500,000 [per unit]."
Its latest offering, The Sail in Melaka, is beginning to take shape. Sheng Tai International expects the RM6.5 billion mixed-use development to change the landscape of the state. Leong says the group is now firming up the remaining parts of the project.
The Sail
As its name suggests, the development's façade will resemble a kapal layar (sailing boat in Malay). "Our goal is to make The Sail a catalyst for change in the historical city of Melaka. Poised to become a part of the state's central business district and a landmark, the development is inspired by Admiral Zheng He's voyage to the West," says Leong.
"We would like to turn it into a melting pot or hub for business, education and social exchange," she continues. "We believe The Sail will boost the state's economy and create a lot of job opportunities as well as bring in investors from all over the world."
The project will comprise nine towers with a total built-up of 991,096 sq m and is due for completion in 2024. Groundwork is about 20% completed.
Apartments at The Sail have a starting price of RM800,000 and built-ups of 344 sq ft, 422 sq ft and 604 sq ft each. "So far, our buyers have mostly come from Hong Kong and Shanghai," says Leong. The units of the first tower have been pre-launched, with about 20% booked to date. The development is expected to be officially launched in 4Q2020.
The Sail will comprise 3,259 high-end condotels; three 61-storey 5-star and 6-star hotel towers with a total of 2,584 units; a one-million-sq-ft luxury shopping centre; 1,215 business suites; and a Melaka­-Nanjing-themed cultural square that will house 65 shops overlooking the Strait of Malacca.
"The components that are for sale include the condotels, business suites and hotels as well as the cultural square's shoplots, which will be leased back to us after that. All of this will be available for sale by phases. For the shopping mall, we are in negotiation with several parties, including mall consultants, to determine the best direction for it.
"We will operate and manage the sold units like a hotel, and provide buyers with guaranteed rental returns (GRR). We have a successful model that is now up and running at Ames Hotel and MetraSquare Serviced Suites. Both properties are managed by Alorie Hospitality Sdn Bhd," says Leong.
"We are unable to provide details of [the percentage and duration of the GRR] due to the competitive nature of this industry as well as potential legal ramifications," she explains.
Facilities at the development will include a 330m (internal perimeter) sky ring that will connect the nine towers; a four-million-sq-m convention and exhibition centre; the Illuminating Sky Garden; and The Moon, a 360° elliptical-shaped experiential centre.
"It will also feature international sky-themed restaurants, one of the longest rooftop pools in the region and, most importantly, the tallest nine-tower linked structure," Leong remarks.
The Sail is located close to Klebang Beach, Impression City, Mahkota Medical Centre, A'Famosa, Jonker Street, Cheng Ho City, Melaka River Cruise, Melaka Gateway and The Stadthuys, among others. "The project is accessible via the Melaka Coastal Highway," she notes.
"In terms of its overall master plan, we have already sealed several business contracts with international corporations like China Railway Construction Engineering Group and PowerChina International Group Ltd.
"Sheng Tai International was invited by the Pirogov Russian National Research Medical University for a study tour and it has expressed interest in setting up an overseas branch at The Sail. We are also in talks with Rector of Moscow Aviation Institute (National Research University) for a similar objective as well as several well-known international brands to take up space at The Sail, whether at one of the nine towers or at the cultural square," Leong reveals.
"Sheng Tai International will continue to form strategic partnerships to bring more foreign direct investment into Malaysia, particularly Melaka, to raise the country's profile on the international arena and to boost its economic growth."
The developer has about 300 acres of undeveloped land in Rawang, Selangor. "In terms of our future plans, we are in the midst of firming up the details of our upcoming township in Rawang," she says.