This article first appeared in The Edge Malaysia Weekly, on November 26, 2018 - December 02, 2018.
One of the main concerns that Imri will have to address is the disparity between Unifi and Streamyx pricing in terms of megabits per second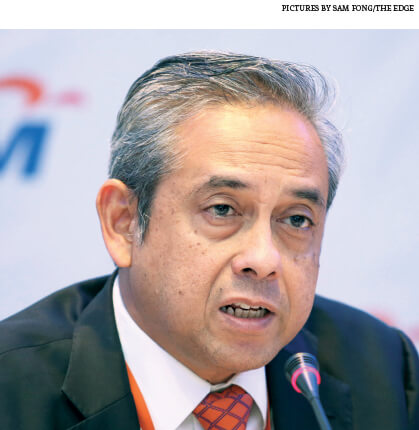 Bazlan's resignation is believed to be part of another round of GLC clean-up
TELEKOM Malaysia Bhd group chief operating officer Shazril Imri Mokhtar, who resumed the role of acting group CEO on Nov 16 following the resignation of Datuk Bazlan Osman, is the third person to helm the hot seat this year.
But with TM's share price plummeting more than 60% so far this year, Imri — or anyone who fills the top spot — will be faced with the Herculean task of leading the telecommunications company, which is in a tight spot. Communications and Multimedia Minister Gobind Singh Deo shows no sign of dialling down criticism of the telco for its high prices and poor customer satisfaction.
When reporters asked Gobind at the parliament lobby last week if he would take responsibility for the decline in TM's share price, the minister stood his ground. "I completely understand that it involves share prices. But at the end of the day, that does not mean a minister or a government official cannot ask any question or say anything."
One of the main concerns that Imri will have to address is the disparity between Unifi and Streamyx pricing in terms of megabits per second (Mbps). The Malaysian Communications and Multimedia Commission (MCMC) has issued a statement saying that TM must rationalise the pricing disparity so that consumers are charged fairly.
Recall that the recent reduction of wholesale broadband prices with the enforced Mandatory Standard on Access Pricing (MSAP) has led to a decline in the price of the Unifi package plan. While this is good for Unifi fibre customers, those who are still on Streamyx have been left out. For example, Streamyx's 1Mbps plan costs RM110 per month while Unifi's 100Mbps plan is RM129 per month.
In response to The Edge's questions on how TM, under Imri, will work together with the government, the telco says it will continue to play a major role in fulfilling Malaysians' digital and communications needs and is in ongoing discussions with the government for a collaborative win-win approach to effectively address the connectivity issues faced by Streamyx customers, once and for all.
"In order to do this, TM looks to accelerate discussions with the ministry and the MCMC to explore specific collaborative options, various fit-for-purpose technologies as well as optimising existing industry mechanisms in order to deliver a better broadband experience nationwide," it adds.
According to CIMB Investment Bank research analyst Foong Choong Chen, regulatory pressure remains on TM as the minister is trying to address issues such as Streamyx's subscribers not being able to enjoy the revised fibre offers due to technical availability.
Foong adds that some Home Streamyx subscribers may turn to other service providers or other technology platforms such as LTE (Long-Term Evolution) or LTE-A (Long Term Evolution-Advanced) wireless broadband.
"Besides the 340,000 Home Streamyx subscribers that will be migrating to Unifi, we have assumed a churn of 40,000 Home Streamyx subscribers annually to other retail service providers … We have assumed the blended Streamyx ARPU (average revenue per user) stays at RM88 per month from financial year 2019 onwards," Foong says in a Nov 5 report.
In an earlier report, Affin Hwang Investment Bank research analyst Isaac Chow had pointed out the downside risk to Streamyx's package prices with TM yet to make any reduction given the focus by the minister.
Meanwhile, there is concern that the telco could face a more competitive landscape as the government has requested Tenaga Nasional Bhd to consider offering its fibre optic network to telcos to promote competition and choice. In September this year, TNB kick-started a pilot project in Jasin, Melaka, which is expected to be completed by the end of the year. The project aims to assess the technical, safety and commercial viability of using TNB's existing infrastructure for internet connectivity.
All these are happening at a time when TM is faced with competitive pricing in the fixed broadband space. While it is too early to judge how Imri will perform, one thing is for sure — he will have his work cut out for him.
Speculation over Bazlan's resignation
The market has been talking about the possibility of another round of government-linked company (GLC) shake-ups, and Bazlan's departure has added fuel to the fire.
Recall that following Pakatan Harapan's victory in the 14th general election, many high-profile leaders at GLCs were replaced. Some of the big names included Tan Sri Abdul Wahid Omar and Tan Sri Azman Mokhtar. TM's then managing director and group CEO, Datuk Seri Mohammed Shazalli Ramly, had also resigned from his positions in June due to "personal matter".
An investment head with a local asset management house says the market is speculating that Bazlan's resignation is part of another round of GLC clean-up. "There is [also] talk of CEOs from two local banks leaving," he says.
It is worth noting that several names have been bandied about as potential candidates to fill the position of TM's CEO, including Astro Malaysia Holdings Bhd CEO Datuk Rohana Rozhan, who will be leaving the pay-TV operator come 2019, and former TM chief strategy officer Dr Farid Mohamed Sani.
In response to The Edge's enquiries on Bazlan's resignation, TM says he tendered his resignation to "pursue other interests". It adds that he will be staying until the end of February to facilitate the leadership transition and to ensure continuity.
The telco says the appointment of Imri to replace Bazlan is a natural progression, and that the transition will be smooth with Bazlan's continued guidance. "He (Imri) will be able to effectively execute the strategic initiatives planned to navigate the company through the current challenges and position us in a more resilient, competitive and sustainable footing."
Value emerge for TM
MIDF Research head Mohd Redza Abdul Rahman believes TM is inching closer to an oversold position and its valuation — based on its forward enterprise value-to-earnings before interest, tax, depreciation and amortisation (EV/Ebitda) of 4.5 times — is much lower than some of the other telcos such as DiGi.Com Bhd (11.8 times) and TIME dotCom Bhd (11.0 times).
According to him, TM deserves a better valuation considering that it has a larger fibre network than its peers.
Is it the right time to buy TM's shares?
"I believe so … because the value is there, particularly for dividend yield hunters," says Redza. However, he points out that sentiment is a bit negative at the moment with the issue of TM's package pricing, resignation of senior management and interruption of services.
"TM is at the 44th position in terms of market capitalisation size (and this is without imputing other factors such as liquidity and free float). So, talk of its exclusion from the FBM KLCI components, which is highly possible, has also added to the negative sentiment.
"If TM is removed (from the FBM KLCI), this will result in further downward pressure on its price movement, although its financial fundamentals will not likely be adversely affected."
On the bright side, Redza says the telco has an advantage with the high speed broadband (HSBB 1 and 2) and sub-urban broadband (SUBB), which will give it a head start over competitors even if the government were to allow more competition.
He believes the group could still monetise the available capacity of its fibre networks by selling them to major telcos, despite lagging behind in last-mile connection compared with other mobile players and TIME dotCom.
"Despite these challenges, there is still value in the company. Dividend yield is rather attractive at above 5% and any increase in broadband penetration will likely benefit its wholesale business," says Redza.
While it is true that investors with a long-term investment horizon may want to give TM a second look, most analysts who cover the counter feel that it is too early to jump in. Bloomberg data shows that 10 out of 28 analysts have a "sell" call on the stock while another 14 have a "hold" call. Only four have a "buy" call.
Affin's Chow is one of the more pessimistic ones, with a "sell" call and a target price of RM2.25. CIMB's Foong, meanwhile, has recommended investors to hold on to TM's shares and has a target price of RM2.50.
Save by subscribing to us for your print and/or digital copy.
P/S: The Edge is also available on Apple's AppStore and Androids' Google Play.