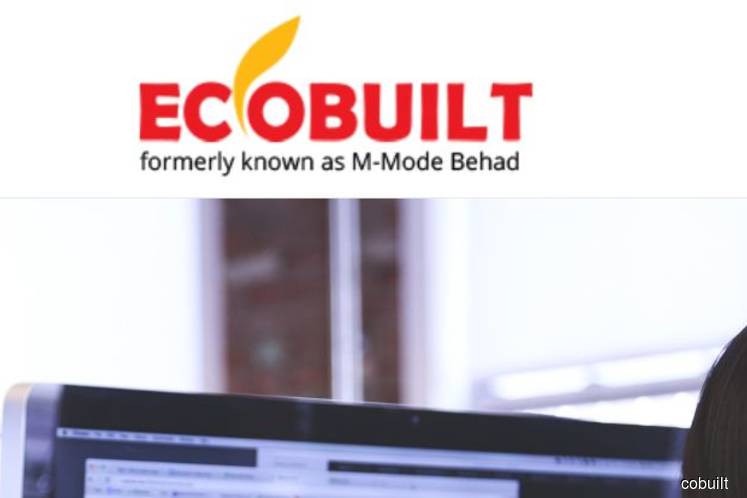 KUALA LUMPUR (April 30): Ecobuilt Holdings Bhd (formerly known as M-Mode Bhd) is buying the entire stake of construction firm Rexallent construction Sdn Bhd (RCSB) from Kilau Makmur Sdn Bhd (KMSB) for RM45 million by issue of new shares and cash.
In addition, KMSB, which is jointly owned by Chan Peng Kooh and Tan Chuan Cheong, has also taken up 102.4 million new Ecobuilt placement shares.
Consequently, KMSB will emerge as the single largest shareholder holding a 32.5% stake in Ecobuilt.
Meanwhile, Ecobuilt's existing largest shareholder Ong Chee Koen, who holds a 20.8% stake in the company, will see his equity interest reduced to 10.8% after completing the acquisition and share placement. Ong, 62, is chief executive officer and executive director of Ecobuilt.
RCSB is a Grade 7 contractor registered with construction industry development board (CIDB). Its construction portfolio mainly focuses on building construction, including residential and non-residential building.
In a filing with Bursa Malaysia, Ecobuilt said it had entered into a conditional share sale agreement with KMSB for the acquisition.
"The purchase consideration will be satisfied via a combination of cash payment of RM20 million and the remaining purchase consideration of RM25 million to be satisfied via the issuance of 102.04 million new Ecobuilt Shares at the issue price of 24.5 sen per Ecobuilt Share," Ecobuilt said.
Ecobuilt said the company has proposed a private placement in conjunction with the proposed acquisition via entered into subscription agreements with several parties to raise funds to partially satisfy the cash consideration for the acquisition.
The parties are namely Datuk Ong Choo Meng, non-independent and non-executive director in the quarry equipment company SCH Group Bhd, LEW Assets Sdn Bhd, LWY Holdings Sdn Bhd, Tumpat Delima Sdn Bhd and Indra Tropika Sdn Bhd.
The private placement entails the issuance of up to 48.81 million shares representing 30% of the total number of its issued shares. It has priced its private placement shares at 24.5 sen per share, which will raise approximately RM11.96 million, of which RM11 million was earmarked to partially finance the deal.
Aside from private placement, the cash consideration will also be funded through Ecobuilt's internally-generated funds.
Being the latest practicable date (LPD) of this announcement, RCSB has an outstanding order book of approximately RM184.71 million from three on-going construction projects, of which the last project is expected to be completed by July 2021.
Since RCSB commenced its construction business activities in 2013, it has been involved in seven construction projects, of which four construction projects had been completed.
On RCSB's financial performance, it recorded a profit after tax (PAT) of about RM1.44 million in the financial year ended June 30, 2016 (FY16), RM1.56 million in FY17 and RM0.95 million in FY18.
Ecobuilt said the vendor has provided an aggregate profit guarantee of RM7.5 million for the two financial years ending June 30, 2020 and 2021.
"Based on the yearly profit guarantee of RM3.75 million, the purchase consideration of RM45 million represents a price-to-earnings (PE) multiple of 12 times of the said forward earnings," Ecobuilt added.
As such, Ecobuilt said total profit guarantee by RCSB is expected to improve its consolidated profit throughout the profit guarantee period.
Ecobuilt added the proposed acquisition presents an opportunity  to strengthen its construction arm and increase its order book with minimal internal cash outlay.
"Barring unforeseen circumstances, the Board believes that the proposed acquisition would contribute positively to the group's earnings and financial performance in the medium to long term," said Ecobuilt.
It also said the acquisition is expected to be completed by the third quarter this year.
In a separate announcement, Ecobuilt sadi it has slipped into the red with a net loss of RM264,000 in the third quarter for the financial year ended Feb 28, 2019 (3QFY19) compared with a net profit of RM1.52 million a year ago.
It said the net loss was mainly due to retirement gratuity paid to personnel in the content & value added services division and higher construction costs in PV Bukit OUG Project which resulted in a lower profit margin in the current quarter.
Quarterly revenue, however, jumped 62% to RM18.92 million from RM11.68 million in 3QFY19.
The poor quarterly performance dragged the group's net profit for the cumulative nine months (9MFY18) down 57.36% to RM2.25 million from RM5.28 million a year ago. Revenue also fell 31.45% to RM42.86 million from RM62.52 million.