This article first appeared in The Edge Financial Daily, on November 18, 2019.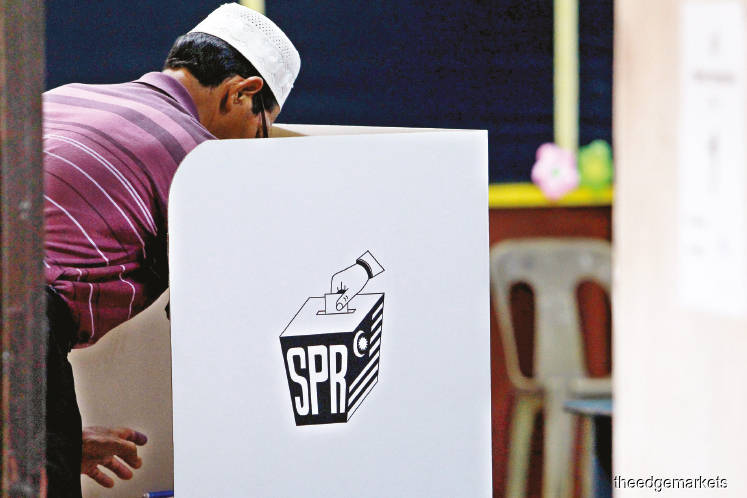 Filepic of a voter at a polling station during the GE14. In a nutshell, Pakatan is saying there are lessons to be learnt. However, the writer can recall them saying the same things after each defeat in by-elections held after GE14. The Edge file photo
KUALA LUMPUR: By 2pm on Saturday, the media covering the Tanjung Piai by-election noted that the polling districts where Pakatan Harapan had done well in last year's 14th general election (GE14) were seeing lower turnouts. In fact, it was lower than average.
And the turnout at polling stations where Barisan Nasional (BN) did well last year was higher than average. If the trend continued, the media felt, BN would most likely snatch victory.
Indeed, BN did snatch victory convincingly. And almost immediately after the official results were made known, veteran politician Syed Husin Ali sent out a tweet calling for Tun Dr Mahathir Mohamad to take responsibility for the defeat and the prime minister "should know what to do immediately". (See accompanying story.)
Dr Mahathir is Pakatan chairman and also chairman of Bersatu. And the Pakatan candidate for Tanjung Piai is from Bersatu.
Anyway we are now hearing of Pakatan leaders saying the right things. Like accepting the people's verdict and the coalition needing to work harder to regain the confidence of the rakyat and to deliver on promises made.
In a nutshell, Pakatan is saying there are lessons to be learnt. However, I can recall them saying the same things after each defeat in by-elections held after GE14.
Now that it has also lost in Tanjung Piai, can it be said that lessons from past by-elections were not learnt? Or that Pakatan had done little to right the wrongs?
Yes, there are many other new factors which contributed to the crushing defeat in Tanjung Piai. Many are still outlining them. And Pakatan itself knows what the problems are. Perhaps this time Pakatan has learnt its lessons and the Tanjung Piai by-election has made the coalition sit up and take stock.
Still I would like to know what Pakatan ought to do post-Tanjung Piai.
To Ilham Centre chief executive officer Mohd Azlan Zainal, Pakatan must focus on delivering the rest of the pledges in its manifesto for GE14 which have not been fulfilled. "The basics are there in Budget 2020 — the Shared Prosperity Vision — but now it's the question of implementing these measures," said Mohd Azlan.
He said priority must again be given to dealing with issues affecting the majority of the rakyat like the cost of living, the petrol price, commodity prices, etc and to "put a stop to internal politicking and the instability in its parties, which can be worrying, and not to get swept away by the racial perception play".
Ilham Centre fellow Dr Hamidin Abdul Hamid said it is time for Pakatan leaders to roll up their sleeves and work "to give better service to the people compared with the previous administration and their service must be of high value, fast, spot on and transparent".
To do this, Hamidin, who is a political analyst from Universiti Malaya, said Pakatan must come up with new policies to set them apart from the former BN government and these policies must meet the needs of all Malaysians.
"Their efforts must be visible, that is Pakatan Harapan must be seen working to ease the people's burden in facing cost of living and other economic issues," he said.
To these, I would add that burdensome toll charges and issues related to the PPTPN (National Higher Education Fund Corp) student loan fund must be settled. In the words of Ilham Centre head of research Dr Yusri Ibrahim, at the very least, Pakatan should give some sort of explanation which can be understood and accepted by the masses. "In both aspects, Pakatan has failed up till now," he said.
Yusri said that post-GE14, Pakatan has totally lost the perception war and it must view this seriously.
In Yusri's view, some ministers in the Pakatan government are very weak. Hence, he is calling for a restructured and reshuffled cabinet to reinstil public confidence in the coalition.
"Pakatan Harapan must be wary that the Tanjung Piai by-election defeat puts them in a precarious position or, as we say in Malay, ibarat telur di hujung tanduk," said Yusri.
As for BN, according to Hamidin, Tanjung Piai will be "heralded as the success of Muafakat Nasional — a rebranded BN which is for all Malaysians".
For the record, Muafakat Nasional is the name given to the Umno-PAS alliance. For the Tanjung Piai by-election, the alliance had roped in MCA as the BN candidate is an MCA man.
Mohd Azlan concurred, saying that the victory in Tanjung Piai will be a boost for BN as it prepares itself for GE15, what more with the support of PAS as the party will play a prominent role. But despite calling itself "national", Mohd Azlan expects religious rhetoric will still be their main weapon to attack the government.
A highly placed Umno source said BN now ought to strengthen its cooperation with PAS, working in a more coordinated way. BN component parties must map out strategies at all levels and "the commitment of Umno members must be beefed up and we too need to emphasise the wala(k) principle".
"Wala(k)" is practiced in PAS to ensure loyalty towards its leaders, the party and its struggle. To detractors, however, this is blind loyalty.
Yusri acknowledged that many are drawing the conclusion that BN will win GE15 based on its by-election victories in Semenyih, Cameron Highlands, Rantau and now Tanjung Piai.
Admitting that such a conclusion "does make sense" and without taking anything away from BN's winning streak, Yusri noted however that voters' feedback, opinions and sentiments differ between by-elections and general elections. The momentum from by-elections does not necessarily continue into general elections.
"Take a look at the by-elections in Sungai Besar and Kuala Kangsar in 2016. BN won both comfortably but that momentum could not be sustained in last year's GE14", Yusri pointed out.
I do not know if the Umno source was thinking the same thing Yursi was saying when the source said to me: "We must also peek at any opportunity of becoming the government before GE15 although we hold to the principle of not becoming the government via the back door."
Well, we are talking politics here.
---
Mohsin Abdullah is a contributing editor at The Edge. He has covered politics for more than four decades