This article first appeared in The Edge Malaysia Weekly, on October 18, 2021 - October 24, 2021.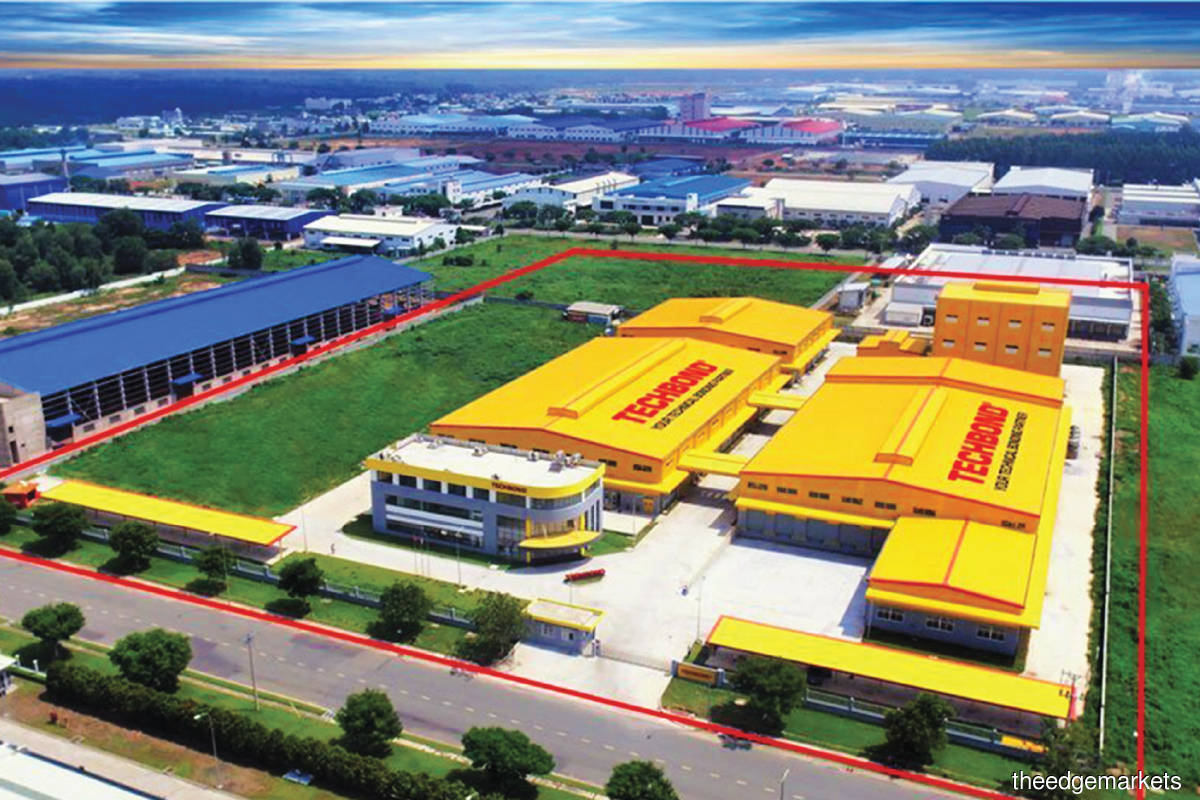 TECHBOND Group Bhd, a home-grown adhesives and sealants manufacturer, is moving upstream to produce polyvinyl acetate (PVA) polymer, a crucial ingredient for making industrial glues.
And it is banking on its new polymerisation plant at the Vietnam-Singapore Industrial Park II-A (VSIP2) in Binh ­Duong, Vietnam, to be a game changer for the group, according to its deputy managing director Lee Seh Meng.
The new VSIP2 factory complex, which commenced operations in June, is the group's third manufacturing facility and its second plant in Vietnam. Main Market-listed Techbond also has manufacturing facilities in Shah Alam, Selangor.
Besides the polymerisation plant, Techbond's VSIP2 factory complex also houses two water-based adhesives manufacturing lines, as well as two warehouses, an administration office and a quality control centre.
"About two years ago, we started constructing our second factory in Vietnam. Our polymerisation plant is already in commercial production. We have imported some PVA polymer (from Vietnam) to Malaysia to produce water-based adhesives here," Lee tells The Edge in a virtual interview. Lee's father Lee Seng Thye, who is managing director of Techbond, is the single largest shareholder in the group, with 72% equity interest.
Other prominent names among its top 30 shareholders as at Oct 20 last year were Avenue Portal Sdn Bhd, JAG Capital Equity Sdn Bhd, ACE Private Equity Sdn Bhd — a unit of financial services firm ACE Group — and three Hong Leong funds. JAG Capital Equity is an investment trading company wholly-owned by ACE Market-listed total waste management company JAG Bhd, while Avenue Portal is controlled by Datuk Ng Aik Kee.
Techbond's polymerisation plant has an installed production capacity of 4,680 tonnes a year. About 30% of that is for its own raw material consumption, another 30% is for sale to customers — mainly polymer distributors and trading houses — and the remaining 40% used to develop new types of industrial adhesives.
Lee says the completion of the VSIP2 plant was delayed by the Covid-19 pandemic, resulting in a higher capital expenditure incurred. Including working capital, Techbond has invested about RM27 million in the new factory complex, which sits on land measuring 30,000 sq m and has a built-up area of about 7,000 sq m.
"Right now, our polymerisation plant is running at a 30% utilisation rate, and this capacity has been fully allocated for our internal use. We are already using our own polymer in our Vietnam and Malaysia operations. Previously, we purchased polymer from third-party suppliers. Compared to the prices that we [paid to them], our polymerisation plant in VSIP2 can give us an estimated savings of 20% of raw material cost," he says.
Techbond's new plant also enjoys full tax exemption on its income in the first two years, followed by a 50% reduction of tax payable in the subsequent four years.
Before the pandemic, the polymer business was estimated to contribute annual revenue of up to RM100 million to the group.
"Given the current pandemic situation, I think we have to be realistic and a little bit conservative. Like it or not, many manufacturers in Vietnam and Malaysia are still closed," Lee says.
He notes that Techbond is, however, fortunate that it has a well-diversified customer portfolio geographically. Today, 75% of the group's revenue is derived from overseas markets such as Indonesia, China and Cambodia.
High barriers to entry
Lee says the polymer business has high barriers to entry, which prevents new players from easily entering this space.
"As far as I know, most of our competitors are not moving upstream to produce polymers, except for maybe one or two companies. A polymerisation plant [involves] a totally different technology compared with making industrial adhesives. Simply put, making adhesives is about blending, but making polymers is about chemical reactions, which involves higher investments and higher risks. That's why we are using a lot of explosion-proof equipment in our polymer plant," he adds.
Lee says adhesives manufacturers who do not consume a lot of polymers prefer to buy the raw materials from suppliers. Although the raw material for polymers is synthetic monomers, which is essentially a by-product of oil, he highlights that the price of monomers is still subject to supply and demand, and has no direct correlation with oil prices.
"Monomer is highly reactive, so our job as a polymer producer is to stabilise it. Once the monomer becomes polymer, which is water-based, then it is stabilised and will not explode anymore," he explains.
Companies that use polymers include those in the paint and coating, glue, rubber glove and chemical industries. Anything that is chemical-based would most likely require polymers as they are the backbone of the entire chemical chain, Lee elaborates.
Techbond posted a record profit before tax (PBT) of RM15.3 million in the financial year ended June 30, 2021 (FY2021), despite incurring RM1.5 million in unrealised foreign exchange loss.
"In the absence of this non-cash item, our adjusted PBT should have been higher at RM16.8 million. In fact, we also recorded our best-ever net profit since listing in FY2021. We will continue to work hard in FY2022," says Lee.
He adds that the group initially forecast another record profit in FY2022, but has revised its estimate downwards due to the forced shutdown of factories in Vietnam and Malaysia because of the pandemic, which has impacted its performance for 1QFY2022.
"We are working hard to catch up in the remaining three quarters of FY2022. We are actively engaging and securing more overseas clients to recover lost ground in 1QFY2022."
Shares of Techbond have declined 14% year to date to close at 46 sen last Wednesday, giving it a market capitalisation of RM246.17 million. According to AbsolutelyStocks, the counter is currently trading at a historical price-earnings ratio of 21 times and a price-to-book value ratio of 1.6 times. Its net cash position stood at RM38 million at the end of June this year.