This article first appeared in The Edge Malaysia Weekly, on November 11, 2019 - November 17, 2019.
Click / Tap image to enlarge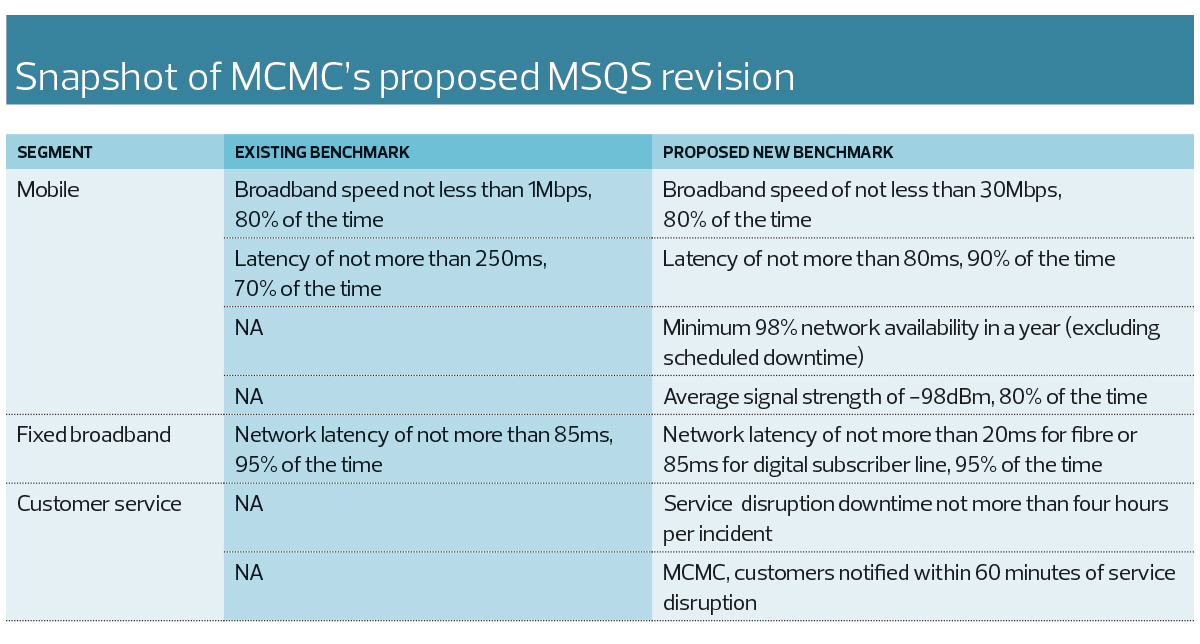 XXX
WHETHER the Malaysian Communications and Multimedia Commission's (MCMC) proposed revision of service quality standards will, in itself, present a significant capital expenditure risk to major telco players remains to be seen. However, it reinforces growing regulatory pressure that adds to multiple headwinds besetting the industry, say some analysts.
"If the revised standards go ahead as proposed, the telco industry generally may not be able to keep up so easily, but any investment required may be a drop in the ocean in the bigger picture," says a telco analyst who requested anonymity.
A second analyst who declined to be identified concurs, saying that the revised quality of standards, while drastic compared with existing standards, in themselves "should not be a major issue" and may affect smaller telco players more significantly than the Big Three — Celcom Axiata Bhd, Maxis Bhd and Digi.com Bhd.
That said, another analyst says the proposed revision adds to a sense that regulatory pressure is still growing for telco companies, which are already grappling with intense competition, cost pressures and shrinking margins.
Late last month, MCMC released four public inquiry documents that proposed raising the Mandatory Standards for Quality of Service (MSQS) for mobile, fixed broadband and customer service. (See table.)
MCMC is seeking feedback until Dec 9. The new MSQS are slated to begin from January 2020.
"The revised MSQS seem to be a tall order. If MCMC decides to stick to the revised MSQS, mobile operators may have to significantly increase their capex (the exact quantum is hard to ascertain)," says CGS-CIMB in an Oct 28 research note.
The research house says that based on its indoor test that concluded early last month, the Big Three only met the 30Mbps broadband speed threshold 18% to 36% of the time and the -98dBm signal strength 29% to 55% of the time.
"However, given MCMC's consultative approach, we believe industry players' views will be given fair consideration before it arrives at the final decision," the report says.
Celcom, a unit of Axiata Group Bhd, declined to comment on queries that included whether it can meet the new standards with its existing infrastructure. At the time of writing, Maxis had not responded to similar queries.
A Digi spokesman said it is too early to comment on the possible outcome of the public inquiry, adding: "We intend to respond accordingly to the public inquiry to MCMC, and are supportive of the ambitions to improve service quality and promote inclusive access across the country."
The new MSQS standards, if implemented as is, may add a potential capex risk to multiple headwinds that are already squeezing margins for the sector.
For example, Maxis saw its net profit fall 23% year on year to RM1.16 billion in the nine months up to Sept 30, 2019 (9MFY2019), amid stable revenue of RM6.72 billion.
Year to date, its average revenue per user (Arpu) for postpaid and prepaid has fallen by 4% and 2% y-o-y respectively, though offset by an 18% increase in wireless broadband Arpu.
It is worth noting that as at Sept 30, Maxis' net debt stood at RM7.86 billion or 2.16 times its earnings before interest, taxes, depreciation and amortisation (Ebitda) (Dec 31: 1.86 times).
The last time Maxis exceeded its self-imposed net-debt-to-Ebitda ceiling of two times was in 2017, when it subsequently raised funds through a private placement.
That said, its operating free cash flow remains positive and improved 13% y-o-y to RM2.65 billion in FY2019 to date. It has spent RM636 million in capex in 9MFY2019.
However, another cash flow pressure point for Maxis could be its commitment to spend RM1 billion over the next three years to grow its fibre broadband and enterprise business, which may add new revenue streams in the long term but hurt near-term profitability.
Digi recorded a 6% y-o-y lower net profit of RM1.09 billion for 9MFY2019 ended September as revenue slipped 5% y-o-y to RM4.62 billion. Arpu for major segments has remained relatively flat.
In 9MFY2019, Digi spent RM548 million in capex, 20.4% higher y-o-y. Operating cash flow shrank 10.1% y-o-y to RM1.65 billion, according to management's discussion notes accompanying its latest results.
Note that Digi also revised its full-year Ebitda expectations twice this year. When 1QFY2019 results were released, it projected a low single-digit Ebitda growth but revised that to a "low single-digit decline" by mid-2019 and amended expectations further to "low-medium single-digit decline" when releasing its 3QFY2019 results on Oct 18.
Axiata Group is expected to release its third-quarter results later this month. In the first half of FY2019, its Malaysian segment — representing Celcom — reported a 5.91% y-o-y higher profit of RM351.56 million despite revenue slipping 7.86% y-o-y to RM3.33 billion.
The higher profit was due to lower operating expenses, which offset lower revenue caused by lower device sales and falling domestic roaming rates, among others.
Note that despite intense competition squeezing margins, telco companies still pay sizeable dividends. In 9MFY2019, Maxis paid RM1.17 billion in dividends, which represents 44.2% of its net operating cash flow. It is unclear how much Celcom paid to its parent Axiata in 1HFY2019.
Digi paid RM1.1 billion in dividends in 9MFY2019 versus RM1.66 billion in net operating cash flow — Digi also drew down RM1 billion in additional borrowings in 9MFY2019, though it also repaid RM710 million in debt.
As capital needs grow, telcos in the region — including Malaysia — have the option to reduce dividends amid competing priorities, says Moodys' Investors Service in a late-October report analysing dividend payments and spectrum costs for telcos across South Asia and Southeast Asia. Moody's analysis included the Big Three for Malaysia.
In contrast, telcos have limited flexibility to cut back on capex given intense competition. As for spectrum commitments, telco players cannot reduce commitments without compromising quality and access to the spectrum, it added.
"High dividends and spectrum payments, coupled with high capital spending, have resulted in negative free cash flow from 2009 until 2018 for telcos in five of the seven South and Southeast Asian countries we analysed (including Malaysia)," writes Moody's.
"Given their lack of free cash flow, we do not expect that telcos will be able to generate enough cash to pay down debt and reduce their elevated leverage."