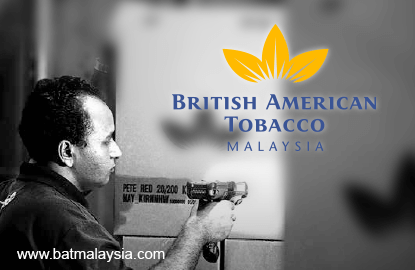 British American Tobacco (Malaysia) Bhd
(July 31, RM67.50)
Maintain hold call with a target price (TP) of RM65.54. Several online publications reported [last week] of the impending changes to the tobacco minimum price laws as well as new smoking bans as agreed between the Health Ministry and the steering committee of the World Health Organization Framework Convention on Tobacco Control.
Under the new changes, effective Aug 1, 2015, the minimum prices of cigarettes will be increased from RM7 to RM9. The floor price will increase further to RM10 by Aug 1, 2016.
New non-smoking areas are to be gazetted, including all public parks, public areas in national parks and more significantly, the committee has also agreed to declare air-conditioned eateries as fully smoking prohibition zones.
According to Health Minister Datuk Seri Dr S Subramanium, the implementation of the new non-smoking areas will be under "educational enforcement" and will only be fully enforced beginning of next year.
In the near term we are neutral on the news with respect to the minimum floor price and its effects on British American Tobacco (Malaysia) Bhd (BAT) as the lowest price BAT sells its cigarettes is RM12.30 (Peter Stuyvesant/Pall Mall).
The floor price to be effective Aug 1 is still a massive 36% wayward of the lowest selling price cigarette brand manufactured by BAT (RM9 vs RM 12.30).
In the medium and long term, we are negative on the total industry volume.
Previously "air-conditioned eateries" were already considered a smoking prohibition zone, however the exception to the rule allowed a third of the premises to be unaffected by the ban, this privilege has been fully revoked.
We believe that this will significantly alter smokers' habits by penalising them for the ritualistic post-meal cigarette.
Furthermore, this would affect the volumes sold from these trade channels and should the trend in regulations continue, there is a strong probability the non-smoking areas could also be expanded in future to include places such as pubs and all eateries, thus decimating the industry volume as a whole.
Enforcement would be key, in seeing the implications on industry volume in the medium to long term. — Hong Leong Investment Bank Research, July 31
This article first appeared in Digital Edge Daily, on August 3, 2015.