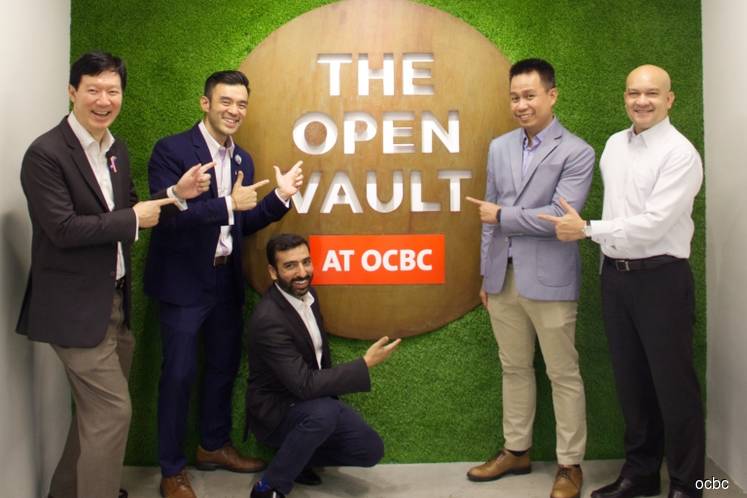 (From left): OCBC Bank (Malaysia) Bhd CEO Datuk Ong Eng Bin, OCBC Malaysia head of The Open Vault Fabian Lim, OCBC regional head of The Open Vault Pranav Seth, Malaysia Digital Economy Corp (MDEC) vice president of growth ecosystem development Norhizam Kadir, and OCBC Al-Amin CEO Syed Abdul Aziz Syed Kechik at the official launch of The Open Vault. Photo by OCBC Bank
KUALA LUMPUR (Dec 12): OCBC Bank (Malaysia) Bhd has launched a new finance technology (fintech) and innovation unit called The Open Vault to drive the Singapore bank's progression into the digital era.
Its chief executive officer Datuk Ong Eng Bin said the new unit is tasked with redefining banking through co-innovation with fintech firms around the globe.
"The partnership with fintechs is growing to become an invaluable part of the bank's problem-solving approach, and the setting up of the physical office will lend impetus to realising its objectives," he said in a statement today.
"Digitalisation and innovation are not new to us at OCBC Bank. In fact, we have been deepening our digitalisation efforts significantly over the past few years. The Open Vault will be dedicated to activities that engage the expertise of the fintech community.
"The Open Vault is now our very own hub for experimentation. It will serve to validate new ideas and shape the bank of the future with a focus on offering seamless customer experience, harnessing the power of data and establishing an enriched journey for our customers," he added.
Earlier this year, The Open Vault partnered with two US-based fintech companies, Ondot Systems Inc and EZMCOM Inc, to explore innovative approaches to tackling two long-standing banking challenges.
"The challenges put forward to the two fintech companies have to do, respectively, with embedding the bank into the lifestyle spending journey of urban customers in Malaysia, and adoption of non-traditional methods to identify and authenticate a customer's identity and business operations without any face-to-face interaction," said OCBC Bank.
"If all goes well, the results of the collaborative efforts with Ondot Systems and EZMCOM on technology experimentations will serve as a guide for commercialising the technology solution at a later time," it added.