This article first appeared in The Edge Malaysia Weekly, on August 26, 2019 - September 01, 2019.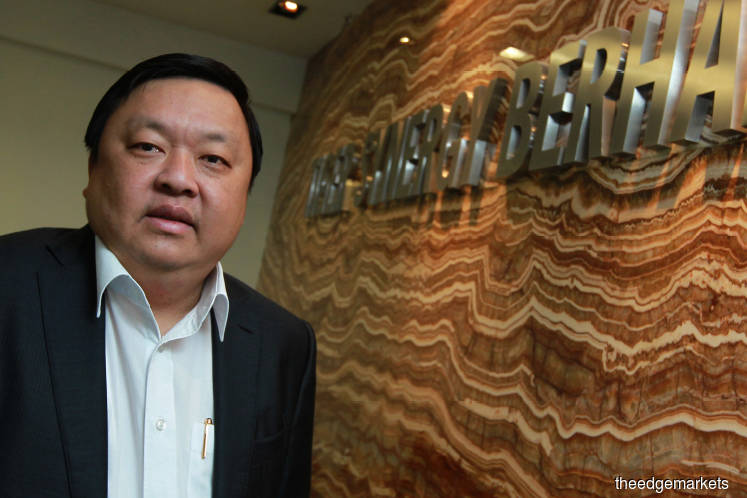 AN interesting shareholder tussle seems to be brewing at ailing construction and property development outfit Tiger Synergy Bhd.
"I am not sure what is in the company but there have been quite a few fights for control," says a high-level executive from a broking house.
In one corner is privately held Safari Alliance Sdn Bhd, a company linked to Goh Ching Mun, who is co-founder, former executive director and controlling shareholder of restaurant operator OldTown Bhd.
In the other is Tiger Synergy's top brass — executive chairman Datuk Tan Wei Lian; his daughter, managing director Tan Lee Chin; and his wife, executive director Datin Sek Chain Nee.
To recap, last Wednesday, Safari Alliance sought an EGM under Section 310 (b) of the Companies Act 2016, which allows shareholders with a 10% stake or more to call for one. However, the reasons for doing so were not made known. Speculation is that the EGM was to remove the board of directors and wrest control of the management of Tiger Synergy.
As at July 23, Safari Alliance and Goh held 320.69 million shares, or a 25.26% stake, in Tiger Synergy, while Wei Lian and his family controlled 5.84% or 74.15 million shares. It is not clear if the executive chairman and his family have the support of any other shareholder.
Goh surfaced as a substantial shareholder in Tiger Synergy on Nov 8 last year with 55.5 million shares or 8.57% equity interest. He built his stake up to more than 25% and transferred 150 million shares or 11.82% to Safari Alliance on July 18.
Contacted by The Edge, Wei Lian said he was at a meeting and could not talk.
It is not clear what Wei Lian and his family have in mind considering his stake is much lower than that of Safari Alliance and Goh.
It is also not clear if he can muster enough support from the other shareholders of Tiger Synergy, which has a fragmented shareholding.
As at Oct 5 last year, the only substantial shareholders were Wei Lian with 10.24% and Michelle Looi Poh Gaik with 6.23%. Looi ceased to be a substantial shareholder in November last year when she sold her interest to Goh.
It is worth noting that Wei Lian, Lee Chin and Sek received RM1.63 million in salary, emoluments and share-based payments in FY2018, and RM3.61 million in FY2017.
As at end-March, Tiger Synergy had cash and bank balances of RM12.63 million and deposits with financial institutions amounting to RM679,000. It had long-term debt of RM8.37 million and short-term debt of RM2.61 million.
Goh and his partners had exited OldTown in March last year after Jacobs Douwe Egberts, a Dutch coffee company, offered RM3.18 a share or RM1.47 billion in total and took OldTown private. OldTown debuted on Bursa Malaysia in July 2011 at an issue price of RM1.25.
While Goh may be flush with cash, Wei Lian is a shrewd adversary who has survived a similar battle.
In December 2012, Wei Lian crossed swords with former Proton Holdings Bhd chairman Tan Sri Mohd Nadzmi Mohd Salleh and former Bank Simpanan Nasional Bhd chairman Datuk Seri Abdul Azim Mohd Zabidi.
The duo, who were well connected and possessed considerable clout at the time, tried to get on the board and oust Wei Lian and the other directors after accumulating more than 16% in Tiger Synergy. However, they did not succeed.
At the time, Wei Lian's shareholding in Tiger Synergy was more than 20%.
So, what could be the appeal of Tiger Synergy to Goh?
In the past five years, Tiger Synergy had only traded for a brief period above 20 sen — in 2013. It seems to have had only two profitable years — in FY2011 when it registered RM1.5 million in net profit, and FY2014, when it made a net profit of RM100,000.
Its share price closed last Thursday at 5.5 sen, giving the company a market capitalisation of RM69.8 million.
As at end-March, Tiger Synergy had a net asset value per share of 39 sen, largely made up of its land bank. The company's 2018 annual report states that it owns a 5.5-acre parcel of vacant development land in Rawang, Selangor, with a net book value of RM28.74 million; two acres of vacant development land in Cheras with a net book value of RM18.24 million; and 1.17 acres in Mukim Batu, Kuala Lumpur, with a net book value of RM17.64 million, as well as several smaller parcels. These parcels were acquired more than three years ago.
Wei Lian had emerged as the single largest shareholder in Seacera Bhd in February. He then started to criticise the management and pledged to invest over RM30 million in the tile maker to resolve its cash flow problems and liabilities. However, he ceased to be a substantial shareholder in June.