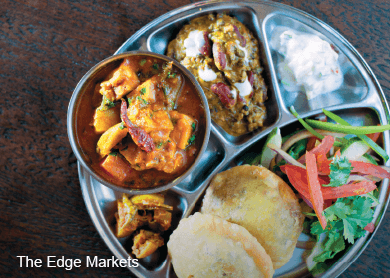 If you were to search the internet for recommended restaurants in Bali, Mama San would be one of the familiar names on the search results and once you have dined there it is not difficult to see why this is such a popular restaurant ... Now, the Asian delights served with Chef Will Meyrick's spin on the well-known favourites with be available on our home turf with the upcoming launch of the popular restaurant and bar in Suria KLCC.
An avid traveller and street food enthusiast, Meyrick has had the opportunity of meeting people from all walks of life while learning local recipes from them, first hand. Throughout his travels around the globe, he found himself being drawn by the cultural and gastronomical richness of the enchanting island of Bali in Indonesia, which he now calls home.
As it is in Bali and Hong Kong, the new restaurant here will embody the Mama San metaphor both in business model and interior design. The concept is personified by the character of a madam of authority in an Asian gentleman's club and is a recurring design theme in the restaurant.
Scotland-born chef Meyrick who is also the head chef of Mama San feels strongly about maintaining a personal touch and adopts a hands-on approach with his employees. "I spend three months at each restaurant upon its opening and subsequently rotate between restaurants once they are up and running," he explains.
In terms of interior design, customers can anticipate to see Balinese furniture fill the restaurant and a portrait of Mama San benevolently looking down at her patrons as well as a travelogue of old style photographs and retro-inspired mural wallpaper gracing the walls.
"I first considered Malaysia a long time back and recently revisited the idea when the opportunity arose to bring Mama San here," says award-winning chef and founder of Mama San restaurant when posed the question on why Malaysia was chosen as the second international outpost after the outlet in Hong Kong. The opening of the Mama San restaurant at Suria KLCC is in collaboration with the Melium Group and the owner and head chef is evidently eager to explore this new venture.
Meyrick is excited about the diversity of our local cuisine and has been travelling the peninsula learning to cook Malaysian dishes, for instance, making a road trip to Melaka to explore the traditional Peranakan food there. He quips that the menu here will be "same same but different" borrowing the famous local Thai expression. In addition to Malaysian dishes, the Mama San Kuala Lumpur menu will also incorporate Meyrick's own interpretation of Indonesian, Singaporean, Thai, Cambodian and Vietnamese cooking styles that are synonymous with his reputation as an innovative street food chef.
Speaking about the type of food we can expect to see on the menu, he tells us during the interview that took place in the weeks leading up to the opening of the restaurant, that the menu is still evolving with him constantly tweaking it each time he discovers a new delicacy or learns about an interesting type of food. "I am still in search of a menu that truly represents Malaysian food. Ideally, I would like the menu to include all types of Malaysian food — from thosai and a vegetarian thali set to chicken rice balls."
As for the future plans for Mama San, it is interesting to know that Meyrick plans are "to fortify and consolidate the existing restaurants into a household name that all customers can identify with, rather than a tourist attraction alone." Apart from the restaurant business, Mama San also takes an interest in the well-being of the people in the countries where it has a presence. "At the moment our corporate social responsibility project in some parts of Indonesia is going strong with the restaurant hiring local talent to assist them on the road to becoming trained chefs," he says.
Mama San will open its doors for business this Saturday, welcoming guests with a wide array of delights, born from in-depth research of the chef and founder coupled with his unyielding passion for the spices and flavours that make good food.
---
Mama San Kuala Lumpur is located at Lot 46, Ground Level, Suria KLCC.
This article first appeared in The Edge Financial Daily, on June 3, 2015.