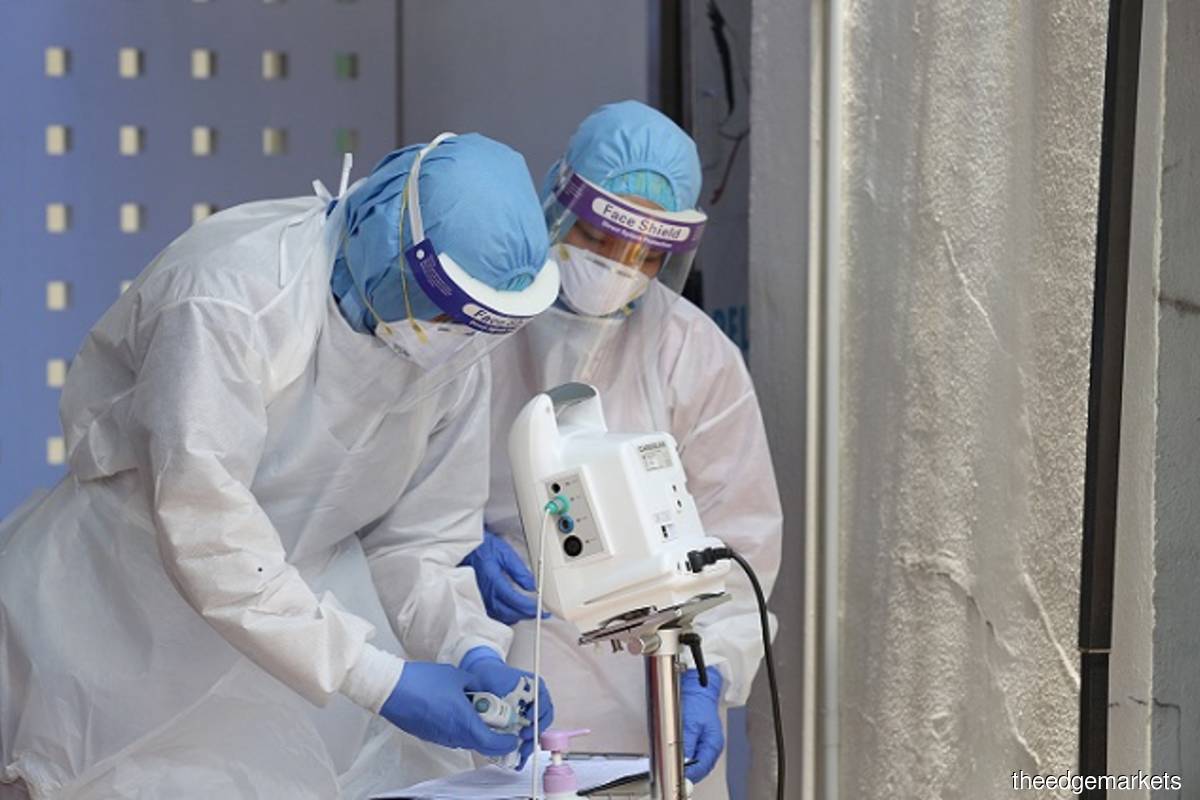 KUALA LUMPUR (Nov 19): Malaysia's new Covid-19 cases climbed to 1,290 — from 660 yesterday — pushing active cases which carry high  transmission risks to a record high of 13,222.
Selangor registered a spike of Covid-19 cases at 407 — the highest daily figure ever recorded since the pandemic started in January. The previous record high was 364 cases last Friday (Nov 13).
Health director-general Tan Sri Dr Noor Hisham Abdullah noted that 361 cases in Selangor came from existing and new clusters, while 26 cases were found from other Covid-19 screenings.
Furthermore, 19 cases were detected from screening of close contacts of Covid-19 positive patients while one case involved a Severe Acute Respiratory Infection (SARI) patient.
He added that the surge in Selangor's cases stemmed from the Teratai cluster which reported 245 cases today, followed by a newly-discovered cluster namely the Kapas BJ cluster with 55 cases.
"Both clusters involving foreign workers are linked to the workplace," said Dr Noor Hisham in a statement today.
The Klang Valley, comprising Selangor, Kuala Lumpur and Putrajaya have a total of 479 cases. Of these, Kuala Lumpur has 72 cases while Putrajaya did not record any case today.
Sabah continued to report the highest number of new cases at 660, bringing the State's tally to 24,929 versus Selangor with 8,594 total cases and Kuala Lumpur with 4,716.
Dr Noor Hisham said 250 cases found in Sabah, representing 38% of the new cases, were from the Covid-19-related prison clusters and detention centres.
Overall, the prison clusters and detention centres recorded a total of 269 cases today including the Sandakan prison cluster with 218 cases, followed by the Matambai cluster (15 cases),the Tembok cluster (15), the Kepayan Prison cluster (9), the PTS Tawau cluster (6), the Benteng PK cluster (3), and the Seberang Perai prison cluster (1).
The country's total cases swelled to 51,680 from 31,548 cases recorded as of Oct 31.
Dr Noor Hisham also reported four additional deaths, taking the cumulative deaths to 326. Two deaths were reported in Sabah, and one each in Perak and Johor.
He said, the deceased — involving three women and one man — were aged between 29 and 62 years.
Of the 1,290 cases nationwide, only five were imported. However, Dr Noor Hisham did not elaborate on the imported cases.
On the bright side, a total of 878 Covid-19 patients have recovered, bringing the total recoveries so far to 38,132.
Dr Noor Hisham said 110 patients are currently being treated in intensive care with 37 needing respiratory assistance.
Read also:
Covid-19: 110 infections found in four new clusters