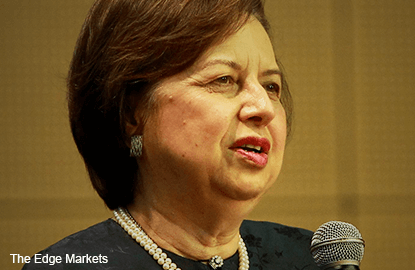 KUALA LUMPUR (Feb 17): Outgoing Bank Negara Malaysia (BNM) governor Tan Sri Dr Zeti Akhtar Aziz has demurred at the speculation over her successor's competence and credibility, as the central bank had done a process to screen the most suitable candidate — more so at the time when the economy is slowing down.
"We have a process in place that leaves the next governor with the relevant background and ability especially at a time like this, so that the transition can be managed well. And I do believe that the central bank has become a solid organisation with an institutional strength and resilience well-founded on the legislation... that provides us with wide-ranging power and independence as well.
"And with that, comes accountability," Zeti said after launching the investment account platform by Raeed Holdings Sdn Bhd, a consortium of six Islamic banking institutions.
Although she kept mum on who her successor is and when an announcement will be made, Zeti did say that the next governor should be free from any political agenda — for the sake of financial and economic stability.
"I have enjoyed the independence even before (the enactment of Financial Services Act 2013). During my time as governor, we (BNM) have served five Ministers of Finance and three Prime Ministers — and the central bank has always been treated with respect. And I expect this will continue," she said.
"The country needs an organisation like a central bank that is not drawn to any political development or agenda and remained focused on ensuring financial and economic stability, so that policies will be directed to achieve what is in the best interest for our country," she added.
Zeti is set to retire once her term ends at the end of April. Reports, however, have surfaced that external candidates had been considered to be the next BNM governor.
Apart from Zeti's deputies, names that have been thrown into the hat include Secretary General of Treasury for Ministry of Finance Tan Sri Dr Mohd Irwan Siregar Abdullah, and the ambassador to the US Datuk Dr Awang Adek Hussin.