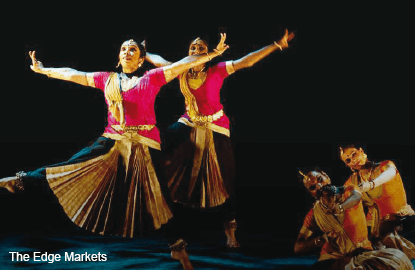 This article first appeared in The Edge Financial Daily, on 30 November, 2015.
THIS weekend, the Shantanand Festival of the Arts will be held for the second time. Organised by multi-disciplinary performing arts centre Temple of Fine Arts (TFA), the three-day festival will feature an amazing kaleidoscope of over 40 dance, drama and music shows and workshops staged by renowned artistes from Malaysia and around the world.
"We have learnt much from last year," says festival director Kumar Karthigesu. "We've built on the strengths of last year's festival and eliminated some of the weaknesses. For example, we found that a six-day festival model may not be the most efficient, from both the organisation's and the audience's point of view. So we have reduced it to three days, but keeping the momentum high. Another evolution is the selection of acts — we have carefully put together a better and more exciting blend."
The festival's format remains the same — a combination of workshops in the day and performances at night. Highlights for this year's festival includes, powerful qawwali singers Farid Ayaz and Abu Muhammad Qawwal from Pakistan, the awe-inspiring precision movements of the dancers of Srjan, headed by Odissi extraordinaire Pandit Rathikant Mohapatra, and Malaysia's very own gamelan exponents, Rhythm in Bronze.
The Malaysian Dance Showcase Series will proudly put on stage Malaysian Arts groups featuring genres that run the gamut from Capoeira, Chinese, Odissi, Flamenco, bharatanatyam, Melayu Asli, Yoga, Mohini Attam, and Ballet, while the music showcase includes a Jazz ensemble, traditional Chinese, Caklempong and Melayu Asli, Carnatic Music, and Sitar, all by high talented and popular local artistes.
"Personally, the Malaysian dance and music showcases are the most interesting and exciting aspect – we have world class artistes' right here, and I am looking forward to seeing them alongside the foreign artistes. Malaysian audiences need to compare and realise for themselves that our artistes are on par, and sometimes even better, than our foreign comrades," Kumar observes.
In the spirit of highlighting Malaysia's chairmanship of Asean this year, the festival will include a performance by the Philippines Ballet Theatre, arguably Southeast Asia's top ballet company, which will stage excerpts of their hit production, The Nutcracker.
Noted Southern Indian violin duo, brothers Ganesh and Kumaresh, are expected to set fire on the finale night of the festival with their lightning-quick playing and charming wit, while TFA's contemporary bharatanatyam production, Neo Margam, choreographed by Shankar Kandasamy, will complete the entire festival.
Much of the evolution of the festival is based on feedback from last year's festival, which was generally received quite positively. "There were some comments from last year on how we could improve on our performance delivery, for example with regards to admission, queues, and so on, and we have taken many of this into consideration and improved our processes," Kumar adds.
"It's funny — we think that KL is full of festivals all year round, and audiences may be tired of them by now. But last year's feedback showed us how thirsty people are for the kind of acts that we staged, and clamour for more. We have brought back a number of artistes from last year by popular demand, such as Flamenco Sin Fronteras from Singapore and the Sutra Dance Academy."
Proceeds from the festival will be channelled to the construction of the SivaSanta Dialysis and Medical Clinic, a not-for-profit medical centre located nearby TFA's existing building in Brickfields that is scheduled to be completed in 2017. A separate fund-raising gala dinner for this medical centre will be held on Nov 29 at Istana Hotel, and will include a sumptuous Indian vegetarian dinner and cultural performances that express TFA's all-encompassing approach to promoting performing arts in Malaysia.
---
The Shantanand Festival of the Arts will be held from Dec 4 to 6 at Temple of Fine Arts, 116 Jalan Berhala, Brickfields, KL. Admission is by donation, please call (03) 2274 3709 for details. For the full schedule of events, visit www.tfa.org.my.