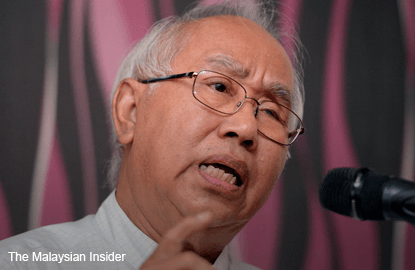 KUALA LUMPUR (Feb 15): Newly appointed Amanah Raya Bhd (AmanahRaya) chairman Tan Sri Sabbaruddin Chik says he will continue to criticise the government as rumours swirl that the post was meant to shut him up following the Bank Rakyat scandal, which he exposed two years ago.
"There is no issue (of me being silenced), if I see something wrong I'll say it," said Sabbaruddin, who made headlines in 2014 after he exposed a Bank Rakyat loan scandal involving a businessman with ties to Umno big shots.
Sabbaruddin, then Bank Rakyat chairman, revealed how carpet dealer Deepak Jaikishan had tried to repay his loan using 120 backdated cheques.
Critics said Deepak was a close associate of a family member of Prime Minister Datuk Seri Najib Razak.
In an interview with The Malaysian Insider, Sabbaruddin denied talk that the new post at AmanahRaya was a way of shutting him up following the Bank Rakyat scandal.
He admitted that the post was offered by Najib himself but said he never had any problems with the prime minister.
Sabbaruddin said he only had problems with Deepak, whom he claimed caused him to lose his job at Bank Rakyat.
Sabbaruddin's contract as Bank Rakyat chairman was not renewed after he stopped Deepak's attempt to pay back a RM32 million loan using backdated cheques.
"I only have problems with Deepak as I criticised his role in the loan scandal."
Deepak's plan, Sabbaruddin said, would have caused Bank Rakyat to lose RM14.6 million in late fees.
In March 2015, Deepak sued Sabbaruddin and tried to stop the publication of a book detailing the Bank Rakyat scandal.
Sabbaruddin said the suit had also cost him a potential job at Agro Bank. Bank Negara did not approve his appointment as Agro Bank chairman because of Deepak's suit.
On his new job, Sabbaruddin, a former Umno secretary-general, said he was never one to stay still at home even after he had retired from active politics.
"I cannot just sit still. Can you imagine? I have been working all my life and suddenly I stopped for more than a year. I am a constantly working person, I cannot just sit still."