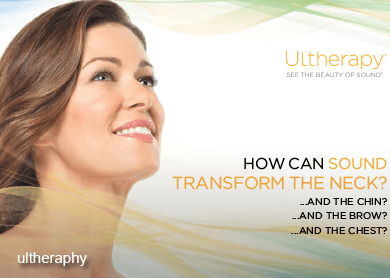 THE fountain of youth has eluded discovery for thousands of years throughout human history — from witchcraft to legitimate medical research, humanity has searched high and low for the answers to eternal youth. Today, the most common way to preserve one's beauty is to go under the knife as Hollywood stars do — a tuck here and a brow lift there can do wonders to a person's face. In the past decade, though, there has been a trend amongst moderate people who prefer not to have their skin sliced open opting instead, to have treatments that purportedly restore youth in less invasive ways. 
Enter Ultherapy. Ulthera is the only non-invasive FDA-cleared treatment to lift skin and restore youth in the United States, and its technology is based upon the destruction of "old" collagen in order to make way for "new" collagen to grow. The treatment itself is as benign as it comes — using an ultrasound machine which penetrates to a depth of 4.5mm, patients only have to spend an hour or so in the physician's office, getting the parts of their faces that they're concerned with treated. 
Ultherapy uses micro-focus ultrasound to treat the same deep tissue planes as a modern facelift, with the exception that there is absolutely no recovery time. Apart from the very rare instances of skin reactions, patients can generally walk out of the doctor's office without any visible scarring or redness. Best of all, the Ultherapy session lasts for an entire year, meaning that patients do not have to repeat the procedure for at least one year or more.
Ever since Ultherapy was introduced to the market in September 2010, over 3,000 people have undergone the treatment, and they've reported an astounding 90% satisfaction rate. Aside from the fact that most people are more comfortable undergoing this therapy as opposed to having surgery, physicians have reported that Ultherapy produces the most visible results amongst the non-surgical plastic surgery options. 
Over the years, Ultherapy has also shown consistent results over various skin types in Caucasians, Asians, and those from other descents. The science behind the treatment is simple — the Ulthera transducers micro-focus ultrasound energy below the skin to non-invasive heat tissue to 60-70 °C to denature collagen proteins, after which our bodies will regenerate the collagen, making skin look younger, tighter and with less lines. 
The treatments that Ultherapy has become famous for are eyebrow, chin and neck lifts, and is widely known for its suitability for all types of skin. Although there is a higher risk for people who suffer from rosacea or skin allergies, doctors who have extensive experience performing this procedure on patients claim that it is very rare, even in higher-risk patients to encounter any side effects. 
Some other side effects that are sometimes seen in patients include localised swelling and pain, but the current recommendation of prescribing NSAIDs (painkillers) and localised anesthesia to these patients have, for the most part, resolved the problem. 
In general, Ultherapy is a revolutionary new way to reverse the effects of ageing on skin, and it is less risky as well as a lot less costly than undergoing surgery.
This article first appeared in The Edge Financial Daily, on June 9, 2015.