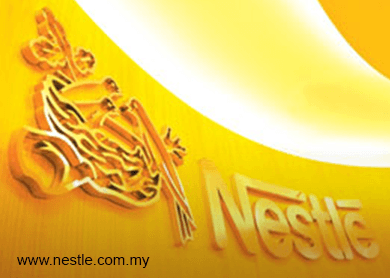 KUALA LUMPUR: Nestle Malaysia Bhd is looking to improve its export sales which remain on a downward trend due to lower demand from affiliated companies in countries like the Philippines and Indonesia, which have developed their own manufacturing capabilities.
Nestle Malaysia (fundamental:1.75; valuation:1.5) managing director Alois Hofbauer said the food and beverage group is expanding its current manufacturing capabilities to improve the performance of its export sales, which contributes to 20% of its revenue.
"For our financial year ending Dec 31, 2015 (FY15), we will concentrate on the expansion of our manufacturing capabilities to improve our export sales, such as the expansion of our instant noodle manufacturing lines in our Batu Tiga factory (in Shah Alam, Selangor)," he told reporters after the group's annual general meeting yesterday.
However, he did not say how long the group will take to turn around its export sales, but said that even though export sales continued to see a slowdown during the first quarter of 2015, its impact was slower than in the preceding quarter.
"We believe that the economic situation in the US and in emerging markets are improving, hence we are confident export sales will pick up. We will also have our new product offerings, such as the Kit Kat Rubies, our premium chocolate variant which we plan to export not only to the Asean region, but also to Europe," he said.
On the goods and services tax (GST), Hofbauer said 90% of Nestle Malaysia's products are subject to the consumption tax.
"GST has an impact on consumer sentiment, therefore we try to give more value to consumers. For example, for our instant noodle range, we try to compensate that 6% increase in price by giving 10% more content in terms of noodle and garnishing," said Hofbauer.
He added that besides tackling the segment of the consumer market that favours affordable prices, Nestle Malaysia has also tapped into the premium market through its premium product offerings such as its Royale Penang Seafood Curry and Korean Spicy Braised Beef, which are part of the Maggi instant noodle premium range.
On investment plans for FY15, Hofbauer said this will be a "year of stabilisation" for Nestle Malaysia, adding that the group will not be looking into investing in new plants but will focus on completing ongoing projects. "We have spent more than RM350 million in capex (capital expenditure) for FY14. In FY15, our capex will normalise and will be somewhere between RM150 million and RM180 million as it will be utilised to complete ongoing projects and not for new investments," said Hofbauer. He added that the group's Sri Muda factory in Shah Alam, in which it had invested more than RM200 million previously, is set to be fully operational by August this year.
This article first appeared in The Edge Financial Daily, on April 24, 2015.