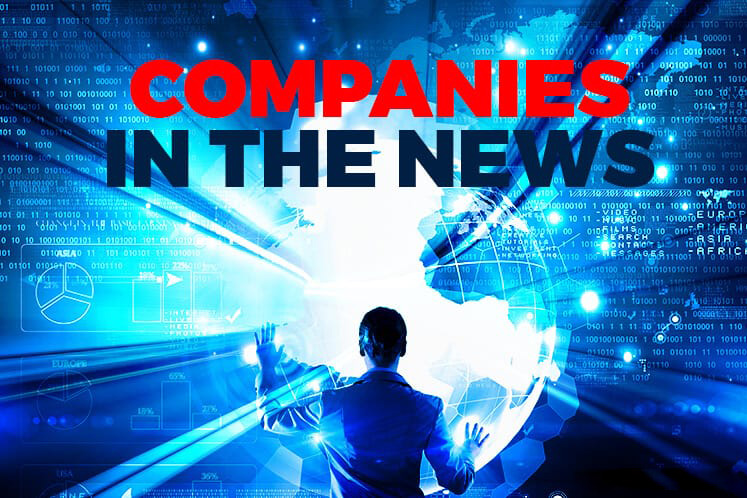 KUALA LUMPUR (Oct 9): Based on corporate announcements and news flow today, stocks in focus on Wednesday (Oct 10) may include Nestle (Malaysia) Bhd, Hibiscus Petroleum Bhd, Pestech International Bhd, Mitrajaya Holdings Bhd, Kelington Group Bhd, Visdynamics Holdings Bhd and Luster Industries Bhd.
Nestle (Malaysia) Bhd is disposing its chilled dairy and manufacturing businesses to French dairy group Lactalis for a cash consideration of RM155.3 million.
Nestle said its subsidiaries Nestlé Products Sdn Bhd and Nestlé Manufacturing (Malaysia) Sdn Bhd  have entered into an agreement to sell and transfer the two businesses as a going concern to Lactalis Trading Malaysia Sdn Bhd and Lactalis Manufacturing Malaysia Sdn Bhd.
Nestle said the sale of NPSB will include the distribution, marketing, promotion and sale of chilled dairy products in Malaysia, Singapore and Brunei.
The disposal of NMSB will include the manufacturing of chilled dairy products and cold sauces, and packing of milk powder at the Petaling Jaya factory.
After deduction of all the disposal related expenses, Nestle expects a one-time gain of about RM27 million split over the years 2018 and 2019. This represents one-time earnings per share of approximately 11 sen.
Nestle said the sale and transfer of the chilled dairy business is expected to be effected on Jan 1, 2019, while the sale and transfer of the manufacturing business is expected to take effect on July 1, 2019.
Hibiscus Petroleum Bhd has acquired a 50% interest in two oilfields offshore the United Kingdom for US$37.5 million (RM155.9 million) in total.
Hibiscus said its indirect wholly-owned subsidiary Anasuria Hibiscus UK Ltd (AHUK) had entered into a conditional sale and purchase agreement with Caldera Petroleum (UK) Ltd to acquire a 50% participating interest in Block 15/13a and Block 15/13b under Production License P198.
It said the blocks are located in the United Kingdom sector of the North Sea, approximately 250km northeast of Aberdeen.
The proposed acquisition, which is expected to be completed on or before Oct 16, is subject to the written consent of the United Kingdom Oil and Gas Authority for the assignment of interests and the transfer of operatorship to AHUK.
Pestech International Bhd secured a sub-contract signalling system works worth RM75 million for the electrified double-track project from Gemas to Johor Bahru.
Pestech said the sub-contract was awarded to an unincorporated consortium, named Ansaldo STS Pestech Consortium, which was formed between its wholly-owned subsidiary Pestech Technology Sdn Bhd and Ansaldo STS Malaysia Sdn Bhd.
Pestech said the consortium had accepted a letter of award from another consortium consisting of SIPP Rail Sdn Bhd and Syarikat Pembenaan Yeoh Tiong Lay Sdn Bhd.
The award is meant to appoint Ansaldo STS Pestech as sub-contractor for the turnkey engineering, procurement, construction and maintenance contract relating to the signalling system for the electrified double track project from Gemas to Johor Bahru.
Pestech said the fixed sub-contract price is RM339 million, including optional items worth RM19.77 million.
Nonetheless, Pestech said pursuant to the consortium, the total sub-contract price for the group's portion of works is RM75 million.
Mitrajaya Holdings Bhd has bagged a RM99.9 million contract from International Medical University, Malaysia (IMU) to build a seven-storey private hospital at Bukit Jalil.
Mitrajaya said its wholly-owned subsidiary Pembinaan Mitrajaya Sdn Bhd had accepted the letter of award from IMU Education Sdn Bhd, owned by IMU, for the proposed project yesterday .
The contract will commence on Oct 15, with completion by Jan 15, 2021.
Engineering solution provider Kelington Group Bhd has secured three overseas contracts worth a combined RM101 million.
Kelington said two of these contracts involve installation and commissioning of exhaust system in Singapore for "a global leader in engineering and project management of high-technology facilities".
The group did not disclose the Singaporean client's name.
The first contract spans from October this year to November 2020, while the second contract period is between September this year and August 2019.
Kelington said the third contract involves the supply, installation and commissioning of a chemical delivery systems for Zhonghuan Advanced Semiconductor Materials Co Ltd in China for the period between September this year and February 2019.
Visdynamics Holdings Bhd's external auditors Messrs Adam & Co have resigned from their position effective Oct 4.
Visdynamics said it received notice in writing from the auditors on their resignation yesterday.
The group said the resignation is on a voluntary basis as both parties could not reach a consensus on the proposed increase to the audit fees for the financial year ending Oct 31, 2018.
Adam & Co was re-appointed as the auditors of the company at the last annual general meeting (AGM) held on March 23 and was supposed to hold on to the position until the conclusion of the next AGM.
Luster Industries Bhd has proposed to undertake a private placement to raise RM16.99 million to defray expenses for its property development projects and working capital for manufacturing business.
Luster said the placement entails 197.6 million new shares, representing about 10% of the group's issued shares, at an issue price to be determined later.
Luster said it intends to place out the placement shares to a third party investor, who will be identified at a later date.
The group plans to utilise RM7 million of proceeds raised through the private placement for property development expenditure, while RM9.89 million will be slated for Luster's manufacturing business' working capital.
The remaining RM100,000 will be for expenses of the corporate exercise.
Luster expects to complete the private placement by the first quarter of 2019.