This article first appeared in Enterprise, The Edge Malaysia Weekly, on December 30, 2019 - January 05, 2020.
Kinabatangan Rileaf Project - Extending to 1 million trees by 2020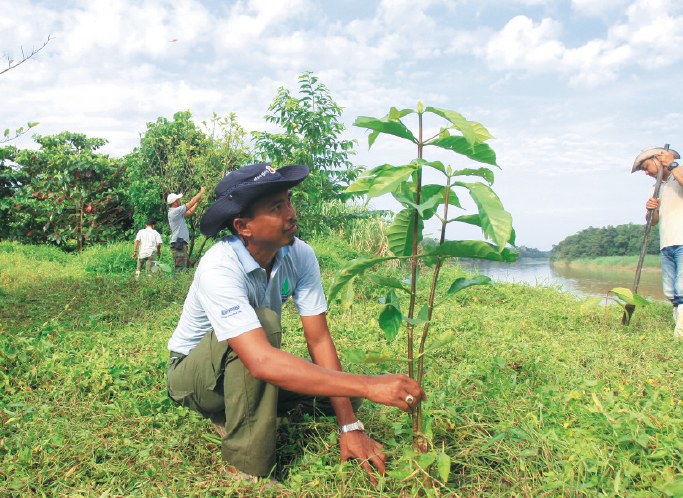 Kinabatangan Rileaf Project - Planting
The world's largest food and beverage company goes the extra mile in tackling the global plastic waste crisis
Nestlé has taken the lead by announcing its war against plastic waste and setting specific goals for a waste-free future. The company's global commitments include making all of its packing recyclable or reusable by 2025 and zero environmental impact by 2030. By announcing and reporting its performance against these ambitious goals, Nestlé hopes to kick-start a committed, urgent global corporate agenda among corporates to positively impact the environment.
"Our vision is that none of Nestlé's packaging, including plastics, ends up in landfill or as litter and we are working hard to develop innovative, effective real solutions that are scalable and meet our stringent product quality standards," says Juan Aranols, CEO of Nestlé (Malaysia) Bhd.
"Some may ask why a profit-making entity is taking an active role in addressing global sustainability challenges. To provide healthy food, we must have a healthy environment where natural resources are conserved and protected. We also believe that our consumers expect us to make effective and positive contributions to society and the environment. Quite simply, environmental sustainability is  a prerequisite for Nestle's long term growth,"  he says.
While plastic serves many important functions, unbridled consumption of disposable plastic, also known as single-use plastic, has severe environmental consequences — including the global plastic waste crisis. According to the United Nations Environment Programme, about half of all the plastic produced in the world is designed to be used only once and then thrown away.
Some 300 million tonnes of plastic waste — almost equal to the weight of the entire human population — is produced every year. Much of this ends up in the oceans and other bodies of water, as 93% of such waste in lower-income countries is discarded through open dumping.
In 2018, a report named Nestlé as one of the world's biggest producers of plastic waste. This led to claims of greenwashing by the company and a lack of urgency in developing solutions that minimise the company's impact on the environment.
Aranols responds to these claims, pointing to Nestlé's substantial size and significant presence in many countries. The world's largest food and beverage company also has a long history of making products for consumers around the world.
"Nestlé has been making products for a growing global population for more than 150 years. Plastic is widely used in our industry because it is light, flexible and affordable. It also ensures food hygiene and safety. Plastic protects and extends the shelf life of food and reduces food wastage. The problem with plastic is what happens to it after it has served its purpose," he says.
The global plastic waste crisis highlights the need for a holistic waste management solution that is still lacking in many countries. This extremely versatile material is nearly indestructible. It is also used extensively across many industries and by consumers who appreciate its convenience.
"The global plastic crisis clearly highlights that a holistic approach is needed to manage waste. There is no straightforward one-size-fits-all solution to the problem of plastic pollution, likewise, climate change and the preservation of natural resources. This claim shows that Nestlé has a sizeable packaging footprint to manage. This is why the need to wean our dependence on plastic is an urgent priority for the company with solutions that do not compromise food safety requirements," says Aranols.
He points to results that have already been achieved to counter claims of greenwashing and a lack of urgency in coming up with solutions. "Two-thirds of Nestlé Malaysia's plastic packaging is already suitable for recycling, but we are aware that 100% recyclability is not enough to successfully tackle the plastic waste problem. We are pushing the boundaries and looking at every option to solve this complex challenge, starting with reducing the environmental impact of our current processes."
Nestlé has established partnerships around the world to research and develop eco-friendly alternatives (see box story) and innovative solutions to shape a waste-free future, which have been put in place across its global footprint. For example, Nestlé Malaysia is the first company in the country to introduce paper straws for its packaged drinks at the end of 2019. This switch, starting with the popular MILO UHT 125ml drink packs, is expected to do away with the use of 40 million plastic straws a year. Plastic straws on all other MILO UHT drinks will also be replaced with paper straws.
Nestlé reported the use of 4.7 million tonnes of packaging material in 2018, based on sales. "Globally, we have avoided the use of 118,710 tonnes of packaging from 2015 to 2018. We are on track to meet our goal of avoiding at least 140,000 tonnes from 2015 to 2020," says Aranols.
He adds that initiatives to reduce the use of plastic take time to implement, given the large number of Nestlé products around the world and the large quantities that are produced. Nevertheless, a significant impact can be generated in a single step, as shown with the switch to paper straws for the MILO UHT 125ml drink packs.
"Fixing the global plastic waste crisis requires active participation from many stakeholders, including manufacturers such as Nestlé. The packaging and delivery industry, local authorities, waste management companies and consumers need to be part of the solution. Apart from new packaging solutions and improved recycling facilities, waste management infrastructure must be built in places that do not have any. Finally, social behaviours, such as littering and the overdependence on single-use plastic, must change to new environmentally-conscious habits," says Aranols.
Changing habits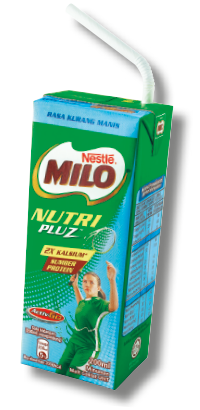 A significant obstacle to creating new habits among consumers is the widespread availability of single-use plastic. This has made using plastic, as well as littering, a force of habit. Breaking this habit starts with awareness and a change in social behaviour.
Campaigns — such as the CAREton Project by MILO UHT and Tetrapak that collect and recycle used MILO drink packs — encourage a change in social behaviour among Nestlé consumers. Used drink packs are upcycled into roofing tiles and panel boards for Orang Asli communities. There are also plans to put infographics on how to recycle on all Nestlé packaging in the near future, in order to teach consumers how to prepare their used drink packs for recycling.
"We realised that many people do not know what can be recycled and how to recycle packaging. We decided to take steps internally and encourage our employees to learn from and teach each other. All of our six factories in Malaysia have already achieved zero-waste-to-landfill status and now our headquarters is moving towards zero-waste," says Aranols.
About 100 Nestlé employees have also volunteered their time and effort to become Nestlé Malaysia's Green Gladiators. This team looks for ways to reduce the use of plastic within the company and to change the throwaway culture.
"We held townhall sessions on how to recycle and it was a real eye opener for our employees. Over time, initiatives like Green Gladiators have changed the culture and attitude in our company in line with our war on plastic. Now, Nestlé employees are carrying their own water tumblers and bringing containers to pack food instead of using plastic bags. We motivate and inspire each other to use less plastic. I am really impressed with the passion and dedication of Nestlé employees at all levels to shape a waste-free future," says Aranols.
Working together against plastic pollution
Plastic pollution is a complex issue that requires a holistic approach and collaborative effort from different parties. Apart from taking many steps within the company to make all of its packaging recyclable or reusable by 2025, Nestlé is also working with the wider society to pioneer alternatives to plastic packaging, shape a waste-free future and preserve natural resources. Here are some of its recent local and global initiatives:
Shaping a waste-free future
•In 2018, Nestlé signed the Ellen MacArthur Foundation's New Plastics Economy's global commitment to rethink the future of plastics by applying circular economy principles in which plastic never ends up as waste. The company is also leading an NPEC working group on mapping plastic material and waste flows in Southeast Asia.
• In Europe, Nestlé is a member of the Circular Economy for Flexible Packaging, a consortium of more than 100 organisations that aims to develop design guidelines for flexible packaging as well as the infrastructure needed to collect, sort and recycle it across the continent.
• Nestlé is the first food company to partner Project STOP (Stop Ocean Plastic), a frontline initiative to prevent ocean plastic leakage in Southeast Asia. A waste management expert team partners government authorities and local stakeholders to establish an economically sustainable waste system that is operated by the local community. All profit from recyclables and organics are kept by the local community and used to cover the salaries and operating costs of the system.
• Nestlé Malaysia is also part of the Malaysian Plastic Pact, a collaborative initiative that brings together all parties across the entire plastics value chain to team up with the government and NGOs to tackle plastic waste. Nestlé is also the founding group behind the Packaging Recovery Organisation together with 10 organisations in Malaysia.
Pioneering alternative materials
• In 2019, Nestlé established its Institute for Packaging Science, the first of its kind in the food industry, to accelerate its efforts to innovate functional, safe and environmentally-friendly packaging solutions that address the challenge of plastic packaging waste. Based in Switzerland, the institute focuses on refillable or reusable packaging, simplified packaging material, recycled packaging material as well as bio-based, compostable and biodegradable materials.
• Partnering Danimer Scientific to develop a marine biodegradable and recyclable bottle for its water business. A biodegradable bottle that is also recyclable can improve the environmental impact of Nestlé products in countries without collection and recycling systems.
Protecing natural resources
•Nestlé Malaysia's Kinabatangan RiLeaf Project has surpassed its initial target of planting 700,000 trees on critical forest reserves in Sabah, which is about the same size as 3,500 football fields. Partners Nestlé Malaysia and Yayasan Sime Darby have increased the target of the project to a million planted trees. Reported figures have been audited and are based on matured seedlings.