This article first appeared in City & Country, The Edge Malaysia Weekly, on April 19, 2021 - April 25, 2021.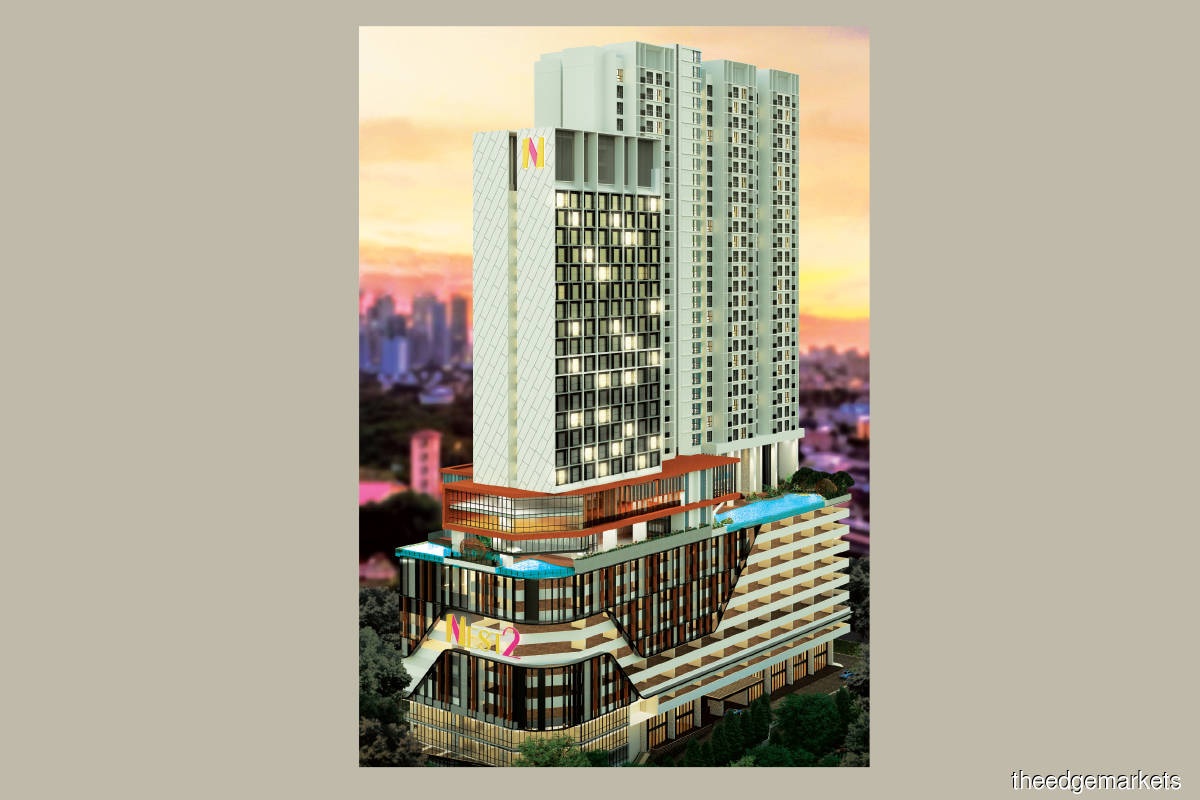 Contractor-cum-developer Nestcity Group ventured into property development in 2016 with The Nest Residences. The development in Jalan Puchong is fully sold, with vacant possession delivered in February 2019.
The group subsequently developed four bungalow units, with sizes ranging from 6,900 to 8,600 sq ft, at The Peak in Cheras in 2017. The houses have been sold and the buyers also received vacant possession in 2019.
The group is going back to Jalan Puchong for its third project, Nest 2 Residences. According to group managing director Datuk Lim Jee Gin, while the economic conditions are challenging due to Covid-19, the property market has been vibrant since the first Movement Control Order (MCO).
"Buyers are still looking for homes … We still have sales coming in consistently during the MCO. We started off as a contractor in 1998 and set up the property development division in 2014. We ventured into the property development industry because we wanted to move upstream in the business and, around the same time, we were offered a piece of land in Jalan Puchong. So, it was a good opportunity for us," he tells City & Country.
"Property development is different from construction as development takes a longer time to plan — at least 12 months — to get the project started. The cash flow is negative during that period. Construction companies, meanwhile, have consistent revenue every month."
Executive director Datuk Kwong Jee Kong says the RM220 million Nest 2 Residences is a mixed-use development that consists of serviced apartments, hotel suites and offices. The serviced apartment component was put up for sale last July and has achieved a take-up rate of 95%.
Sitting on 1.7 acres, Nest 2 Residences will have 346 serviced apartments, 72 hotel rooms as well as 75,000 sq ft of office space. The single block will comprise two wings — a 35-storey wing with 287 apartments and a 28-storey one with 59 apartments. The latter wing will also contain the 6-storey hotel component and the 6-storey office component.
The apartments will come in four sizes — 561, 797, 887 and 966 sq ft. The 561 sq ft units have a 1-bedroom, 2-bathroom layout, while the others offer a 3-bedroom, 2-bathroom layout. The latter units are dual-key-ready, Kwong says.
"There are two separate lobbies for the two wings, and the parking entrances for the residential and commercial [components] are also different. For the apartment component, purchasers are currently signing the sale and purchase agreement," he adds.
"For the hotel component, we are looking for an investor to buy the units, but it is difficult under the current market condition, so we are parking it as a company asset. For the office component, we have sold 35,000 sq ft and we will keep the remaining 40,000 sq ft as our headquarters."
Jalan Puchong and Jalan Klang Lama have been developing rapidly in the past 10 years, he observes. Nest 2 Residences' convenient location in Jalan Puchong, coupled with its low density and freehold status, are factors that will help sell the project.
"[Because of] The Nest Residences, people around the area know us and the project, so these factors make it easier for us to sell Nest 2 Residences. The Nest Residences is 90%-occupied and the residents are mostly owner-occupiers," Kwong says.
"Also, Nestcity aims to build homes for first-time homebuyers. Nest 2 Residences is selling from RM650 psf, and, in fact, most of our buyers are very young — aged between 22 and 35. We make all units dual-key-ready because the rental market there is very vibrant. Covid-19 is a challenge but we believe projects in good locations that are priced well will still sell."
Nest 2 Residences provides three levels of facilities, which include a swimming pool, Jacuzzi, lounge, community garden, yoga room and gymnasium. It also has a four-tier security system, including CCTV surveillance, boom gate access to the car park as well as access card to the lift lobby and in the elevators. The indicative maintenance fee is 33 sen psf, including the sinking fund.
The project is located near major roads and highways, such as Jalan Klang Lama, Jalan Puchong, New Pantai Expressway, Shah Alam Expressway and Lebuhraya Damansara Puchong. Construction work is currently at the foundation and basement level and is scheduled for completion at end-2023.
After Nest 2 Residences, Nestcity is looking to develop Nestville in Bukit Pantai. Kwong hopes to conduct a soft launch of Phase 1, Alamanda Residences, in May.
"We acquired the land in 2019 … It is 6.7 acres of leasehold residential land. There will be three blocks, which will be launched over three phases. Phase 1 is a Residensi Wilayah project, while Phase 2 will have 630 condominium units with sizes of 1,050, 1,200 and 1,500 sq ft," he explains.
"Phase 3 will have 40 units of 2-storey sky villas in a 20-storey block. The villas range from 3,000 to 5,000 sq ft and come with a courtyard. These will be launched in 2022."
The group plans to launch one project a year. Its future developments include a 3-acre project in Shah Alam as well as a 1.7-acre project in Taman Melawati, slated for launch in 2022 and 2023 or after respectively.
"We try to launch one project a year so that we can stay focused," he says.