This article first appeared in The Edge Malaysia Weekly, on July 22, 2019 - July 28, 2019.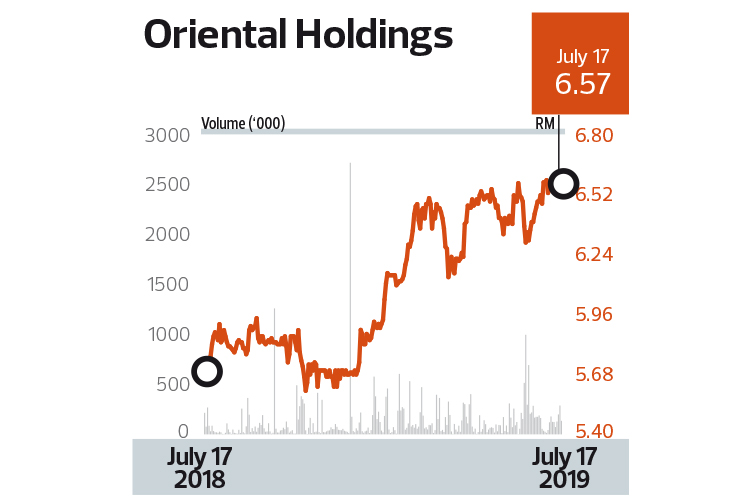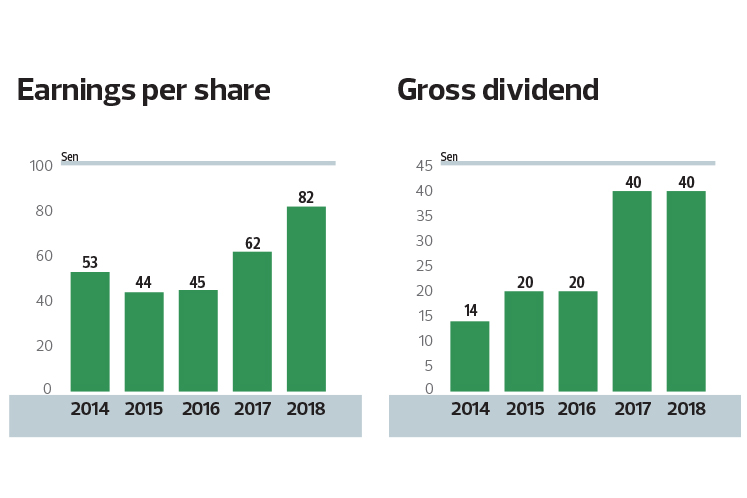 WHILE Penang-based diversified group Oriental Holdings Bhd is known to be cash-rich, what many may not know is that close to half the value of its shares is equivalent to its net cash balance. This means that the net cash value of every share of RM6.57 (last Wednesday's closing price) is RM3 or 46% its market value.
This is based on Oriental's total cash and net cash of RM3.7 billion and RM1.86 billion respectively as at March 31, 2019.
While the company's first-quarter results did not provide a breakdown of its cash pile, its FY2018 report shows that of the RM3.6 billion cash it had as at Dec 31, 2018, 62% or RM2.22 billion was held in fixed deposits while 35% or RM1.26 billion comprised cash and bank balances. The remaining 3% or RM140 million was held in unit trusts.
Listed on the local stock exchange more than five decades ago, Oriental has earned a reputation as a cash-rich company. Indeed, its net cash has increased in the past 10 years, although borrowings were higher in the same period.
The group's cash and cash equivalents stood at RM1.92 billion as at Dec 31, 2008, while net cash amounted to RM1.39 billion. Total borrowings were lower at RM529 million from RM1.9 billion in 2018.
Borrowings dropped in the past three months, down 1% to RM1.88 billion as at March 31, 2019.
The bulk of the borrowings or more than RM1 billion was attributed to a revolving credit facility in yen at interest rates of between 0.4% and 1.4%.
Those who had acquired 1,000 Oriental shares at its initial public offering in 1964 would have 48,306 shares worth RM298,048 based on its share price of RM6.17 as at the end of FY2018.
In addition, the shares would have earned a total gross dividend of RM228,801.02.
The gross dividends received and appreciation in value work out to an average rate of return of 12.07% for each of the 55 years.
Oriental's dividend payout has been trending upwards in the past five financial years. From 14 sen per share in FY2014, it had risen to 20 sen per share in FY2015 and FY2016. It then doubled to 40 sen per share in FY2017 and FY2018.
Trading below book value?
Oriental's share price of RM6.57 last Wednesday was at a 39% discount to its net asset value per share of 1,071.68 sen as at the end of 1Q2019.
Apart from cash, the bulk of its assets comprises investment properties as well as property, plant and equipment.
The group's 10 largest properties listed in its FY2018 annual report include more than two million sq m of reclaimed land in Melaka with a combined net book value of RM426 million and more than 9,000ha of plantation land in Indonesia worth a total net book value of RM451.4 million. Oriental also owns a serviced apartment building — under the Somerset brand — in Bangkok that has a net book value of RM133.8 million.
The annual report does not state when these properties and land were last valued.
In terms of profitability, the group's annual profit has grown over the years. From RM331.1 million in FY2014, net profit fell to RM272.4 million in FY2015, due mostly to the higher operating cost of its plantation and automotive divisions as well as start-up cost in its newly launched healthcare division that year.
But the group was quick to recover and saw net profit increasing 2.6% to RM279.5 million in FY2016 and expanding to RM384.8 million in FY2017. In FY2018, the group's earnings rose 32.5% to RM509.8 million.
Given the increasing trend of its earnings and dividend payments in recent years, why is Oriental's stock trading below book value?
An investment head with a finance outfit believes this could be due to, among other factors, the illiquidity of the stock and investor scepticism about Oriental's efficient use of its cash pile as it grew.
As at last Wednesday, the counter's 52-week average trading volume stood at 134,602 shares while its 52-week average price was RM6.088.
As at March 29, 2019, a company linked to the founding family of Oriental — Boon Siew Sdn Bhd — had a 43% direct stake and 12.67% indirect stake in the company.
The other substantial shareholders included the Employees Provident Fund with a 10.02% direct stake and Standard Life Aberdeen plc and its subsidiaries with a 6.07% indirect stake.
On Oriental's cash pile, the investment head says, "Perhaps they are building a war chest and ensuring the group has sufficient cash flow for prudent defensive play, which is a good strategy, given the current tough market conditions. However, over time, there are investors who would like to see more efficient use of the money rather than to put a large sum in the bank."
A fund manager who is invested in the stock concurs. "They have been raising dividends but we see more scope for them to pay back in dividends. Also, access to management is limited. I don't think they will turn away investors if they asked for a meet but the management doesn't do quarterly investor calls. Plus, not many investors out there know much about the stock, so the lack of awareness is also another reason for the depressed market value of the stock," he says.
Oriental was founded by the late Tan Sri Loh Boon Siew, aka "Mr Honda", and today, with the third generation of the Loh family already involved in the business, the group has branched out from selling Honda super cub motorcycles into the automotive, palm oil, real estate, hospitality, plastics manufacturing, building materials and healthcare sectors.