This article first appeared in City & Country, The Edge Malaysia Weekly, on August 24, 2020 - August 30, 2020.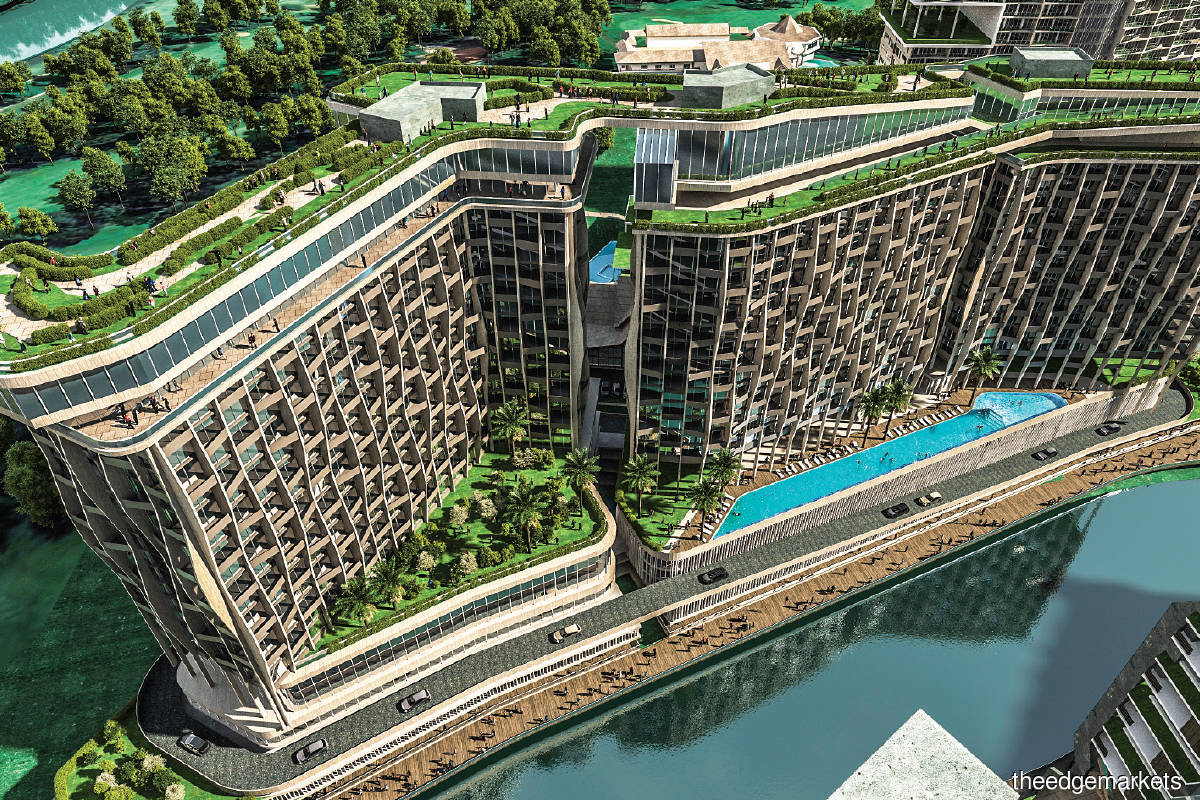 Like many of his generation, NCT Group founder and managing director Datuk Seri Yap Ngan Choy values hard work, honesty and determination. He went through a hard time in his younger days as he came from a less well-off family and did not receive much of an education. 
But his journey to success began in 1976, when he became an apprentice tile worker. "I was doing the job of the foreign workers today, mixing sand and cement for the tile master," Yap recalls in an interview with City & Country.
After picking up tiling skills, he began to get tiling as well as renovation jobs in 1980. In 1985, he set up a company that would become NCT Group. It started off as a tiling contractor, became a main contractor, and subsequently, transformed into a property developer in 2006.
Yap's journey has been a tough one but his character and values have seen him through the most challenging times. 
He has always believed that one has to be honest and has never defaulted on payments.
Over time, the NCT Group gained a reputation for quality workmanship and hard work in the construction and property industries.
Known for reviving abandoned projects, the company experienced its most trying period when it was reviving a project in Salak Tinggi. Yap says the company almost went bankrupt but it managed to pull through.
His management philosophy and values were greatly influenced by his mother, who died of cancer in 1993. She single-handedly raised five children, despite not having an education.
"She was courageous and beautiful. I have never met another woman as good as her ...  she was very patient and tolerant. My family was poor so we could not compete with others. What we could do was work hard. That is the foundation of my career and business," he says.
Projects in Melaka and Batang Kali 
An upcoming project by NCT Group in ­Melaka is Ion Forte Green City, which sits on a 23-acre leasehold parcel in Ayer Keroh. Yap says the resort-type development will have five phases. "It is a tourism project as well because one of the phases is a wellness spa. We are currently in discussion with an international brand operator to operate the spa."
He adds that once the operator is confirmed, the development will be the first in Melaka to have a wellness spa in its master plan. The land on which Ion Forte Green City sits is part of the 749-acre Ayer Keroh Country Club, which has a 27-hole golf course.
Yap says foreigners, especially Koreans, like to visit golf courses in the state, and he believes the development will be well received because of its affordable pricing, upcoming wellness spa and existing country club.
Phase 1 of Ion Forte Green City is slated to be launched in October and will have a gross development value of RM420 million. This phase will comprise a condotel, branded residences and retail lots.
According to Yap, a hotel operator will be appointed for the condotel, which will cater for companies and government officers,  as the Malacca International Trade Centre (MITC) is just five minutes away.  He says the branded residences will have a concept similar to that of Banyan Tree Residences, Dorsett Residences and The Ritz-Carlton Residences.
There will be 250 condotel units and 437 units of branded residences within three blocks. The condotel will occupy Levels 3 to 13, and the branded residences  will be on Levels 14 to 20 of the 20-storey Block C1.  The 19-storey Block D1 and 18-storey Block D2 will only have branded residences.
Built-ups for the condotel units range from 418 to 943 sq ft, with various layouts — studio to 3-bedroom with two bathrooms. The branded residences will have built-ups of 528 to 1,789 sq ft,  with layouts ranging from studio to 4-bedroom with three bathrooms.
Some of the condotel and branded residences units will come with a dual-key design, while the branded residences will offer some penthouse units.
Both property types will be for sale but the condotel is an investment property while the branded residences are more suited for owner occupants. Selling prices will start from RM416,000.
The lower ground floor of Blocks C1 and D1 will have a total of 50 retail lots, ranging in size from 583 to 1,997 sq ft, with selling prices that  start from RM530,000.
Facilities will include a lap pool, wading pool, meditation terrace, gym and sky bar. The maintenance fee has been tentatively set at 30 sen psf. Each unit will be allocated one parking bay except for the penthouses and dual-key units, which will have two bays.
Ion Forte Green City is NCT Group's second development in Melaka. The first was in Bukit Rambai, which turned out to be difficult to sell. Because of that, Yap was reluctant to return to the state.
However, he believes Melaka, a tourism city, will recover quickly after the pandemic is over.
Rahim & Co International Sdn Bhd Melaka manager Mohd Fiqri Rohaizad believes there is a mismatch in the demand and supply of high-rise developments in Ayer Keroh because of the availability of landed properties in the market.
"We do not see demand from local buyers. However, due to the cheaper pricing, high-rise developments [in Ayer Keroh] will attract buyers from Kuala Lumpur, Johor or Singapore," he adds.
He notes that there are a few upcoming high-rise developments in Ayer Keroh, especially within the MITC area. He says the developers should carefully study the market .
"The right product, location and timing will help to boost the area. We believe Ayer Keroh has good prospects, as it is surrounded by government institutions and industrial hubs," says Mohd Fiqri. 
NCT Group's other upcoming project is in Batang Kali, Selangor. Yap says a liquidator approached it to revive the 665 plots of abandoned bungalow land (200 acres) because of its reputation as a white knight for abandoned projects.
To-date, the developer has taken over part of the project and is in the negotiation process for the remaining acreage.
The development is five minutes from Batang Kali town centre and 15 minutes from Gohtong Jaya. The target market are locals and those working in Gohtong Jaya.
Yap says the company took 2½ years to negotiate with the existing purchasers and settle legal matters. In the end, 96% of the existing purchasers agreed to the new development. Those who opted out were bought out by the  developer.
He says the company will continue to revive abandoned projects. "We have two reasons for doing this. First, we get to help people. Secondly, we can get a good deal. For us, it is good business. We can do any business to make money but this can help a lot of people. Many existing purchasers were very appreciative and we feel satisfied," he says. 
Ongoing and future projects
NCT Group has several ongoing projects, including Grand Ion Majestic, located next to a revived project called Ion Delemen in Genting Highlands. The RM1.4 billion serviced apartment development sits on a two-acre freehold parcel and comprises three towers with a total of 1,885 units. To date, 60% of the units have been sold.
Another project is N-City, a commercial development in Sungai Petani, Kedah, that sits on 22 acres and comprises 2 and 3-storey shopoffices, an international school, a hotel and a convention hall. The developer is in discussions with some parties to add another component, which is an essential service. However, the details have yet to be finalised.
N-City is divided into three phases. Phase 1 has been completed while Phase 2 will be completed soon, says Yap.
"It is in a prime area as it faces the main road, Jalan Bakar Arang, and is just opposite Tesco and Giant. Sales have been quite good," he notes.
The developer also has a 500-acre tract in Kuala Langat, which is about 15 minutes from the Kuala Lumpur International Airport. It has applied to rezone the land use. It is planning to develop an industrial park and will announce more details after it has obtained approval for the rezoning.
In total, NCT Group has about 700 acres of undeveloped land in Kuala Selangor, Batang Kali, Sungai Petani and Melaka. Moving forward, it is looking for land in the Klang Valley.
Yap says the developer's sales have not been greatly affected by the Covid-19 pandemic. In the three months of the Movement Control Order (MCO), it managed to secure RM100 million in bookings. However, construction activity was affected, but operations are now back to normal.
He says he was worried about the business during the MCO as everything was on pause. But his worries were allayed after he was presented with the sales figures by the marketing team.
"I was not surprised at the figures. I was happy that the people and the various departments were up to the task and could achieve good results in such a challenging time. It shows that they are hardworking and doing well, and can take on bigger tasks," Yap says..
With the team he has, he is confident the company can move to the next level within this decade.
"With the right direction, this decade will be NCT Group's golden time. We want to create another milestone," he says.
He is also mulling over listing the company on Bursa Malaysia, although there are no concrete plans as yet.
Yap also has plans to develop projects overseas after the pandemic, mainly in Southeast Asia,  with Indonesia at the top of the list,  followed by Cambodia and Myanmar.
However,  NCT Group will continue with its business of reviving abandoned projects.  Banks and liquidators have approached the developer with some projects, which it is currently reviewing.  Yap prefers those in the Klang Valley but will consider other areas if the opportunity is good.
"I see some abandoned projects on the market in the coming months or years. It is good for the company but bad for the [property] industry. But our revenue may increase because of this. This is what we do and the direction we move towards," he says.