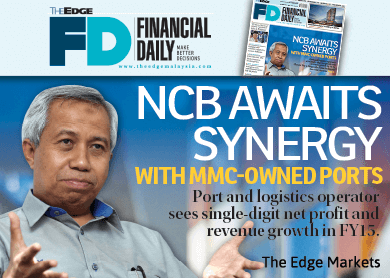 KUALA LUMPUR: NCB Holdings Bhd, whose prized assets include Northport in Port Klang, Selangor, said it had yet to capitalise on product and market synergies with Johor Port, Port of Tanjung Pelepas (PTP) and Penang Port, even though they share a common shareholder in MMC Corp Bhd.
And NCB managing director Abi Sofian Abdul Hamid doesn't see this bridging happening anytime soon.
About 21.05% of the port and logistics operator is now owned by MMC, which owns 100% of Johor Port and Penang Port, and 70% of PTP.
"The plan is there for a collaboration [among the four ports], but it will take time. That's because we don't decide on which [shipping] line should call [at which port]. So, even if PTP wants Maersk Line to call at Northport, it is not their (PTP) call but the shipping line. It is not that easy," Abi Sofian told The Edge Financial Daily in an interview last week.
It has been reported that MMC intends to raise its stake in NCB to gain management control of the group. As revealed by The Edge weekly on June 29, MMC has been in discussions with Kumpulan Wang Persaraan (Diperbadankan) (KWAP) to acquire the latter's 9.18% stake in NCB.
Although MMC on July 1 came out to say that it had not approached KWAP to acquire its equity interest in NCB, Abi Sofian noted that the former had been aggressively taking control of the country's port assets.
"They (MMC) have been talking to everyone (NCB shareholders)."
Nevertheless, Abi Sofian said whether and when it happens will depend on Permodalan Nasional Bhd (PNB), which remains NCB's largest shareholder with a 47.7% stake.
"They (PNB) may see things differently. NCB's share price is now trading at the RM3.50 level. If MMC wants to raise its stake, it could offer a higher price," he added.
"MMC may be interested to come into NCB and work with Northport, but look at what they have done within their own group of companies?
"How much collaborations have occurred among PTP, Johor Port and Penang Port to date? They seem to work independently. So, how do you expect them to collaborate with Northport and Kontena Nasional Bhd (NCB's logistics unit)?" said Abi Sofian.
"I want to see what they (MMC) are doing to generate incomes. Of course, they have money to go and buy from KWAP and increase their stake, but at the end of the day, NCB's largest shareholder PNB must look at this objectively," he noted.
Abi Sofian, however, conceded that there is potential synergy to be made among the ports in the long term, but he stressed that it is crucial to have the right management in place.
"The way I look at it, MMC does not have people in the port business. Rather, they are people in business. These are two different things. The requirement for [running a] port is not just having the infrastructure — you need to also know who to employ.
"If MMC brings more business to Northport or Kontena Nasional, of course we are happy," he added.
Already, he revealed that a committee had been formed, where representatives from Northport, PTP, Johor Port and Penang Port will meet every three months to identify areas of possible collaborations.
"Action plans have been identified and can be implemented. We can leverage each other's strength in the future," said Abi Sofian.
To recap, MMC, which is 51.76%-owned by tycoon Tan Sri Syed Mokhtar al-Bukhari's private vehicle Seaport Terminal (Johore) Sdn Bhd in November last year acquired MISC Bhd's 15.73% stake in NCB for RM3 per share or RM222 million, and on June 16, 2015, acquired another 5.3% stake in NCB from Port Klang Authority for RM3.45 apiece or RM86.25 million.
As at end-March, NCB had a net asset value per share of RM3.01.
NCB saw its net profit fall 46.1% to RM27.86 million for financial year 2014 (FY14), from RM51.68 million in the previous year on a lower revenue of RM830.99 million, down 9.61% from RM919.38 million for FY13.
However, for its first quarter ended March 31, 2015 (1QFY15), NCB more than doubled its net profit to RM11.64 million from RM4.76 million a year ago, despite a 3.71% drop in revenue to RM197.98 million from RM205.61 million for 1QFY14.
For FY15, Abi Sofian expects NCB to post single-digit net profit and revenue growth, driven by its port operations.
"There is no excitement for 2QFY15. Wait until 3QFY15 and then we can say," he said.
The container business will remain the main contributor of revenue for FY15. Northport saw an 8.4% increase to 1.12 million TEUs (20-foot equivalent units) in container volume handled in the first five months of this year, compared with the year-ago period.
For FY15, Northport expects to handle 3.3 million TEUs, from 2.55 million TEUs last year.
Despite ongoing improvements in Northport and loss-making Kontena Nasional, Abi Sofian said the group's financial results are still being dragged by its logistics arm.
"We aim to divest all non-profitable businesses, such as trucking and warehouse distribution under Kontena Nasional by the end of this year, and hope to achieve our turnaround target by mid-2016," he added.
NCB (fundamental: 2.05; valuation: 0.8) shares closed unchanged at RM3.60 last Friday, with a market capitalisation of RM1.69 billion. MMC's (fundamental: 0.4; valuation: 1.4) share price, meanwhile, ended the day two sen or 0.79% lower at RM2.50, valuing the group at RM7.61 billion.
---
The Edge Research's fundamental score reflects a company's profitability and balance sheet strength, calculated based on historical numbers. The valuation score determines if a stock is attractively valued or not, also based on historical numbers. A score of 3 suggests strong fundamentals and attractive valuations. Go to www.theedgemarkets.com for more details on a company's financial dashboard.
This article first appeared in The Edge Financial Daily, on July 6, 2015.