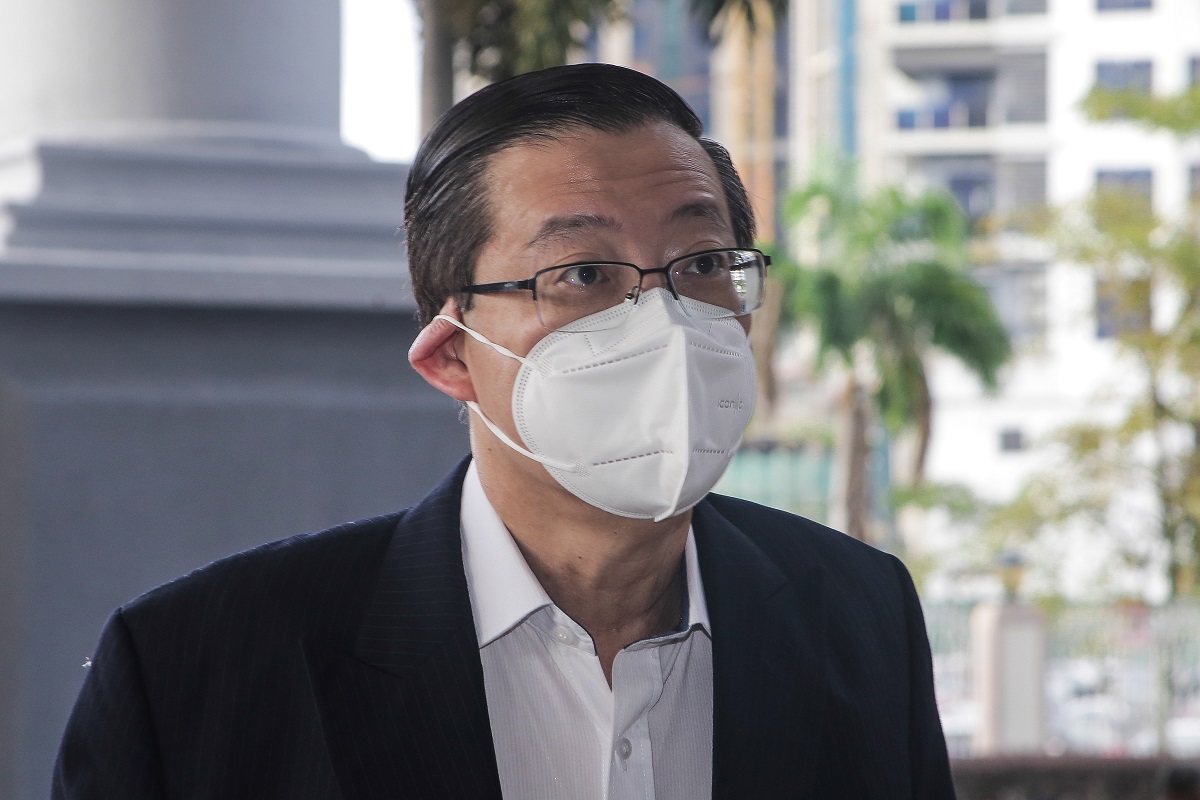 KUALA LUMPUR (Nov 29): Padang Rengas member of Parliament Datuk Seri Mohamed Nazri Aziz admitted in the Sessions Court on Monday that he had helped introduce former Penang chief minister Lim Guan Eng to Consortium Zenith BUCG Sdn Bhd director Datuk Zarul Ahmad Mohd Zulkifli.
The former culture, arts and tourism minister, who is the 14th prosecution witness in Lim's undersea tunnel graft trial, said he had known Zarul well since the 1990s but not in terms of politics or business.
"Zarul informed me that he wanted to know someone of influence in Penang to get him a project. But I did not know what project that was. I cannot remember the date he told me this. I took the initiative to contact and ask Lim if he is interested to meet Zarul regarding projects in Penang.
"He (Lim) agreed to meet Zarul. I arranged the meeting early January 2011, at Hotel Shangri-La at 9pm. Besides introducing Zarul to Lim, I do not have any other matters with the former chief minister. He (Lim) is an acquaintance I knew politically," he said.
Nazri said he could not remember what the conversation between Lim and Zarul was that night.
"Zarul had requested Lim to choose his company for any projects in Penang. Then we left at 11pm. I knew Lim since the 1990's as he is involved politically. I knew him before his appointment as Penang chief minister from 2008 to 2018," he said.
Second meeting
He added that subsequently, he met Lim and Zarul sometime in March 2011 at an Italian restaurant in KL.
"However, I do not remember whether I contacted Lim or Zarul prior to the meeting," the former minister said in reply to questions from Deputy Public Prosecutor Wan Shaharuddin Wan Ladin.
Nazri, who had also been minister in the Prime Minister's Department, was testifying in Lim's undersea tunnel graft trial.
Prior to this, it is the prosecution's case that Lim did not declare his meeting with Zarul in early 2011 to the Penang state exco meeting, before the company was allowed to bid for the project.
Several prosecution witnesses prior to this had testified that Lim did not declare in the state exco meeting that he had known Zarul beforehand before his company bid for the project.
Lim, 59, who is also Bagan MP and Air Putih assemblyman, has claimed trial to two counts of dishonestly misappropriating property, namely in releasing two plots of land to Ewein Zenith and Zenith Urban Development Sdn Bhd.
He is charged with causing the state land registrar to dispose of one of the plots, located in Bandar Tanjong Pinang and said to be worth RM135.086 million, to Ewein Zenith at the Department of Lands and Mines in Komtar on Feb 17, 2015.
He is also charged with causing the state land registrar to dispose of the other plot, also located in Bandar Tanjung Pinang and worth RM73.668 million, to Zenith Urban at the department on March 22, 2017.
Lim is also accused of soliciting a 10% cut in profits from the undersea tunnel project from Consortium Zenith Construction Sdn Bhd senior executive director Zarul at a hotel in Kuala Lumpur in 2011.
Nazri admits receiving monies from Zarul for donation
Meanwhile, during cross-examination by Lim's counsel Gobind Singh Deo, Nazri admitted there was nothing out of the ordinary over Lim meeting Zarul late at night.
He agreed with Gobind that as politicians and ministers, they receive many people to get views on a proposal or project.
"Yes, it is normal for a minister or CM to do so. Hence, it is nothing out of ordinary for Zarul asking to meet Lim," he added.
Nazri said he was asked by the Malaysian Anti-Corruption Commission (MACC) to give a statement on the case, but he could not remember whether he was called or met the MACC to record his statement.
"The MACC officer's question was directed at Zarul," he said.
Gobind: Has Zarul paid any money to you?
Nazri: No
Gobind: He has made contributions for religious schools in Patani?
Nazri: Yes, this is to build religious schools in Patani, Thailand. This is not related to this case.
During re-examination by Wan Shaharuddin, Nazri said as he hails from Hulu Perak and is of Patani descent, he made it a point to assist religious schools and a mosque there which are in dilapidated condition.
This, he added, has been going on for some time since the 1990s.
"Zarul knew of this and hence, he was willing to make a contribution," the former minister said.
The hearing before Sessions Judge Azura Alwi continues.
Read also:
Former lawyer involved in Penang undersea tunnel project contract denies there were big mistakes