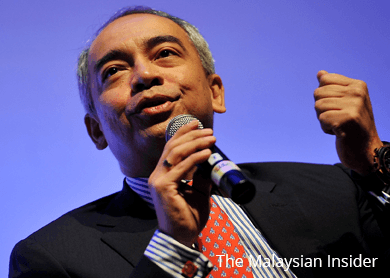 KUALA LUMPUR: CIMB Group Holdings Bhd chairman Datuk Seri Nazir Razak said in an Instagram posting yesterday institutions must get to the "truth" of developments in the country as Malaysians are feeling truth-deprived.
Via his Instagram handle @nazir.razak, he posted an image of a signboard saying "Truth. Next Exit" with the caption: "I hope so. Our institutions must get us there quickly. Malaysians [are] feeling truth-deprived — depressing and divisive. After [the] truth, we can find reconciliation."
Nazir did not go into the specifics, but he is believed to be referring to the current issues, like controversial state strategic investment fund 1Malaysia Development Bhd (1MDB) and Majlis Amanah Rakyat's Melbourne property purchase scandal.
It is noted that Nazir has been critical of 1MDB, which is now subject to investigations by the Auditor-General and the Public Accounts Committee (PAC).
In previous posts, Nazir had questioned 1MDB, including the delay in auditing its accounts for financial year 2015.
"I am perplexed why your March 2015 audit has not even started? How is this allowed? Have [the] standards of GLC (government-linked company) governance dropped so low?" he wrote in a posting on June 12.
He has also made other posts on Instagram, criticising 1MDB president and group executive director Arul Kanda Kandasamy, and the fund's former chief executive officer Datuk Shahrol Halmi's no-show at a scheduled PAC hearing.
The posting on Monday had received more than 500 likes at press time.
Nazir has recently been linked with setting up a new non-governmental organisation with individuals such as Global Movement of Moderates chief executive officer Datuk Saifuddin Abdullah over concerns regarding Malaysia's present socio-political landscape.
This article first appeared in The Edge Financial Daily, on June 30, 2015.