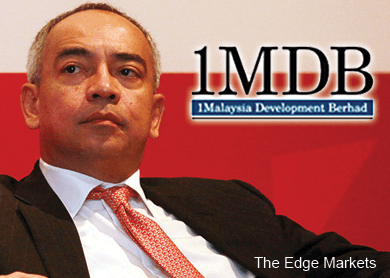 KUALA LUMPUR: Datuk Seri Nazir Razak has described 1Malaysia Development Bhd's (1MDB) failure to testify at the Public Accounts Committee (PAC) hearing scheduled for yesterday as "unacceptable".
"Your company has triggered a national crisis and you can be too busy to face Parliament? Unacceptable," Nazir said in a posting on Instagram.
The CIMB Group Holdings Bhd chairman was referring to 1MDB group executive director and president Arul Kanda Kandasamy and former chief executive officer (CEO) Datuk Shahrol Halmi's abrupt request for a 30-day extension before testifying to the PAC, citing important overseas appointments.
The duo only made the request four days before the hearing despite receiving two weeks' notice from the PAC.
Nazir has been vocal in his criticism of 1MDB, a finance ministry-owned state investment vehicle, established in 2009, which has chalked up debts of up to RM42 billion.
He had previously said the 1MDB board should resign if it did not want to take active measures to address concerns over its finances.
Nazir was reported to have said that it was irresponsible for the debt-ridden state investment arm to do nothing and simply wait for the Auditor-General (AG) to complete his investigation.
"The immediate check for a responsible board is to appoint an independent (auditor) now … otherwise the board and management, in my view, should resign," Nazir was quoted as saying by The Star earlier this month.
"It is your basic responsibility. There is a complete mistrust in your financial situation. You have to responsibly deal with that. But instead you sit there and wait for the AG.
"To me that is irresponsible. If you do that then it is better for you to step down and let someone else come in and take over."
PAC chairman Datuk Nur Jazlan Mohamed said yesterday Shahrol and Arul had requested to postpone their attendance at the committee's hearing to a later date.
Shahrol was 1MDB's first CEO from February 2009 to March 2013, while Arul was appointed in January this year. Both are key witnesses in the PAC's inquiry into the 1MDB fiasco.
PAC had begun its own hearings on the matter last Tuesday, after deciding not to wait for an independent probe by the AG to be completed.
1MDB on Monday denied that Arul and Shahrol were skipping the meeting with PAC, but instead were "looking forward" to telling their side of the story. — The Malaysian Insider
This article first appeared in The Edge Financial Daily, on May 27, 2015.