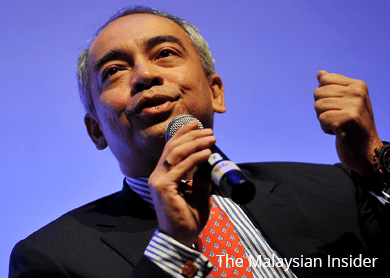 This article first appeared in The Edge Financial Daily, on September 25, 2015.
KUALA LUMPUR: Worried over Malaysia's placing in the junk category by credit default swap (CDS) traders, prominent banker Datuk Seri Nazir Razak yesterday urged the authorities to answer ongoing financial controversies.
Writing on his Instagram account, the CIMB Group Holding Bhd chairman and brother of Prime Minister Datuk Seri Najib Razak said: "This is worrying. The market is much more negative about Malaysia than the rating agencies, taking us into junk category, way below our fundamentals.
"Suspect it's due to so much negative coverage in WSJ (The Wall Street Journal), FT (Financial Times) and NYT (New York Times) — all 'capital' people read at least one if not all of them.
"We have to change the current narrative about Malaysia with answers or legal suits; can't just ignore them."
Nazir did not specify what Malaysia had to answer for, but the country has been in the international spotlight over controversies involving government-owned investment firm 1Malaysia Development Bhd (1MDB), which Najib oversees as finance minister and chairman of the firm's advisory board.
Najib is also under scrutiny over a RM2.6 billion political donation from a Middle Eastern donor that went to his personal bank accounts.
Bloomberg reported yesterday that two weeks after Brazil's credit rating was lowered, CDS investors were punishing other emerging markets facing similar challenges.
The report said Moody's Corp rated Malaysia A3, although traders saw it six levels lower at Ba3.
South Africa, which is a Baa2, is viewed as a B1 borrower.
The report said most developing nations were confronting the same issues that saw Brazil losing its investment grade rating at Standard & Poor's — a plunge in commodity prices, a slumping currency and political turmoil.
The Bloomberg report also said that "political disputes are a key hindrance to investors' perception of emerging-market creditworthiness", and noted recent street protests calling for Najib's resignation over alleged financial scandals. — The Malaysian Insider