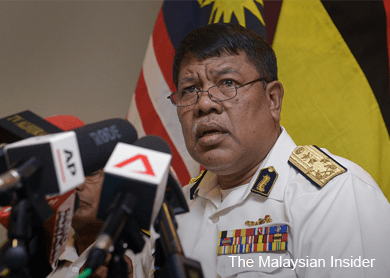 KUALA LUMPUR: The hijacked Malaysian tanker MT Orkim Harmony has moved to Vietnamese waters and attempts are being made to negotiate with the pirates holding the ship to ensure the safety and release of its crew, the Malaysian Maritime Enforcement Agency (MMEA) said.
MMEA director-general (Operations) Datuk Ahmad Puzi Abdul Kahar said Malaysian navy vessels — KM Amanah, KM Segantang and KD Terengganu — were in visual contact with the tanker at press time yesterday.
"We are quite near. We are 10 miles (16km) from the tanker," Puzi told a press conference. He said although contact has been established with the ship, no demands have been made so far.
"The contact was established at noon today (yesterday) through the tanker's captain. The conversation was done in Malay but right now we are still trying to identify the pirates' identities," he said.
Earlier, Royal Malaysian Navy chief Tan Sri Abdul Aziz Jaafar confirmed to The Malaysian Insider that all crew on board the ship are alive and unharmed, after the navy managed to establish contact with the ship's captain.
Abdul Aziz said Malaysian navy vessel KD Terengganu was in communication with the ship, which was earlier detected in Cambodian waters.
"The crew are all safe and unharmed. KD Terengganu is in communication with the ship's captain," said Abdul Aziz in a text message to The Malaysian Insider.
However, he said it was too early to tell if the cargo of 6,000 tonnes of RON95 petrol was intact, as the navy had yet to approach the tanker.
It is learnt that the Malaysian navy has contacted the authorities in Thailand and Cambodia to get the green light to approach the tanker.
Earlier yesterday, online portal Astro Awani quoted Naval Region 1 Commander Rear Admiral Datuk Azhari Abdul Rashid as saying that the vessel had been repainted and its name changed from Orkim Harmony to Kim Harmon to avoid detection.
The tanker was reported missing at 8.57pm last Thursday while on its way to Kuantan Port from Melaka.
MT Orkim Harmony, owned by Magna Meridian Sdn Bhd, was carrying 6,000 tonnes of petrol worth RM21 million and a crew of 22 comprising 16 Malaysians, five Indonesians and a Myanmar, when it lost contact. — The Malaysian Insider
This article first appeared in The Edge Financial Daily, on June 19, 2015.