This article first appeared in The Edge Malaysia Weekly, on November 22, 2021 - November 28, 2021.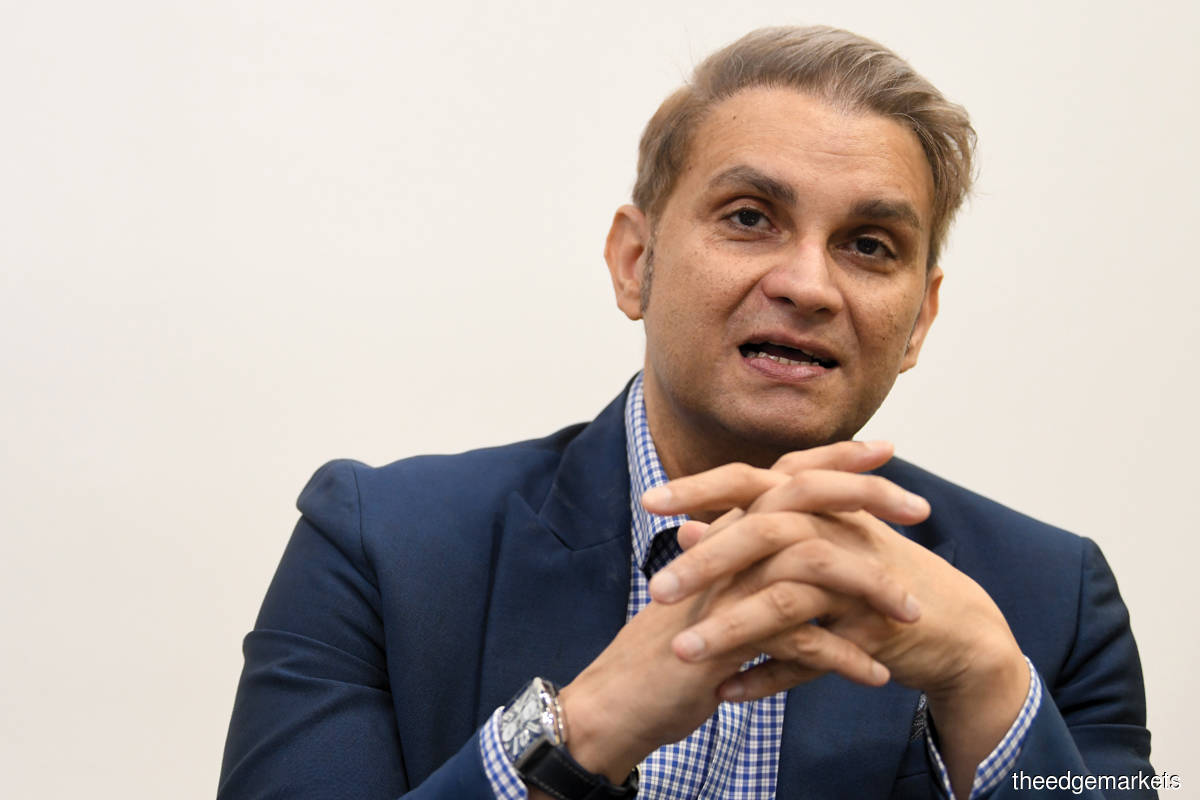 AURELIUS Healthcare Sdn Bhd, a new healthcare company backed by Malaysia-based private equity firm Navis Capital Partners Ltd, is in rapid expansion overdrive. It has plans to add two hospitals by the second quarter of next year to take its hospital count to four across the country.
This is in line with the company's plan announced in September to expand its footprint across the country to five to 10 hospitals in the next two to three years. And the company, led by founder and group managing director Datuk Amir Firdaus Abdullah, is also planning to go for an initial public offering (IPO) in five to seven years.
In an interview with The Edge, Amir Firdaus says the funds for the effort have already been allocated.
In May this year, Aurelius secured an undisclosed amount in investment funding from Navis — formed by a group of former Boston Consulting Group management consultants who specialise in Asian markets — that it will use to expand and scale. Companies Commission of Malaysia (SSM) data shows that Navis has an 87.79% majority interest in Aurelius while Amir Firdaus holds the remaining 12.21% stake.
"Navis is a long-term investor. Right now, we are talking more about the growth aspect rather than [Navis'] exit strategy [from Aurelius]. An IPO is always possible but the time horizon would be about five to seven years and looking at the market conditions at that time," says Amir Firdaus.
Since its founding in 2019, Navis has invested an estimated US$80 million (RM335 million) into Aurelius for the acquisition of two hospitals — in Nilai, Negeri Sembilan, and Alor Setar, Kedah.
"When we acquired our first hospital — the 20-year-old Nilai Medical Centre — it was already profitable. We increased the bed capacity to 150 from 100 and added the clinical services required," Amir Firdaus says, adding that the hospital is now called Aurelius Hospital Nilai.
"The second opportunity is an acquisition of a nearly completed 200-bed hospital in Alor Setar that will be operational by end-2022," he adds. "We are also actively in discussion for another four to five opportunities and will seek to expand this pipeline rapidly with Navis' participation."
Aurelius is scouting for both brownfield and greenfield expansion in Malaysia. It will also simultaneously expand into Indonesia, Vietnam and the Gulf countries such as Iraq, Kuwait and the United Arab Emirates (UAE).
"The idea would be to look at underserved markets in the Malaysian healthcare sector and first-tier cities like Kuala Lumpur and Penang from the perspective of carving out speciality-based care that we can provide. We plan to have clinical collaborations with international healthcare players, so that we can raise the level of healthcare in Malaysia.
"Together with Navis, we are in talks with various other single hospital providers or small healthcare groups for potential mergers and acquisitions (M&A) in Sarawak, the East Coast and Indonesia," says Amir Firdaus.
A check on Navis' website shows that it has also made strategic investments in healthcare businesses such as Device Technologies, Hanoi French Hospital and B Medical Systems. Asked whether Navis is planning to merge Aurelius with Hanoi French Hospital, Amir Firdaus says that plan is not on the cards and Aurelius will continue to run independently under Navis.
"We don't want to be just a Malaysian brand. We want to have a presence in Southeast Asia and the Gulf. In fact, we have two potential projects in Iraq and Kuwait that are calling upon us to provide our expertise as well as look at the possibility of taking equity in their hospitals. Of course, opportunities in the UAE are naturally being looked at as well.
"At this moment, we are only working with Navis. But depending on the size of the project, we may invite other investors to also join us. For instance, in certain geographies, we may bring in other investors to co-invest with us in projects. [In fact,] we are in discussion with a large healthcare chain in Indonesia with over 30 hospitals and with that sort of investment, it may involve US$2 billion to US$3 billion, which would require more investors to come in," he says.
Still, the new healthcare company has to be ready to compete against larger rivals like IHH Healthcare Bhd, KPJ Healthcare Bhd, Columbia Asia and Ramsay Sime Darby Healthcare that are also in expansion mode. In this regard, expanding Aurelius' regional presence may be an easy feat for Amir Firdaus considering his 30 years of healthcare experience with major healthcare groups such as IHH Healthcare, US' DaVita Kidney Care and Abu Dhabi's VPS Healthcare. When he was regional CEO of Gleneagles Hospitals in Malaysia, he played an instrumental role in the development of new Gleneagles facilities across the country, while as group chief operating officer at VPS Healthcare, he helped expand its footprint in the Middle East.
Is the local market big enough for more private healthcare players?
"When we look for M&A opportunities in Malaysia, we basically look at existing operating hospitals. We are not adding on to that. Nevertheless, we do see a lot of potential in certain markets where the current ratio of hospital beds to the total population (BPR) is still low," says Amir Firdaus.
"The other thing that has been driving a lot of our understanding is that there is a huge interplay at the moment between public and private healthcare. There is only a finite amount that the government can spend. According to Finance Minister Tengku Datuk Seri Zafrul Abdul Aziz, Malaysia's health spending, comprising both public and private spending, has been steadily increasing from 4.2% of gross domestic product (GDP) in 2016 to 4.7% of GDP last year and is expected to reach 5% of GDP in 2021. This clearly indicates that private healthcare has an important role to play in Malaysia to support healthcare in general.
"And what would be important for private hospitals to do is respond by working with the government and doing a lot more public-private partnership arrangements. I think Covid-19 is a good example where the private hospitals have stepped up [to assist the government]," he adds.
Currently, Aurelius has 600 employees. Given that its first hospital in Nilai commenced operations in September this year, the company has not yet reported any revenue and showed a RM1.41 million net loss in the financial year ended Dec 31, 2020, according to SSM data. It had assets of RM120,396 and liabilities totalling RM925,260.
The pandemic and the various lockdowns have affected healthcare providers' operations. But Amir Firdaus says the healthcare sector has rebounded.
"It was a little bit in the doldrums. People were keeping away from hospitals but now the busyness is back. The country's Covid-19 vaccine drive has worked out well. The number of people falling seriously ill is now much less. That's why we have come out of that curve," he says.