This article first appeared in City & Country, The Edge Malaysia Weekly, on July 25, 2022 - July 31, 2022.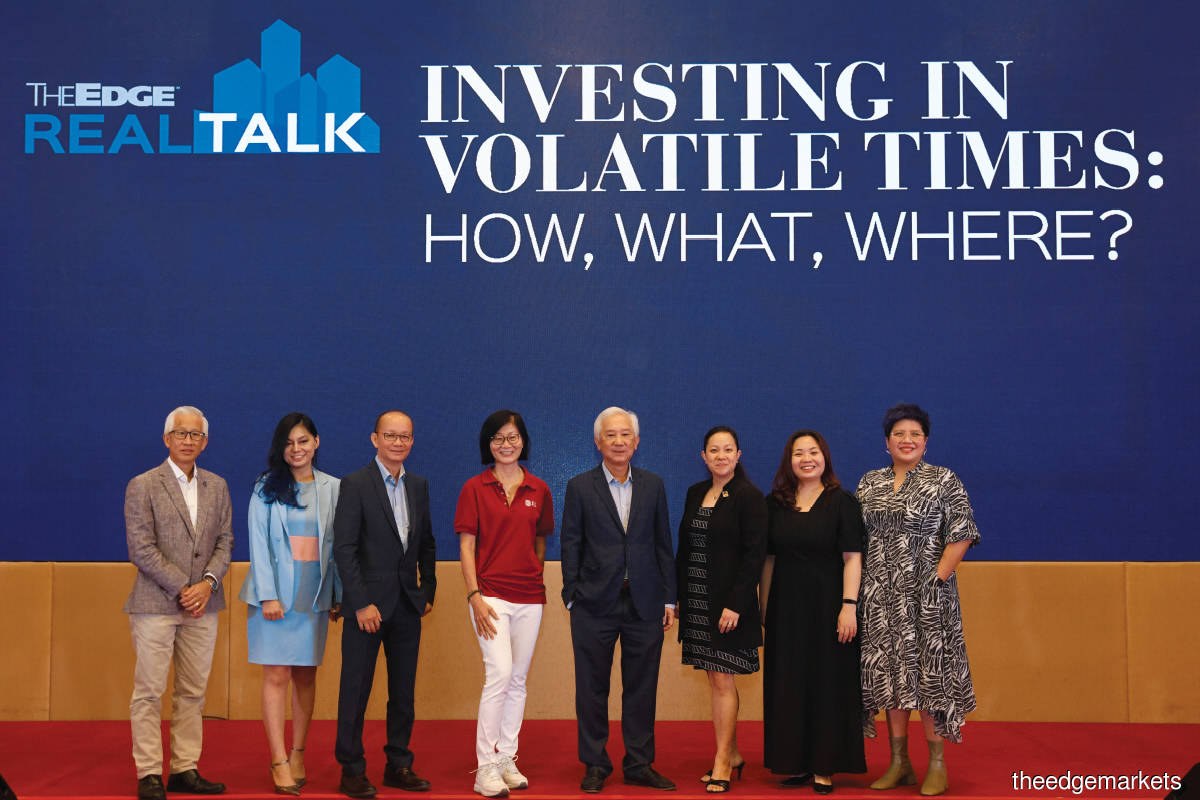 The Edge Malaysia RealTalk 2022 was held at One World Hotel in Petaling Jaya, Selangor, on the morning of July 16. This is the 14th edition of the annual forum, previously known as The Edge Investment Forum on Real Estate.
The forum, with the theme "Investing in Volatile Times: How, What, Where?", was attended by 239 participants. Nippon Paint Malaysia was the main partner, with the other partners being Matrix Concepts Holdings Bhd, Gamuda Land and Panasonic Malaysia.
The Edge Media Group publisher and CEO Datuk Ho Kay Tat remarked in his opening address that the property industry had shown gradual signs of recovery over the past 12 months. 
"In the current uncertain economic climate, investing in a property is no longer just about the location. It is more crucial to make informed decisions. While there are opportunities, investing is no longer a straight line, and there are twists and turns to navigate. I am confident our line-up of esteemed speakers will be able to guide you on this journey," Ho said.
Speakers at this year's forum were CBRE | WTW chairman Foo Gee Jen; Malaysian Institute of Estate Agents (MIEA) president Chan Ai Cheng; Knight Frank Malaysia executive director of research and consultancy Amy Wong; JLL Property Services (M) Sdn Bhd country head Y Y Lau and global residential agency senior negotiator Chong Shu Ling; and Architect Centre Sdn Bhd accredited architect, building inspector and trainer Anthony Lee.
Foo, in his talk entitled "Looking Ahead: What to Expect in the Next 12 Months?" stated that e-commerce would continue to drive demand for warehousing and logistics facilities in the next six to 12 months. The industrial property market has been consistently performing well, giving an annual return of between 7% and 9% from 2017 to 2020, and between 6.5% and 7% in 2021 and 2022.
"All these facilities will be very much hi-tech and mega sized, which is about one million sq ft and above, and will be fully automated. There will also be an expansion of electrical and electronics (E&E) activities that will drive demand for production facilities in Penang and in certain parts of Johor," he said.
As for the residential sector, Foo reckoned that it would be a locally driven market. Prices in certain areas in the secondary market will also see a correction. "However, the question is, will developers increase the price of properties when there are high compliance costs and environmental, social and governance (ESG) elements? I believe developers will increase property prices slightly but still be able to sell them at very attractive prices by reducing their profit margin."
Speaking on the topic of "Making Realty Dream a Reality", Chan said the rule of thumb for new investors is to avoid the generics and be specific. Property investment is all about an individual's needs, objectives and reasons for investing in a property. "As such, you should not listen to what others tell you because it [differs from one person to another,] depending on your life's circumstances."
It is important for buyers to look into the area that they plan to invest in. "For instance, if you want to invest in Bandar Utama, the prices of terraced houses in the locality are hovering in the region of RM1.2 million to RM1.5 million. This is where you have to study and research what kind of properties are available in the area via property portals, and make use of the previous years' statistics and transaction data to get a better gauge for purchasing the right property," said Chan.
Consequently, there are different risks and returns in the property market; everyone has a different appetite. Chan said it was always important to go back to the fundamentals — location, accessibility, property type, size and price.
Meanwhile, Wong talked about the opportunities and risks in investing in properties. Buying property is a big investment, and current risks include worldwide inflation, the Covid-19 lockdown in China, economic impact from the Russia-Ukraine war and rising construction costs driven by increasing prices of raw materials and labour.
The recent increase of the overnight policy rate to 2.25% is seen as a sort of moderation for the market and should not have an immediate negative impact on the real estate sector, Wong said. Interest rates are subject, however, to economic conditions; so, if Bank Negara Malaysia could maintain them for 10 years and subsequently drop them to a record low within seven months, the inverse is also possible, she added.
In terms of opportunities in the property market, work-from-home features and flexible layouts are important for future housing trends, Wong said. "We also noticed that people have been wanting to purchase larger dwellings, as they needed more space after the lockdowns. There is also urban dispersal because of hybrid work models, whereby people have realised that they do not really need to live right next to or near their office anymore because they go in to the office only twice or thrice a week."
Townships outside the main city area have been doing very well; if one opts to live in the city, however, Wong reckoned that mixed-use schemes would continue to thrive. These are the ones that come with offices, retail units and shopping malls all in one place, which still make very good investment sense.
Speaking on "Investing in Overseas Projects", Chong and Lau pointed out that the UK and Australia are the countries that are most popular with Malaysian investors.
Other countries that Malaysians can consider investing in include Portugal, which provides investors with opportunities through the Golden Visa programme, which allows one to live, work and potentially study in 26 EU countries. Lisbon and Porto are the investment hotspots.
"Over in Germany, one does not need to pay tax after holding the property for more than 10 years and the hotspots for property investment are Frankfurt and Berlin. Meanwhile, Tokyo and Osaka are the hotspots to invest in Japan, where taxes are very low and  [no additional foreign tax is incurred] when foreigners purchase a property there. There will also be a five-year rental guarantee. The Japanese yen is very cheap now, so it will be a good time to consider investing in properties there," said Chong.
According to Lau, the reasons for investing in overseas projects are to provide excellent asset diversification, currency exchange increase returns, children's education accommodation, access to foreign currency financing, access to bigger markets, for legacy planning, as a holiday home and for migration.
In Lee's session entitled "Future-Proofing your Investment", he said properties that met the criteria of maintenance, including indoor air quality; cleanliness, monitoring and evaluation of the building; financial sustainability; development value; crisis management and preparedness; as well as community and communications would be well managed. 
He noted that when one sees a property development's marketing brochure, common phrases used include the exclusivity of the project, private lifts, multiple awards won and even a wide range of facilities or no service charge for two years.
"But what is the catch? A low-density development means higher service charges, as fewer people pay more for all the facilities in a property. But is this practical, maintainable or even financially sustainable?
"We are not talking about Green Building Index (GBI)-certified buildings or sustainable environment, but whether you will have enough money for the maintenance charges or to pay for the sinking fund.  This is where it is important to understand the situation and not do things blindly," said Lee.
Meanwhile, Panasonic Corp's QAFL (quality air for life) Business Promotion Office managing director Ichiro Suganuma is of the opinion that we are on the road to recovery after two years of lockdown.
"The lockdown measures have restricted what people can spend money on and have changed consumer spending. So, how attractive we can make a product for the public is a key issue.
"At Panasonic, we are [emphasising] indoor air quality (IAQ) and we are confident that our products will be able to attract customers. IAQ is Panasonic's initiative to create improved air quality for people to live healthier and more comfortably. With Panasonic's technologies for IAQ like Nanoe X, we believe we will help solve IAQ issues," said Ichiro. 
Nippon Paint project division manager Moo Chun Shyan, meanwhile, noticed a gradual improvement in the property industry after the last Movement Control Order was lifted. 
"However, the construction industry faces rising material costs, like for cement, steel and iron. All these have a big impact, particularly on small construction companies with low profit margins. 
"The adoption of new technologies like the IBS system and 3D printing will be able to reduce construction time as well as labour issues. Hence, I hope the government will look into the labour issue so that it provides some relief for the construction sector," said Moo.
Affordability remains a major barrier to home ownership, especially after the end of the Home Ownership Campaign last year, said Gamuda Land central marketing and sales department executive director Sueway Tan.
"Gamuda Land has been offering an extensive range of assistance and incentives to help homebuyers, particularly first-time buyers to enter the property market," she added. 
The developer believes that demand for properties is still high and based on its market insights, consumers are focusing more on quality-driven townships.
"It is good to hear that the government recently announced a new homeownership campaign, which is a plus point for first-time homeowners to enter the property market. We also see that the affluent market has a preference for sustainable homes and homes that are close to nature. As such, we are working towards building sustainable homes for buyers," Tan said. 
Meanwhile, Matrix Concepts Holdings Bhd chief marketing officer Lim Kok Yee said that certain fiscal policies would need to be reset to spur the property market. 
"Governing bodies and associations must work hand in hand to address economic and socioeconomic issues effectively and efficiently, especially the [housing] glut and the rising cost of raw materials and the shortage of manpower.
"The banking and financial sectors need to redefine certain prerequisites and modify how they can serve their property loan customers better, in order to retain as well as expand their customer base, especially for first-time property buyers," said Lim. 
He stressed that Malaysia My Second Home (MM2H) is a good programme, especially for the higher-end property market, and much needs to be done to ensure it continues. 
"Not all is doom and gloom as the government has rolled out the Home Ownership Programme or i-Miliki initiative on the 100% stamp duty exemption for first-time buyers for property valued at RM500,000 and below.
"Having said that, developers also need to act accordingly to capture the desired market segment during this trying time. The innovation of products and offerings must take the lead," stressed Lim.
Participants gain insight into market
Attending the forum for the first time was Khorni, 26, who told City & Country that, as a first-time homebuyer, she hoped to learn about investing in properties and the factors to consider before buying one.
Two other participants, Siti and Wong, aged 42 and 78 respectively, have attended the forum several times before and wanted to gain a greater understanding of the proper time to invest in properties and which ones to buy under uncertain market conditions.
Members of the audience also took part in a live poll during the forum, the results of which are published on Page 24.