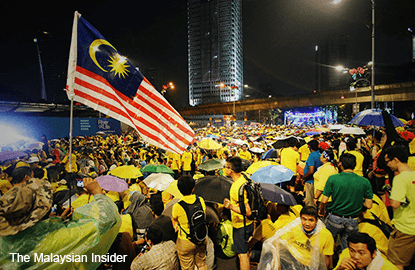 (Dec 3): Putrajaya's new National Security Council (NSC) Bill will be a "death sentence" to democracy in Malaysia if it is passed today, Pakatan Harapan MPs said.
PKR, Amanah and DAP lawmakers said that they would fight "tooth and nail" against the bill, which provides wide ranging powers to Prime Minister Datuk Seri Najib Razak.
"This is a death sentence to Malaysia's democracy. Tomorrow, they can declare Dataran Merdeka a security area and we can forget about all future Bersih rallies," Gooi Hsiao Leung (PKR-Alor Star) said during a joint press conference at the Parliament lobby.
The bill, which was only tabled two days ago, gives powers to the council headed by Najib to arrest anyone without a warrant once an area is declared a security area.
The NSC bill gives the prime minister the power to impose "emergency-like" conditions, without the same safeguards.
Under Article 150 of the Federal Constitution, the Yang di-Pertuan Agong must be satisfied that there is a need for a declaration of emergency.
The NSC Bill does not require the Agong's consent for an area to be declared a security area.
Gooi was joined at the press conference by his Wong Chen (PKR-Kelana Jaya), Hanipa Maidin (Amanah-Sepang) and Gobind Singh Deo (DAP-Puchong).
Gobind said the new legislation provides "almost absolute power" to one individual.
"We all saw what happened with Security Offences (Special Measures) Act 2012 (Sosma). Despite clear assurances that it would not be abused, it was used against two individuals," he said.
Gobind was referring to the arrest of government critic and former Batu Kawan Umno deputy chief Datuk Khairuddin Abu Hasan and lawyer Mathias Chang under Sosma over their criticisms about 1Malaysia Development Berhad (1MDB).
The High Court eventually ruled that the duo should not be charged under Sosma.
"We do not want something like this repeating," said Gobind.
He questioned the need to rush through the bill which he said affects "fundamental liberties". – The Malaysian Insider