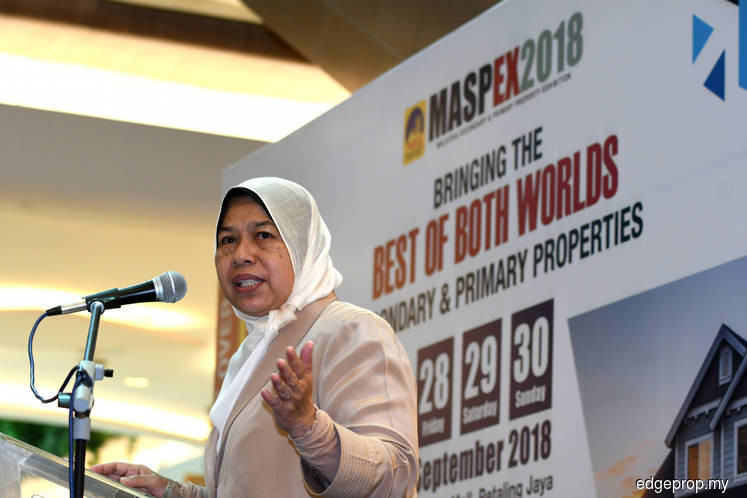 PETALING JAYA (Sept 28): Housing and Local Government Minister Zuraida Kamaruddin said the National Housing Policy (NHP) 2.0 is completed and is now pending the cabinet's approval.
"We are now in the stage of getting comments and feedback from other ministries," she said during a press conference after the Malaysia Secondary and Primary Property Exhibition (Maspex) 2018 opening ceremony.
Earlier in May, Zuraida also proposed to put all government agencies tasked with the development of affordable homes under KPKT's umbrella.
She revealed that, as of today, 1Malaysia Civil Servants Homes (PPA1M), Syarikat Perumahan Negara Berhad (SPNB), Perbadanan Pembangunan Bandar (UDA) and 1Malaysia People's Housing (PR1MA) has been put under KPKT.
"PR1MA is now at the due diligence stage which is expected to complete by December," she added.
Meanwhile, commenting on a possible property price reduction after the implementation of Sales and Service Tax (SST) on Sept 1, 2018, she said prices are expected to go down.
"Parts of the building materials are exempted from SST, [so] there should be price reduction, although we don't know what will be the percentage of reduction," she said.
She noted that the Real Estate Housing Developers' Association Malaysia has responded that housing prices might not necessarily come down after SST.
However, Zuraida pointed out that if the prices of some building materials are lowered, construction costs will also go down and thus, home prices should be reduced.