This article first appeared in The Edge Malaysia Weekly, on February 24, 2020 - March 01, 2020.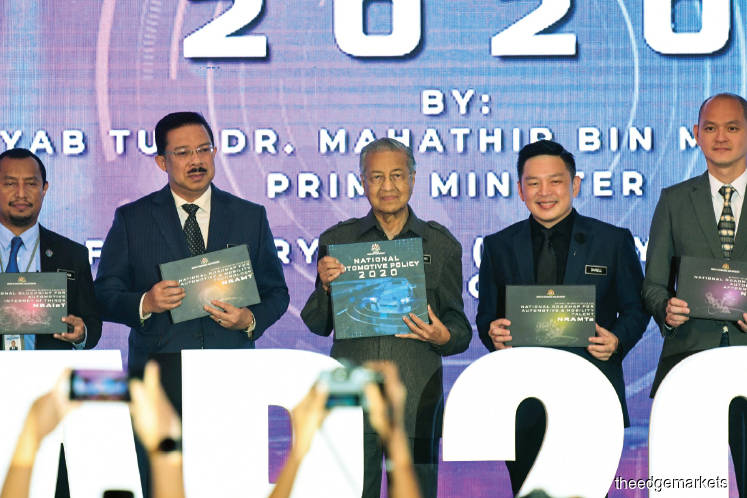 Mahathir at the launch. Also present were (from left) Chief Secretary to the Government Datuk Seri Mohd Zuki Ali, International Trade and Industry Minister Datuk Darell Leiking and Deputy Minister Dr Ong Kian Ming.
Photo by Bernama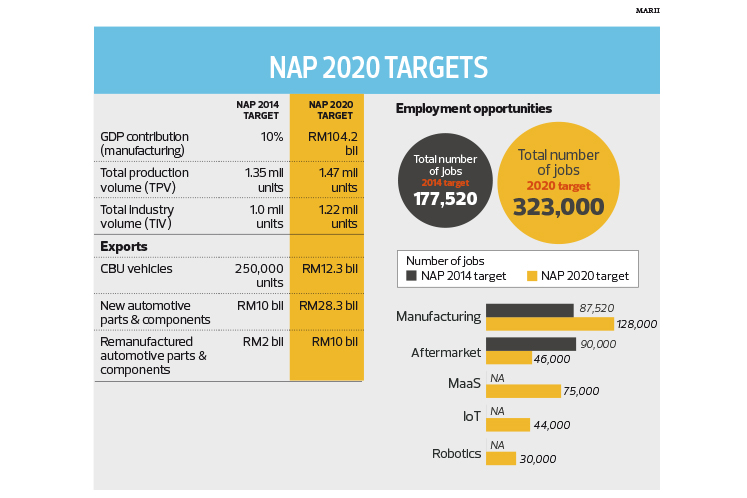 AFTER almost a year of guessing, the latest iteration of the National Automotive Policy (NAP) was finally revealed last Friday. NAP 2020 aims to provide a clear vision for the country's automotive sector over the next decade.
The current policy will be the fourth of its kind since the first NAP was introduced in 2006, under the Industrial Masterplan 2006-2020. Over the last 1½ decade or so, the Malaysian automotive industry has undergone a transformation.
However, through the years, the industry's performance often fell short of policy targets. So the same question arises as to whether the latest NAP will be the impetus that the Malaysian automotive industry sorely needs to become a regional leader.
The response from the automotive industry to NAP 2020 is mixed.
Malaysian Automotive Association (MAA) president Datuk Aishah Ahmad says the government got it right in terms of focusing on Next Generation Vehicle (NxGV), Mobility-as-a-Service (MaaS) and Industry Revolution 4.0 (IR 4.0).
However, she does not seem too happy about the continuation of the customised incentives policy.
"To make Malaysia's automotive industry more competitive, the government must attract auto investors to the country by having long-term policies and attractive incentives in place.
"MAA had requested for menu-based incentives to be implemented to ensure certainty for investors to know what will be approved, but the government is still insisting on continuing customised incentives," she says in a text message to The Edge.
She adds that not much has changed from the Draft NAP 2019 that was released last year.
To answer the question as whether NAP2020 can take Malaysia's automotive industry to the next level, let us take a look at the government's aspirations for the industry over the next decade and how it plans to realise them.
GDP contribution of RM104.2 billion by 2030
Since the inception of the national automotive industry with the formation of Perusahaan Otomobil Nasional Sdn Bhd (Proton) in 1983, the automotive industry has become an important sector for Malaysia.
In 2014, the industry contributed about 4% of the country's gross domestic product (GDP). Under NAP 2014, the target was to increase the contribution to 10% of GDP by 2020. Since the main target of growing the total industry volume to one million units by 2020 will not be realised, it is safe to assume the 10% target will not be reached.
Under NAP 2020, the automotive manufacturing industry is expected to contribute RM104.2 billion to the country's GDP by 2030. Based on the government's projection of a GDP of RM3.4 trillion by then, the target translates into a contribution of just around 3%.
However, according to the CEO of Malaysian Automotive, Robotics, and IoT Institute (MARii) Datuk Madani Sahari, the automotive industry as a whole, including MaaS, could contribute up to 10% of the country's GDP by 2030.
The industry is also expected to produce 1.47 million vehicles annually by 2030, while 1.22 million vehicles are expected to be sold domestically by then. As at 2018, Malaysia produced 572,471 vehicles, while 603,664 vehicles were sold locally.
In terms of export value, NAP 2020 has set a target of RM12.3 billion a year in exports of completely built-up (CBU) vehicles by 2030. In 2018, Malaysia exported RM2 billion worth of CBU vehicles, according to MARii.
The government has also set a target of RM28.3 billion for the country's exports of new automotive parts and components by 2030, while exports of remanufactured automotive parts and components are targeted to reach RM10 billion.
A total of 323,000 employment opportunities are expected to be created by 2030, with the manufacturing segment providing 128,000 jobs. The rest will be made up by employment opportunities in robotics, IoT, MaaS as well as the aftermarket segments.
National Automotive Vision
NAP2020, which was launched by Prime Minister Tun Dr Mahathir Mohamad, comes with a vision statement for Malaysia to become a regional leader in manufacturing, engineering, technology and sustainable development in the automotive sector.
It also supports the development of existing or new Malaysian vehicle projects as well as the participation of any vehicle-producing company in realising the National Automotive Vision. But how will this be realised under NAP 2020?
The policy states that to achieve the vision, the technology ecosystem for NxGV must be developed to make the country a future regional production hub. This is a continuation of the main objective of NAP 2014, which is to make Malaysia a regional production hub for energy-efficient vehicle (EEV).
NxGV is classified as a vehicle that meets the definition of EEV specifications, enhanced with intelligent mobility applications with a minimum Level 3 vehicle automation, or "conditional automation".
The technology is classified according to five levels of "Autonomous/ Automated and Connected Vehicle" (AACV). Level 3 vehicle automation is where there is automation of driving tasks by the systems within the car, but the driver must react promptly when alerted.
Second, the policy also touches on the expansion of the participation of the industry into MaaS.
MaaS is a concept created to integrate various types of services and transport modes into an efficient and centralised mobility service.
Examples of MaaS includes car sharing, person-to-person car rental, ride-sharing, personal travel planner, smart parking, road-user charging, connected vehicles and real-time traffic management.
Besides that, NAP 2020 also aims to incorporate IR4.0 into the industry, with the use of technology applications, especially artificial intelligence, big data analytics and Internet of Things (IoT).
So what are the specific measures that will be implemented in order to achieve these three broad objectives?
The first directional thrust under the NAP 2020 is engineering and technology development. For commercial vehicles, NAP 2020 seeks to promote the use of telematics and IoT technology for safety enhancement and efficient commercial vehicle fleet management.
Meanwhile, the policy will also promote the development of the critical components manufacturing industry, such as the manufacturing of battery and battery packs together with battery management systems and thermal management systems.
The development of standards and specifications will also be given extra focus under NAP 2020, including EEV specifications for motorcycles with engine capacities of more than 250cc, upgrading of green engine specifications for commercial vehicles from Euro2 to Euro5, and standards for the recycling and disposal of batteries.
Investments from local and foreign automotive companies will continue to be encouraged. There is no restriction in the issuance of EEV manufacturing licences, like in NAP 2014, under the new policy, while manufacturing licences for NxGV will be introduced.
Comprehensive customised incentives will be given to manufacturers of EEV, NxGV and critical components, as well as investors in testing centres.
Various criteria will be considered by the government in granting customised incentives, including value of investment, total production, technology transfer, research and development activities, critical component manufacturing, supply chain development, employment opportunities and total exports.
To promote market expansion of automotive producers, the government will increase export promotion programmes and trade investment missions and continue to maximise the use of free trade agreements in areas such as import duties and economics and technical collaborations.
Malaysia used to have the biggest automotive industry in Southeast Asia. However, the country has since been overtaken by Thailand and Indonesia in terms of investments by foreign players, total production and industry volume and exports.
With the new NAP in place, can Malaysia catch up with its neighbours?