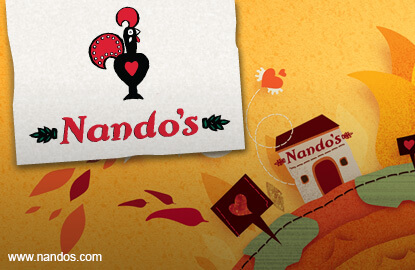 LONDON (Jan 31): Nando's Group, the South African fast-food company known for its spicy chicken and fries, is considering an initial public offering, according to people familiar with the matter.
Nando's is speaking to advisers and is in the early stages of planning a share sale, the people said, asking not to be identified as the deliberations are private. The company is weighing a London listing among other potential venues, they said. No final decisions have been made and the company may look at other ways to raise funds, they said.
Reports about plans for an IPO are incorrect, and the company isn't looking at ways to raise money, a spokesman said in an e-mailed statement.
An overseas IPO would help the Johannesburg-based company, originally backed by billionaire Dick Enthoven, raise money in a currency other than South Africa's rand as it continues to expand globally. A Nando's IPO would follow in the footsteps of other South African companies, such as  Steinhoff International Holdings NV and Brait SE, which have primary listings outside the country to hedge against a volatile currency.
A listing in London would also give Nando's access to a large investor base. Companies raised nearly US$8 billion from IPOs in the UK last year, compared with US$647 million in South Africa, data compiled by Bloomberg show.
The company operates restaurants selling peri-peri chicken in countries including the UK, the US, Australia, India, Malaysia and Qatar. Nando's started in South Africa in 1987 after entrepreneurs Robbie Brozin and Fernando "Nando" Duarte convinced Enthoven to invest in the Portuguese-styled chain. The company traded on Johannesburg's stock exchange until 2003 when managers bought more shares and delisted it.