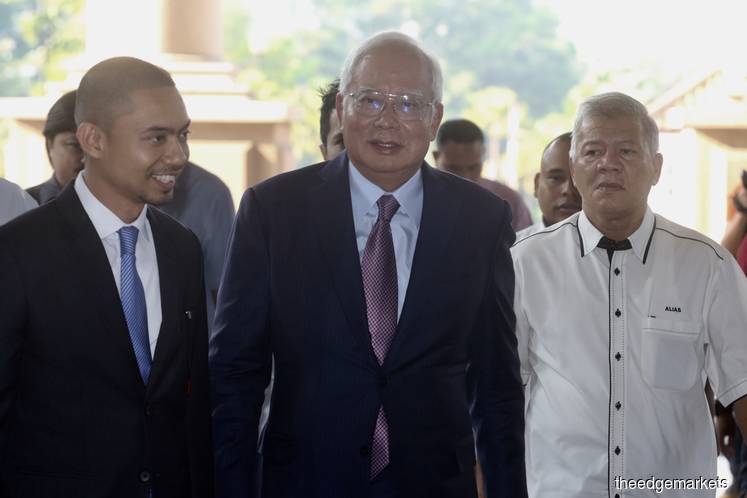 KUALA LUMPUR (April 18): The fifth witness in the trial of Datuk Seri Najib Razak on misappropriation of SRC International Sdn Bhd funds identified three cheques issued by the personal bank account of the former prime minister to Umno and Sabah political party Upko amounting to RM2.3 million.
Between December 2014 and February 2015, Najib paid RM1 million to Umno Pulau Pinang Liaison, RM1 million to UPKO, and RM300,000 to Umno Johor Bharu Division, according to the cheques produced by deputy public prosecutor Muhammad Saifuddin Hashim Musaimi.
This was verified by AmBank cheque processing department senior manager Badrul Hisam Mohamad, 42.
The three cheques were among the sixteen produced by Saifuddin — all issued by Najib's AmBank bank account as well as SRC totalling just over RM30 million.
Among them, a RM3.5 million cheque was issued by Najib's account to law firm Hafarizam Wan & Aisha Mubarak on Jan 21, 2015.
This transaction may be linked to one of two money laundering charges involving RM15 million faced by Umno lawyer Datuk Mohd Hafarizam Harun.
Hafarizam was charged with depositing RM11.5 million, which were allegedly proceeds of unlawful activity, via two AmIslamic Bank Bhd cheques written by Najib into the client account of Hafarizam Wan & Aisha Mubarak. He also faces a second charge for depositing a sum of RM3.5 million via a cheque written by Najib into the law firm's account.
Badrul took to the witness stand today as the cross-examination of the fourth prosecution witness, Bank Negara Malaysia (BNM) investigation officer Ahmad Farhan Sharifuddin, took a pause.
Ahmad Farhan needs more time to obtain the documents relating to three AmBank relationship managers' communications with holders and nominees of AmBank accounts linked to Najib and 1Malaysia Development Bhd (1MDB) as well as its subsidiaries.
In this trial, Najib is facing seven charges involving the alleged siphoning of RM42 million from 1MDB former unit SRC into his bank accounts when he was prime minister.
The proceeding entered its fifth day today.