This article first appeared in The Edge Financial Daily, on July 5, 2019.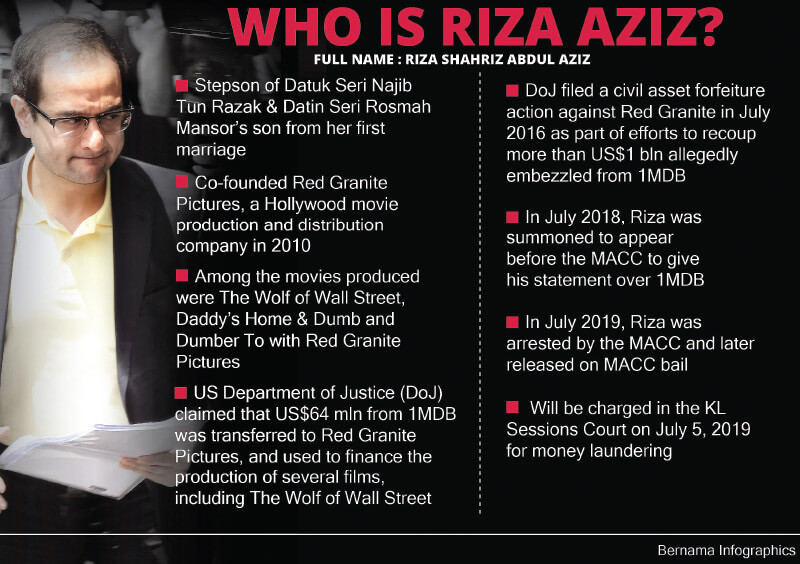 KUALA LUMPUR: Malaysian Anti-Corruption Commission (MACC) chief Latheefa Koya says Riza Aziz, the stepson of former prime minister Datuk Seri Najib Razak, will face money laundering charges in court today.
The film producer is the son of Najib's wife, Datin Seri Rosmah Mansor, from an earlier marriage. Arrested at noon by MACC yesterday, he has since been released on bail, Latheefa said when contacted by The Edge Financial Daily.
"He has to appear in court tomorrow (today) to face charges under AMLA (Anti-Money Laundering, Anti-Terrorism Financing and Proceeds of Unlawful Activities Act)," Latheefa said.
The charges Riza will face are believed to be related to Red Granite Pictures receiving funds allegedly siphoned off from 1Malaysia Development Bhd (1MDB), various reports earlier yesterday wrote. Riza, friend of fugitive financier Low Taek Jho, also known as Jho Low, who is a central figure in the 1MDB scandal, co-founded Red Granite.
According to the US Department of Justice (DoJ), as much as US$4.5 billion has been siphoned off from 1MDB, when it initiated civil forfeiture suits in 2016 — including against Red Granite, which allegedly used 1MDB's siphoned money to produce the Oscar-nominated film, The Wolf of Wall Street — to recover assets allegedly bought with part of the stolen funds.
In March last year, the DoJ reached a settlement with Red Granite, which agreed to cough out US$60 million to the US government to resolve allegations that it profited from funds embezzled from 1MDB. Under the deal, Red Granite did not admit to any wrongdoing. The sum was paid off in September.
"Red Granite paid its obligation to the government in full. The company is pleased to put this matter behind it," Red Granite was quoted as saying in a statement at the time.
On receiving the settlement, and after deducting a portion of that to reimburse investigative and litigation costs incurred by US authorities, the US returned US$57.04 million to Malaysia.
There have reportedly been probes in at least 10 countries focused on possible embezzlement or money laundering linked to 1MDB, while Singapore and Switzerland have fined some banks for lapses in anti-money laundering controls.