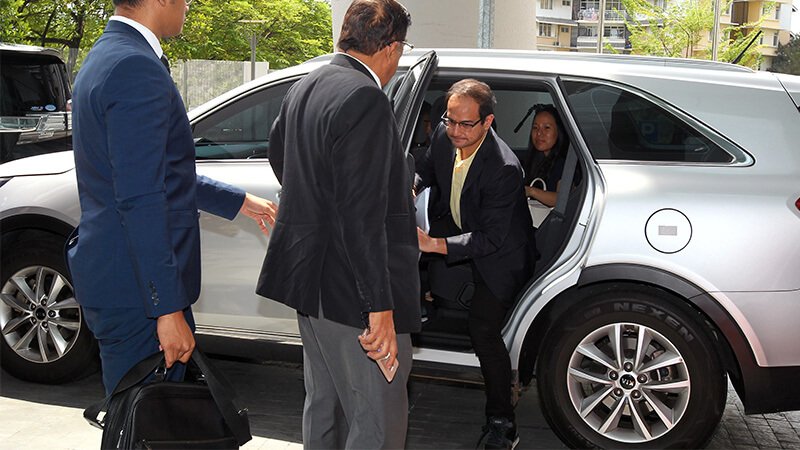 Riza arrived at MACC's headquarters at about 1.30pm. Photo by: Mohd Suhaimi Mohamed Yusuf
PUTRAJAYA (July 3):  Riza Aziz, stepson of former Prime Minister Datuk Seri Najib Tun Razak, has arrived at the Malaysian Anti-Corruption Commission (MACC) headquarters here for questioning by the anti-graft agency.
Riza, 37, arrived at the agency's headquarters at about 1.30pm, half an hour ahead of a scheduled session at 2pm.
He was accompanied by lawyer Datuk K Kumaraendran and two others.
Kumaraendran was also a counsel for Riza's mother and Najib's wife Datin Seri Rosmah Mansor, when she was called for questioning by the MACC last month.
At press time, it was unclear as to which graft case was Riza summoned for.
Riza's name has made headlines over the last few years, after a company he co-founded was alleged to have produced films using monies from 1MDB.
In March this year, the production company Red Granite Pictures Inc agreed to pay US$60 million to the US Justice Department to settle claims it financed "Wolf of Wall Street" using funds from the troubled state investment firm.
Riza is also known as a friend of Low Taek Jho or Jho Low, who was central to the 1MDB scandal with money trails linking the latter to assets — including luxury paintings, a superyacht, and several real estate assets, among others — acquired using monies alleged siphoned from the fund.
Earlier, Umno president Datuk Seri Ahmad Zahid Hamidi and Umno Johor Bahru division chief Tan Sri Shahrir Samad were also spotted at the MACC headquarters, after being summoned for questioning.