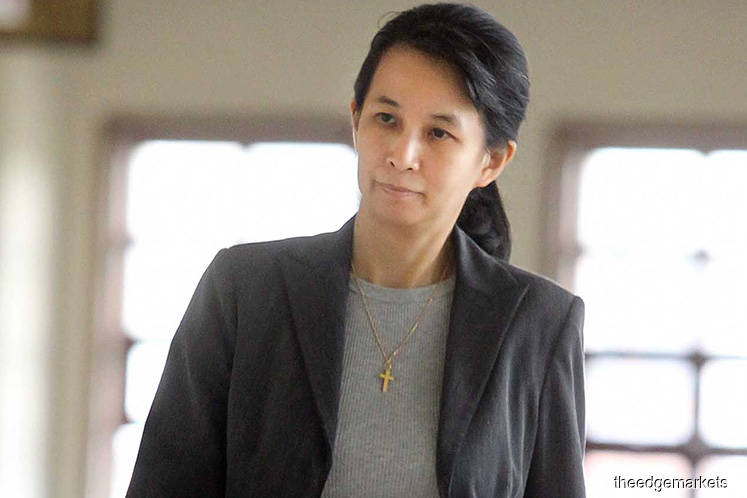 KUALA LUMPUR (July 22): Former AmBank relationship manager Joanna Yu Ging Ping told the High Court here today that Low Taek Jho, also known as Jho Low, whom she had met in 2008, had suggested a code name to be used for ex-prime minister Datuk Seri Najib Razak's accounts with the bank to ensure confidentiality.
Yu is a witness in Najib's trial on the alleged misappropriation of money from SRC International Sdn Bhd. Najib is facing three charges of criminal breach of trust, one for abuse of power and three more for money laundering of RM42 million worth of SRC funds.
The funds as stipulated in the charge were RM27 million and RM5 million that were transferred into his accounts on Dec 26, 2014 and RM10 million on Feb 10, 2015.
Today, Yu said: "This was the first individual account to have been designated with a code name, based on my dealings with my portfolio of corporate clients. The reason for the code name was based on a query made by Jho Low, who had requested for the account to be identified based on the said account number only, rather [than] by the name of the account holder to ensure confidentiality,"
Yu said this during the examination-in-chief by deputy public prosecutor (DPP) Budiman Lutfi Mohamed.
According to Yu, she had checked with the operations of AmBank whether this was possible and was informed that a code name could be assigned, but the account would still contain the identity of the account holder.
The current account was later designated with the code name "AmPrivate Banking-MR".
"I am not sure who decided on the code name itself. I was subsequently informed by Cheah Tek Kuang (former AmBank managing director) that the Governor of Bank Negara Malaysia (BNM) had been informed of this matter," she said.
Yu said Najib's current accounts with the bank had a high volume of transactions between 2011 and 2015.
The transactions included inward fund transfers from overseas in foreign currencies.
Yu told the court that for purposes of reporting the overseas inward fund transfer to BNM, she would enquire the reason from former SRC managing director Nik Faisal Ariff Kamil, who is also the mandated holder to oversee Najib's AmBank accounts.
"I would enquire from Nik Faisal the purpose of the said inward funds received and was informed that the said inward funds were 'gifts'," Yu said.
Yu said that for Najib's savings account with numbers ending 481 and current account ending 694, the former premier had issued a mandate later dated March 10, 2011 to Nik Faisal, to make, on Najib's behalf, enquiries on the status and details of the accounts.
According to Yu, the enquiries were related to confirmation of cheques issued for amounts exceeding RM250,000 and clearance of cheques involving amounts up to RM250,000 without further reference to Najib and Nik Faisal.
Yu said while the mandate permitted Nik Faisal to transfer money between Najib's accounts, it did not permit him to withdraw money from the accounts.
Read also:
Najib's SRC trial: Witness says Jho Low asked her to ensure ex-PM's credit card transactions would go through
Najib's SRC trial: Witness says ex-PM's AmBank accounts often overdrawn