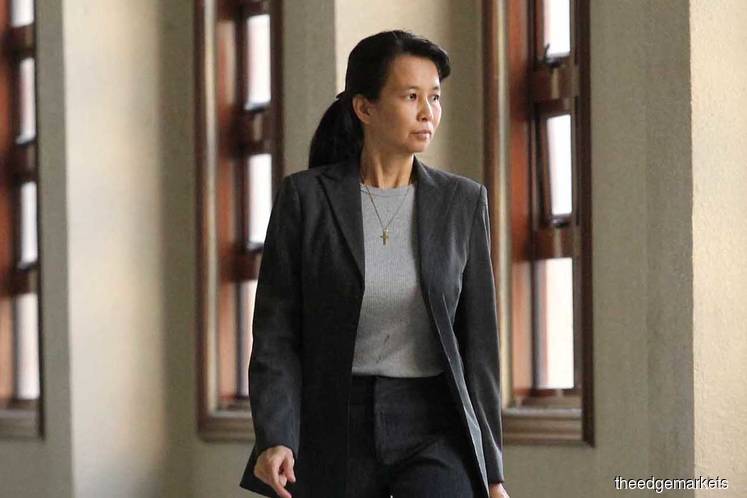 KUALA LUMPUR (July 22): Former AmBank relationship manager Joanna Yu Ging Ping told the High Court here today that prior to ex-prime minister (PM) Datuk Seri Najib Razak's purported over RM3 million jewellery purchase abroad on Aug 12, 2014, she received a message from Low Taek Jho asking her and the bank to ensure the purchase via Najib's Visa Platinum and Platinum Mastercard credit cards would go through.
Low is also known as Jho Low. Yu is a witness in Najib's trial on the alleged misappropriation of money from SRC International Sdn Bhd. Najib is facing three charges of criminal breach of trust, one for abuse of power and three more for money laundering of RM42 million worth of SRC funds.
The funds as stipulated in the charge were RM27 million and RM5 million that were transferred into his accounts on Dec 26, 2014 and RM10 million on Feb 10, 2015.
Today, Yu said that although the transaction was late, it was, however, subsequently approved by the credit card manager.
Yu said Low said this in his message: "Hi we are on holiday and there will be a purchase by you know who — PM"
Yu also said today Low had contacted her regarding Najib's purchase of the Chanel watch in Honolulu, Hawaii on Dec 22, 2014. Yu said Low had asked her to check whether there were problems with Najib's credit cards.
"I told him that we checked and there should not be any problem with the US$100,000 purchase as the credit limit was RM3 million. In the end, the transaction was cleared to the amount of US$130,625 that was billed via Visa Platinum (RM458,585)," she said.
Earlier, The Edge Financial Daily, reported that in April, prosecution witness R Uma Devi, who is AmBank Jalan Raja Chulan branch manager, confirmed that part of RM42 million originating from SRC was transferred into Najib's AmBank account ending 880.
Of that amount, at least RM3.3 million was used to clear outstanding charges on Najib's Visa and Mastercard platinum credit cards.
The cards were used to pay for several transactions between 2014 and 2015, including:
August 2014 — €763,500 (about RM3.52 million) across eight transactions with Swiss luxury jeweller De Grisogono in Italy.
December 2014 — US$130,625 in Honolulu, Hawaii, the US.
January 2015 — RM127,017 with Shangri-La Bangkok.
Read also:
'Najib used SRC funds to pay credit card bills amounting to RM3.9m'
Najib's SRC trial: Witness says ex-PM's AmBank accounts often overdrawn
Najib's SRC trial: Witness says Jho Low suggested code name for ex-PM's AmBank account