This article first appeared in The Edge Malaysia Weekly, on May 20, 2019 - May 26, 2019.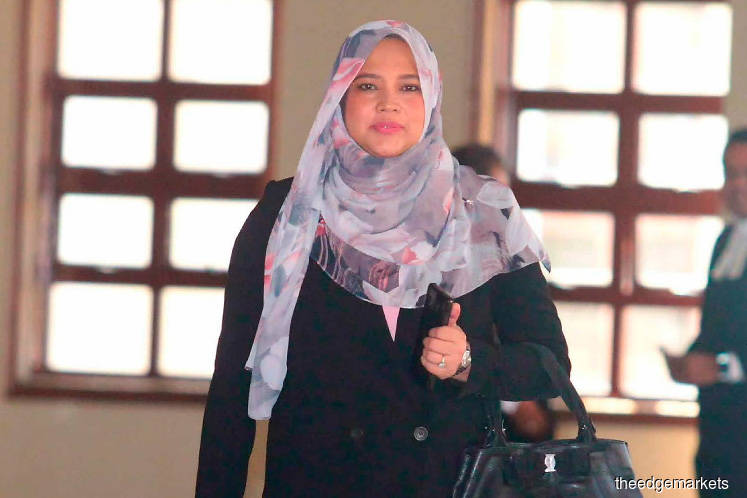 35     Azlida Mazni Arshad,46
THE vice-president of the legal and secretarial department of Kumpulan Wang Persaraan (Diperbadankan) said she agreed that KWAP's minutes of meetings never indicated that it was forced to approve loans to SRC International Sdn Bhd.
The previous week, Azlida testified that Najib had urged KWAP to expedite approval for SRC's application for a RM3.95 billion loan.
When cross-examined by Najib's counsel last week, she agreed that a handwritten note by the former prime minister on SRC's proposal letter dated June 3, 2011, for the RM3.95 billion loan stating "agrees with the proposal" was not an instruction from him, but rather a statement in agreement.
In addition, she agreed with the defence that KWAP's investment panel need not obey instructions from the prime minister or Cabinet members when approving a loan as it is expected to act and decide independently.
36     Aishah Ghazali, 37
Aishah, a former senior account executive with Ihsan Perdana Sdn Bhd (IPSB), told the High Court that she was instructed by the company's managing director, Datuk Dr Shamsul Anwar Sulaiman, to transfer funds in three tranches, amounting to RM42 million, to two AmBank accounts on Dec 26, 2014, and Feb 9, 2015.
She testified that she noted that the "fund transfers are for corporate social responsibility (CSR) programmes".
She also said she was asked by Shamsul to check with the bank as to the beneficiaries of the two accounts. However, IPSB's bank, Affin Bank, said it did not have the information.
From the testimonies of previous prosecution witnesses, the two AmBank accounts bearing number 211-202-2011880 and 211-202-2011906 belonged to Najib.
Aishah, who worked at IPSB from December 2011 to March 2015, testified that the company was tasked with undertaking CSR programmes.
She said between June 1, 2012, and July 29, 2015, the company's account with Affin Bank recorded deposits of RM40 million on Dec 24, 2014, and RM5 million each on Feb 5 and 6, 2015.
37     Datuk Dr Shamsul Anwar Sulaiman, 58
"If I knew [the] payment was for Najib, I would not have made it," the managing director of IPSB testified on May 15.
Shamsul claimed that he did not know the RM42 million transfers made by IPSB under his instruction to Aishah Ghazali between Dec 26, 2014, and Feb 10, 2015, went into Najib's accounts.
He testified that had he known the accounts belonged to Najib, he would not have made the three payments using IPSB's account.
He said IPSB was asked to deposit the amounts into Najib's AmBank accounts at the request of Yayasan Rakyat 1Malaysia (YR1M) CEO Ung Su Ling and YR1M project director Dennis See Thuan Buan.
"I merely followed the instructions of Ung and See, who are directors of YR1M, which contributed to IPSB's coffers," Shamsul told the court.
"I think Ung and See transferred the funds at the direction of Datuk Seri Azlin Alias, who was the principal private secretary of the [then] prime minister."
Azlin was killed in a helicopter crash in Semenyih, Selangor, in April 2015. Former minister of science, technology and innovation Datuk Seri Jamaluddin Jarjis also died in the incident.