This article first appeared in The Edge Malaysia Weekly, on January 13, 2020 - January 19, 2020.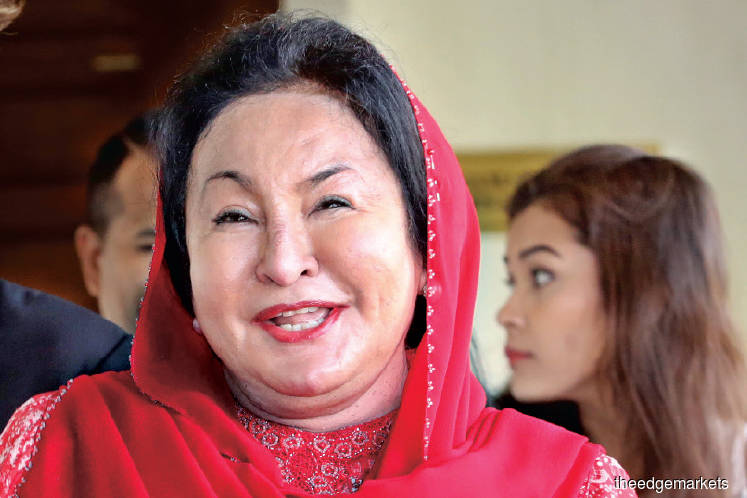 Rosmah is said to have purchased RM3.3 million worth of jewellery and charged it to her husband's credit card. Photo by Sam Fong/The Edge
THE SRC International Sdn Bhd trial has seen former prime minister Datuk Seri Najib Razak engage in a series of denials, deflection and finger-pointing to absolve himself from any part in the scandal in which he allegedly misappropriated RM42 million of government funds, which were funnelled into his personal accounts.
Najib, who is defending himself from the witness box over seven charges against him, has repeatedly pushed the blame onto several prominent figures in the case, namely fugitive businessman Low Taek Jho, former SRC managing director Nik Faisal Ariff Kamil and Datuk Azlin Alias, his deceased former private secretary tasked with handling his private accounts.
He has also accused the SRC board of directors of not doing their jobs to retrieve money siphoned off from the company when he was prime minister as well as the emeritus adviser to the company. Najib was also finance minister, and Minister of Finance Inc was the sole shareholder of SRC.
Najib has also pinned the blame on former finance minister II Datuk Seri Ahmad Husni Mohamad Hanadzlah for not having a proper plan to retrieve RM3 billion of SRC's funds frozen by Swiss authorities in 2013.
He then blamed AmBank and Bank Negara Malaysia for not informing him about the suspicious funds transferred to his personal accounts.
"The bank and Bank Negara should have informed me," he told the court.
He maintained his position that he believed the money was a donation from Saudi Arabia, saying that he met the late King Abdullah, who confirmed a cash gift to him, as the king was impressed with Malaysia's status as a moderate Muslim country with a significant non-Muslim population.
He said at the time, he was under the impression that the money arranged by Low was part of the Saudi donation.
Last week, Najib turned the attention to his wife, Datin Seri Rosmah Mansor, blaming her for purchasing RM3.3 million worth of de Grisogono jewellery, which was charged to Najib's AmBank credit card.
Najib had previously testified that the gift was purchased for the wife of Qatar's ex-prime minister Sheikh Hamad Jassim Jaber Al Thani.
Najib is alleged to have bought the jewellery during his and Rosmah's trip to Italy on Aug 8, 2014.
However, during the course of his cross-examination last week, carried out by ad hoc prosecutor Datuk V Sithambaram, Najib recalled the purchase, but said he did not know much about it as Rosmah had made the purchase.
"I paid for it with my card, but I asked my wife to choose it," said Najib.
Sithambaram then replied in jest, "Yes, sir. Women would know women better." This drew giggles in the courtroom.
Najib claimed that the RM3.3 million purchase was a single piece of jewellery.
However, Sithambaram revealed that the former premier's bank statements had listed the purchase of 10 items from de Grisogono on that day.
After studying the statements for a while, Najib told the court that it looked like Rosmah had bought a set of jewellery. "Looks like it was a set. I have to check with my wife. She did the purchase.
"I'll check with my wife and get back to you on that."
Having shifted the blame to everyone else, it is interesting to note that Najib has admitted that he had benefited from the funds in his accounts, although he claims that he was the victim of Low's manipulation.
Sithambaram: You say you are a victim of Jho Low's manipulation, but you gained. As a victim, you gained.
Najib: Yes, the way you put it. Yes.
Sithambaram: Usually victims will lose money.
Najib concurred.
Sithambaram: Here, it looks like the manipulator (Jho Low) lost money.
Najib: I can't say.
Sithambaram: I'm putting it to you that there is no way Jho Low was manipulating the accounts of the PM, finance minister and the most powerful political figure at the time.
Najib: I disagree.