This article first appeared in The Edge Malaysia Weekly, on April 22, 2019 - April 28, 2019.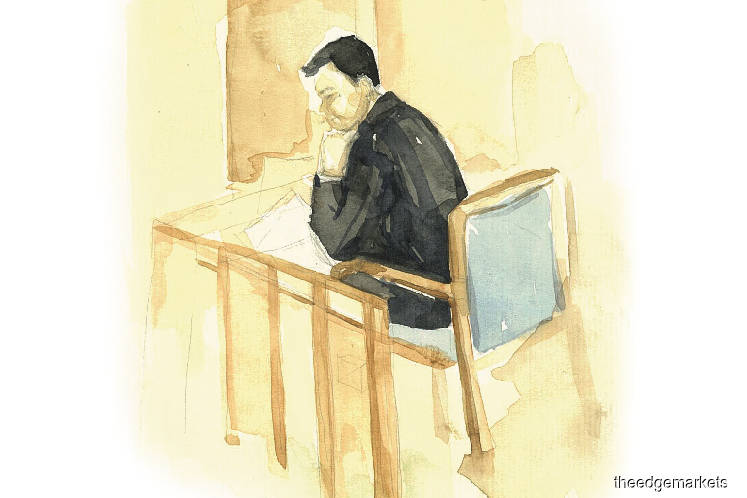 Mohamad Akmaludin testifying last Monday
1    MOHAMAD Akmaludin Abdullah, 35, assistant registrar at Companies Commission Malaysia (SSM)
Mohamad testified on the formation of SRC International Sdn Bhd, Gandingan Mentari Sdn Bhd and Ihsan Perdana Sdn Bhd. Gandingan Mentari and Ihsan Perdana are subsidiaries of SRC.
He produced related documents — including memorandums of association, articles of association and financial accounts — of these companies.
He testified that SRC was formed in January 2011 by its directors, Nik Faisal Ariff Kamil and Vincent Koh Beng Huat. In August 2011, 1Malaysia Development Bhd (1MDB) took control by putting RM1 million into the RM2 company. SRC was placed under the Ministry of Finance with Nik Faisal and Datuk Suboh Mohd Yasin remaining as directors last year.
2     Azizul Adzani Abdul Ghafar, 41, Bank Negara Malaysia manager
Azizul testified that on July 6, 2015, he was asked by Bank Negara investigating officer Ahmad Farhan Sharifuddin to lead a raid, with three colleagues, on AmBank in Jalan Raja Chulan, Kuala Lumpur. After waiting for about 12 hours, they retrieved details and documents related to Datuk Seri Najib Razak's accounts, SRC and Gandingan Mentari.
The documents were handed over by AmBank branch manager R Uma Devi and were placed in eight coloured folders. Azizul told the court that Uma Devi also provided documents on the alleged transactions done by Najib in his accounts.
He also revealed that apart from  his team, another group also raided the bank on the 24th floor that day and that the officers and other investigators came in four to five cars.
He added that Ahmad Farhan said the investigation and raid was being done under Part IV of the Anti-Money Laundering, Anti-Terrorism Financing and Proceeds of Unlawful Activities Act 2001, which spells out the central bank's requirement for financial institutions to report any suspicious activities. Following the raid, he lodged a report under Section 4 of the act for money laundering that night (July 6, 2015), based on the documents seized.
3     Mohammad Nizam Yahya, 39, analyst and Intelligence officer with Bank Negara's Monetary Investigation and Enforcement Department
Nizam testified that he was instructed by his department head, Abdul Rahman Abu Bakar, to lead a three-member team to retrieve documents from Affin Bank in Jalan Raja Chulan in relation to Ihsan Perdana on July 6, 2015.
Nizam met Affin Bank head of advisory and company secretarialship, Nimma Safira Khalid, who then provided him with documents related to Ihsan Perdana on July 7, 9, 10 and 13, 2015.
He made copies of the documents and gave them to the 1MDB special task force that year. He later gave the original documents to Wong Chiew Hoong, an officer in MACC's special investigation division.
4     Ahmad Farhan Sharifuddin, 32, Bank Negara manager
The investigating officer in the AmBank raid said there were actually three teams that conducted the raid and that he had been directed by Bank Negara director Abdul Rahman Abu Bakar, who also gave him the account numbers to look for.
He described July 6, 2015, as "memorable", and he then identified and verified the documents that had been marked.
During cross-examination by Harvinderjit Singh, the witness admitted that he had the BlackBerry seized from AmBank account relationship manager Joanna Yu as well as other documents. However, the witness said he did not know that Yu had had an exchange with Jho Low, whose real name is Low Taek Jho.
This prompted the defence to ask Ahmad Farhan to produce Yu's phone and a transcript of the purported conversation she had had with Jho Low. The defence cited the book Billion Dollar Whale, which had referred to a transcript of a text message exchange between Yu and Jho Low on a BlackBerry. The defence, through lead counsel Tan Sri Muhammad Shafee Abdullah, also gave Attorney-General Tommy Thomas' article, written when he was a lawyer, as grounds for the prosecution to produce the items.
Following lengthy arguments from the defence and prosecution, who had asked the former to show the relevancy of the items sought, judge Mohd Nazlan Mohd Ghazali agreed to allow the defence's request and directed Ahmad Farhan to produce them.
5     Badrul Hisam Mohamad, 42, senior manager of AmBank cheque-processing department
Badrul's role is to process and give value to cheques issued by customers of AmBank and AmBank Islamic. During the trial, he explained the technical cheque-clearing process.
Individuals and companies can only issue cheques from current accounts. The account holder does this by signing the cheques while company cheques can be signed by directors or authorised signatories, he explained.
Badrul declared that 16 AmBank cheques produced in court and issued in 2014 and 2015 were "good for payment". Najib issued 15 of the cheques, totalling RM10.77 million, from his accounts during the period while SRC issued one, transferring RM20 million to its subsidiary, Ihsan Perdana. One must refer to bank statements or successful inward clearing item reports to determine if the cheques have been cleared, he said.
Badrul also confirmed that millions of ringgit were deposited into and withdrawn from Najib's AmIslamic Bank account between 2013 and 2015. In one cheque for RM3.5 million issued to Hafarizam Wan & Aisha Mubarak, the receiving CIMB Bank mistakenly encoded it as RM3,500. It took six days before the transaction could be concluded.
He explained that when a cheque hits a negative balance, the AmBank relationship manager in charge of that account — if available — will communicate with the account holder or his nominee for further deliberation. Communications are carried out via official channels only. BlackBerry? "Not that I know of," said Badrul.
6     Zulkarnain Mohamad, 46, interior designer with ABS Trend Master Sdn Bhd
Zulkarnain, who is a permanent resident, told the court that he received a call from one Amirul, the prime minister's residence manager, asking him to carry out renovations at Najib's Jalan Langgak Duta home.
He testified that Amirul took him to the house in September or October 2014, and he was asked to build a storeroom for Najib and his family to store their clothes. Work expanded to renovating the guardhouse used by the police and repairing the place where garbage is placed, he said.
He testified that he charged RM243,000 for the work and he received a RM100,000 cheque from Najib's account and deposited it into the company's account. He said although initially promising to complete the work in three to four months, the renovation was completed within two to three months.
7       Mohamad Zakariya Zearat Khan, 35, owner of MOZ (M) Sdn Bhd
Zakariya testified that he was called in by Amirul to look into the frequent water disruptions at Najib's Jalan Langgak Duta residence and, being a Syabas contractor, he suggested that a water tank be built on the grounds.
His company charged RM56,500 for the work. The tank stores up to 6,000 litres of water, he said.
Zakariya issued an invoice in December 2014 and received a cheque for that amount on Feb 26, 2015.