This article first appeared in The Edge Malaysia Weekly, on April 8, 2019 - April 14, 2019.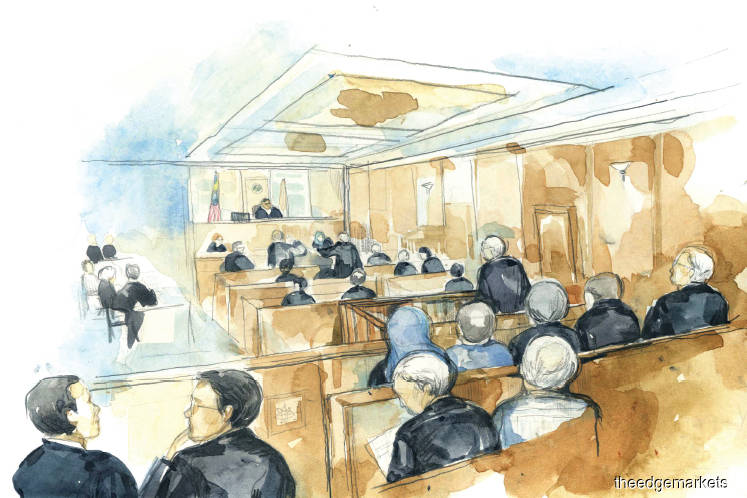 Thomas making his opening statement before Mohd Nazlan.
LAST Wednesday, Datuk Seri Najib Razak's trial on seven criminal charges finally commenced — exactly 10 years after he was sworn in as Malaysia's sixth prime minister. Eight months after the charges were first read, Attorney-General Tommy Thomas now has to prove beyond reasonable doubt that Najib siphoned RM42 million from 1MDB's former unit, SRC International Sdn Bhd
April 3 would have marked Datuk Seri Najib Razak's 10th year as Malaysia's sixth prime minister had he not led Barisan Nasional to a staggering electoral defeat on May 9 last year, which, among others, was due to rising voter dissatisfaction over alleged mismanagement in 1Malaysia Development Bhd.
As Najib's hugely anticipated trial for the misappropriation of RM42 million in 1MDB's former subsidiary, SRC International Sdn Bhd, gets underway, the public may focus their attention on 7,000 pages of documents and possibly 60 witnesses to be called by the prosecution in the coming weeks and months.
The documents were handed to Najib's defence team in 32 bundles along with copies of 26 witness statements when the trial commenced last Wednesday.
Some 50 documents from the Companies Commission of Malaysia (SSM) related to SRC International and its subsidiaries, Gandingan Mentari Sdn Bhd and Ihsan Perdana Sdn Bhd, were tendered in court as evidence through the first witness, SSM assistant registrar Muhammad Akmaluddin Abdullah.
The documents and Akmaluddin's statement were marked as evidence by Kuala Lumpur High Court judge Mohd Nazlan Mohd Ghazali.
It is history in the making. The highest executive officer put on trial on Malaysian soil to date was the then deputy prime minister Datuk Seri Anwar Ibrahim, who is now in the running to become the eighth prime minister.
Several prominent lawyers from the prosecution and defence in this trial as well as other trials involving Najib and 1MDB in the coming months, had participated in Anwar's case.
Pressure will surely mount on the judiciary to handle the prosecution of a former prime minister, which is never before seen in the country's 62-year history.
Najib is facing one count of abuse of power, three counts of criminal breach of trust (CBT) and three money laundering charges involving a sum of RM42 million from SRC International.
It has taken eight months since Najib was first charged on July 8 last year, but the Pakatan Harapan government can now cross off a huge electoral promise to bring him to court — a little more than a month before its first anniversary of taking over Putrajaya from Barisan Nasional.
Dwindling support
The "Bossku" phenomenon that has gained much traction for Najib on social media did not translate into actual support on his date at the court complex.
Last Wednesday, fewer than 50 supporters greeted Najib when he arrived at the court in a black sedan bearing registration number TN50 — representing the Transformasi Nasional 2050 initiative, his administration's attempt to outshine the Wawasan 2020 vision advocated by his mentor-turned-electoral opponent and successor Tun Dr Mahathir Mohamad.
Clad in a dark blue suit, Najib was accompanied by his son Norashman. His supporters held a short prayer before both father and son entered the courtroom.
Notably absent was Najib's wife, Datin Seri Rosmah Mansor, who herself is facing 19 money laundering and corruption charges.
Sarawak Report editor Clare Rewcastle-Brown, who had actively written about alleged misappropriation in 1MDB and SRC, was also present to watch the trial from a video link room for media personnel.
"It is about getting justice and getting the right results from the trial. So, I think it is about Malaysia getting vindication ... I'm sure everyone is relieved that the proceedings have begun," she told reporters before leaving the court complex to boos and jeers from Najib's supporters.
'Let the trial commence'
The SRC trial was initially scheduled for Feb 12 to March 29, but was adjourned due to four ongoing appeals, which will now be decided on April 10.
Last Wednesday's hearing initially faced the prospect of another last-minute postponement with a motion tabled by the defence to say the seven charges faced by Najib were defective and did not meet the conditions of the Criminal Procedure Code.
Najib had roped in former solicitor-general II Datuk Yusof Zainal Abiden for this motion. He had represented the former prime minister when he was questioned by the Malaysian Anti-Corruption Commission (MACC) last year, not long after his removal from Perdana Putra, the prime minister's office in Putrajaya.
Prior to his retirement in 2012, Yusof spent most of his professional life in the Attorney-General's Chambers, where he had prosecuted, among others, Perwaja Steel Bhd's late chairman Tan Sri Eric Chia in 2004 and PKR de facto leader (now president) Datuk Seri Anwar Ibrahim in what was known as the Sodomy II trial in 2010.
Yusof and his team of three former public prosecutors filed the motion after 11am last Wednesday with a copy handed to Mohd Nazlan and the prosecution before the trial was scheduled to start.
Najib's lead counsel, Tan Sri Muhammad Shafee Abdullah, called for the motion to be heard first as "the trial will become a nullity if the court rules in favour of the defence and amends the charges", pointing to how the charges had been amended previously.
"The purported money laundering and MACC offence should not and could not be preferred in the first place. The CBT charges are defective as they do not specify all elements of the offence and that (the charges) are bad for the duplicity it creates," he said.
The prosecution, however, questioned the timing of the motion, with lead prosecutor Tommy Thomas calling it "audacious" and asked for it to get "the treatment it deserves".
If the charges were indeed defective, it would be to the defence's advantage, the prosecution pointed out.
After hearing submissions from both parties, Mohd Nazlan ruled that the motion would be heard at another time. "There is no impediment to the accused. Let the trial commence," he said.
RM10 million for house renovations and BN component parties
With that, Thomas set the ball rolling by reading his 10-page opening statement (see page 64), which described Najib as having "maximum political power and control of the nation's purse" during his tenure as both prime minister and minister of finance.
"Not being satisfied with the holding of the twin positions of prime minister and minister of finance, the accused was also appointed the chairman of the board of advisers of 1MDB and adviser emeritus in its fully owned subsidiary, SRC International," he said.
He added that the power to direct and manage both companies did not lie with the respective boards but with Najib due to his positions. He went on to outline Najib's seven charges.
"Evidence will abundantly establish that the accused was directly involved in the decision on behalf of the government of Malaysia to give government guarantees for the loans amounting to RM4 billion received by SRC International from Kumpulan Wang Persaraan (Diperbadankan)," he said.
Evidence will also prove that Najib laundered the monies by transferring RM27 million to Permai Binraya Sdn Bhd and RM5 million to Putra Perdana Construction Sdn Bhd, he added.
Najib is also alleged to have issued 15 cheques for a total of RM10.78 million to pay for renovations to his houses in Jalan Langgak Duta and in Pekan, Pahang, as well as to various component parties of BN, where he was chairman previously.
"Evidence will also establish that in December 2014, the accused's credit card was charged US$130,625 for expenses made at Chanel, an exclusive fashion store in Honolulu," said Thomas.
Mohd Nazlan adjourned the trial to April 15.
1MDB in the spotlight
The SRC trial is the first of many for Najib. Including the seven SRC-related charges, he faces a total of 42 counts of corruption, abuse of power and money laundering.
A more prominent case will be the one relating to his 21 counts of money laundering under AMLA 2001 and four counts of corruption under the MACC Act 2009 involving RM2.3 billion allegedly siphoned from 1MDB and deposited into his personal AmBank accounts, which is slated to begin on May 14.
Najib also faces an additional six CBT charges alongside former Treasury secretary-general Tan Sri Mohd Irwan Serigar Abdullah for misappropriating RM6.64 billion of government funds.
Additionally, he faces three money laundering charges involving RM47 million in his three AmBank accounts and one count under the MACC Act 2009 for tampering with 1MDB's FY2014 final audit report.