This article first appeared in The Edge Malaysia Weekly, on April 22, 2019 - April 28, 2019.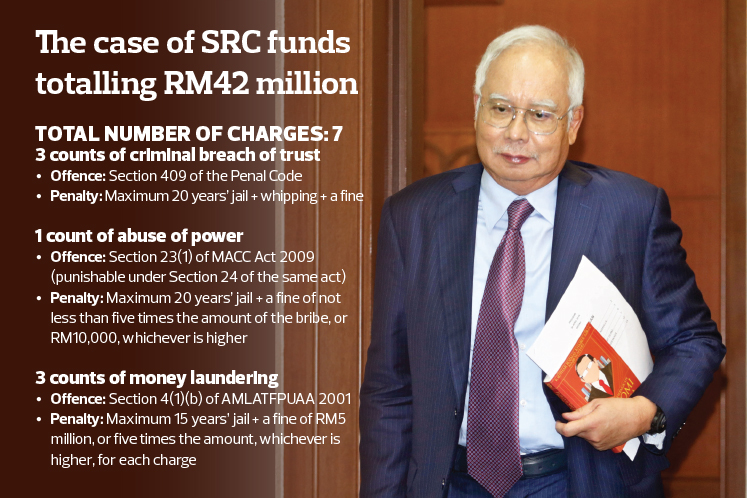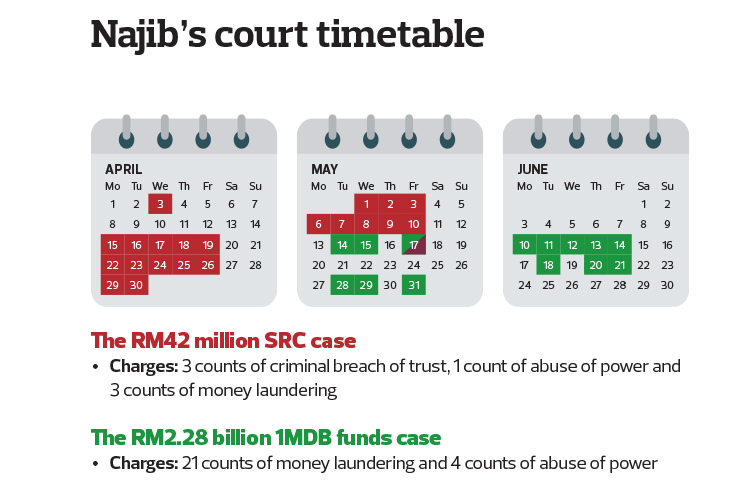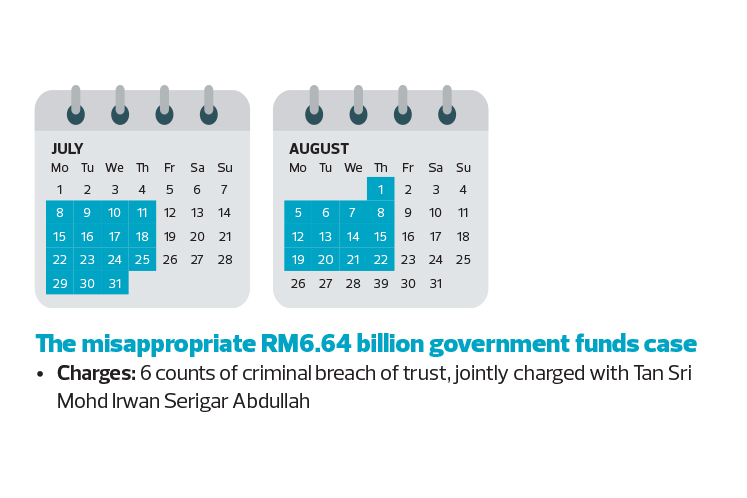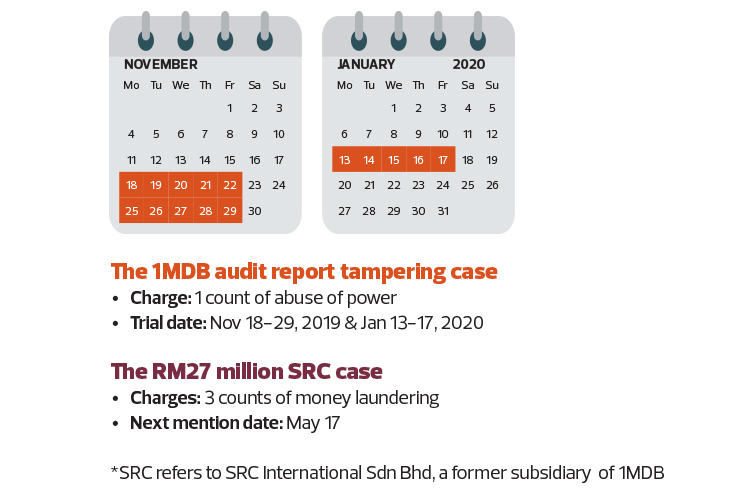 AROUND this time last year, Datuk Seri Najib Razak was busy criss-crossing the country, campaigning to ensure victory for himself, Barisan Nasional and Umno in the 14th general election that was fixed for May 9.
However, over the past week, the former prime minister has been on a different kind of journey — going in and out of different High Courts to answer charges. This is in addition to the seven charges of criminal breach of trust, abuse of power and money laundering involving RM42 million in the SRC International Sdn Bhd case, which is being heard before High Court judge Mohd Nazlan Mohd Ghazali.
Last Tuesday and Wednesday, he was asked to go to another High Court presided by Mohamed Zaini Mazlan. The 66-year-old politician, once the most powerful man in Malaysia, was heard asking his aides and lawyers which case he was actually attending.
That has been Najib's hectic schedule in the four days of his SRC trial last week. And this is likely to go on in the coming months, and possibly, years as he makes his way to different High Courts in Kuala Lumpur, and the Court of Appeal and Federal Court in Putrajaya.
On Tuesday, Najib attended the mention of the 1Malaysia Development Bhd (1MDB) audit-tampering case, for which he is jointly charged with former 1MDB president and CEO Arul Kanda Kandasamy. In this case, Zaini fixed 15 days for the trial — from Nov 18 to 29 and from Jan 13 to 17, 2020.
The next day, Najib appeared in Zaini's court again to face three other charges of money laundering involving RM27 million, purportedly of SRC funds — a different transaction from the one on trial now involving RM42 million.
Come May 14, Najib will be facing trial for 25 charges, including 21 for money laundering of RM2.28 billion between 2011 and 2014, under the Anti-Money Laundering, Anti-Terrorism Financing and Proceeds of Unlawful Activities Act (AMLATFPUAA) 2001, and four charges of abuse of power under the Malaysian Anti-Corruption Act 2009.
SRC RM42 million trial: Last week's recap
Najib spent 32 hours or four eight-hour "shifts" at the Kuala Lumpur Court Complex last week when the trial completed its fifth day on Thursday. (Friday's session was postponed to April 22.)
A group of women supporters from his hometown of Pekan came to show their support on one of the days.
On another day, a local college student came to ask him, "Where did the money go?", but was stopped short by the police. Reporters and photographers wasted no time in capturing the moment when Najib signalled to his escort not be too rough with the student.
At times, Najib was seen reading Dunia Tanpa Tembok (World Without Walls), a local book described as "a collection of global geopolitical analysis".
At other times, however, the book was kept by his side. Sitting on a wooden bench — with a small pillow for comfort — in the dock for hours seemed to tire him.
The court heard, among others, details of the Bank Negara Malaysia raids on AmBank and Affin Bank in Jalan Raja Chulan, Kuala Lumpur, on July 6, 2015.
Bank Negara officials had visited the two banks to obtain documents on accounts linked to Najib and SRC as part of investigations by the 1MDB special task force. Investigators were showed specific transactions by the banks, which implicated Najib in the current trial.
The initial raid on AmBank was in relation to purported breaches of Part IV under AMLATFPUAA, namely obligation of reporting by the bank.
Although it was never reported whether any action was taken against AmBank because of this, the bank told Bursa Malaysia on Nov 23, 2015, that Bank Negara had imposed a RM53.7 million penalty for non-compliance of certain regulations by AmBank (M) Bhd and AmBank Islamic Bhd.
The prosecution and defence showed their flair in court last week, with each taking potshots at the other.
Datuk V Sithambaram of the prosecution hinted that lead defence counsel Tan Sri Muhammad Shafee Abdullah was being a political man when the latter cited Attorney-General Tommy Thomas' commentary in 2016 to the defence's advantage while defence lawyer Harvinderjit Singh implied that the prosecution did not understand how cross-examination of a witness works.
Both sides won an application each — the defence to secure more documents from one witness and the prosecution was allowed to rope in beneficiaries of Najib's cheques as witnesses.
This week: Other recipients of Najib's cheques and the conversation between Jho Low and an AmBank officer
This week, the court before Nazlan is expected to hear the testimony of other witnesses to whom Najib had issued cheques.
It was reported last Thursday that AmBank cheque-processing department senior manager Badrul Hisam Mohamad, 42, testified on the legitimacy of 15 cheques, totalling RM10.77 million, issued by the former prime minister.
Already, two witnesses of a possible 15 have testified — namely designer Zulkarnain Mohamad of ABS Trend Master Sdn Bhd, who testified on the renovations done to Najib's Jalan Langgak Duta home, and MOZ (M) Sdn Bhd owner Mohamad Zakariya Zearat Khan, on how he was paid RM56,500 to build a water tank on the same property.
Najib also issued 13 other cheques, the recipients of which are expected to be called to testify from April 22 onwards.
In no specific order, the recipients include the Umno Penang liaison committee, Umno Johor Baru division, Sabah-based United Pasokmomogun Kadazandusun Murut Organisation, Vital Spire Sdn Bhd, consulting firm Centre for Strategic Engagement, legal firm Zulqarnain & Co, Pekan-based Rumah Penyayang Tun Abdul Razak, Syadilah Enterprise, Solar Shine Sdn Bhd and law firm Hafarizam Wan & Aisha Mubarak.
The latter may be linked to Umno lawyer Datuk Mohd Hafarizam Harun, who is facing two money laundering charges involving RM15 million — one of which is related to Hafarizam depositing RM3.5 million into the law firm's account via a cheque issued by Najib.
There were also individual recipients — Datuk Asmadi Abdul Talib, who was most likely BN's GE14 candidate for the Merbau Pulas state seat in Kedah, property developer Lim Soon Peng and one Manisah Othman.
In the meantime, those keeping track of the trial will be looking forward to hearing the conversations between AmBank's relationship managers and various nominees of the bank accounts of Najib and SRC, including the missing duo — businessman Low Taek Jho and SRC CEO Nik Faisal Ariff Kamil.
The documents are expected to be produced by Bank Negara investigation officer Ahmad Farhan Sharifuddin, 32, who could not pinpoint them last Friday.