This article first appeared in The Edge Malaysia Weekly, on January 27, 2020 - February 02, 2020.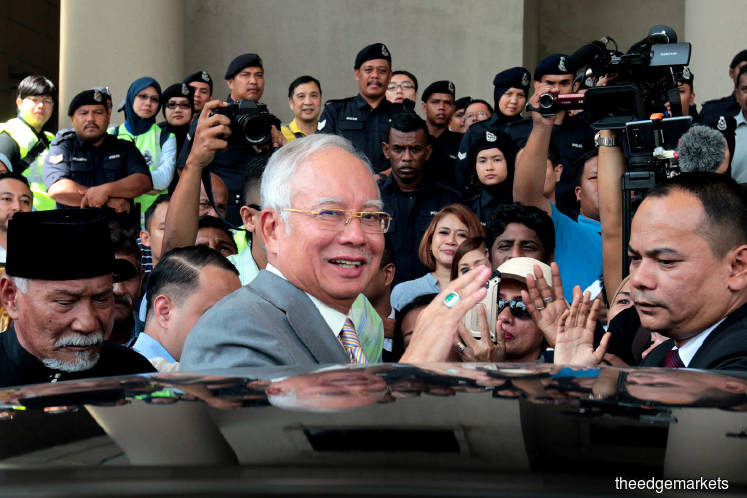 ALTHOUGH an initial RM2 billion loan that SRC International Sdn Bhd obtained from Kumpulan Wang Persaraan (Diperbadankan) or KWAP in 2011 had yet to be productively invested, Datuk Seri Najib Razak prodded the pension fund to expedite a further RM2 billion loan a year later.
His urging was made even though SRC, established to pursue Malaysia's interest in strategic renewable energy investments abroad such as coal, had yet to settle on a concrete investment opportunity.
Najib's total nonchalance — perhaps even recklessness, given the billions of ringgit in pension funds at risk and his positions then of prime minister and finance minister — was evident in court last week when he testified that he had pushed — but not instructed — for the second loan.
Blasé about where the funds were invested, Najib pushed for a further RM2 billion loan, hoping SRC "would do better".
Despite urging for the loans, the Pekan member of parliament said he had left it wholly to SRC's board of directors to handle the company's operations.
He added that he never got involved, despite having a prominent role in the company — he was adviser emeritus and the single shareholder in SRC whose advice on strategic matters concerning SRC must be referred to — because he "trusted them completely", even though the board had never issued any board minutes or passed any shareholders' resolutions. In short, he had not asked any questions as to what happened to the first loan.
During cross-examination by ad hoc prosecutor Datuk V Sithambaram, Najib was asked whether he had ever requested to meet the SRC board over the RM4 billion.
Najib: No, not as a board.
Sithambaram: It appears that SRC has never passed any board minutes or shareholders' resolutions. You don't think you should have asked to meet the board then?
Najib: MoF (Minister of Finance) Inc should have alerted me if there was a problem.
Najib testified that he had hoped by approving the second loan, SRC would be able to do better.
Sithambaram asked him if he was aware that after the first loan had been approved, SRC had done nothing with that money.
"I was hoping it would do better," Najib replied, and admitted to getting Cabinet approval for the government guarantee for the second RM2 billion loan with the same hopes.
He conceded he had not informed the Cabinet that SRC had yet to utilise the first KWAP loan.
He said the government guarantee for the second loan was approved by the Cabinet and endorsed by him because he had an indication that SRC was making inroads into multiple renewable energy investments.
"There was some indication that they (SRC) were venturing into renewable energy such as coal and needed additional capital to secure the investment," Najib said.
But he agreed with Sithambaram's suggestion that there was no concrete evidence of any progress since SRC's inception in 2011 and that he was not informed of any progress.
Following the issuance of the government guarantee for the second RM2 billion KWAP loan, the transfer of SRC ownership to MoF Inc was instituted.
Even then, the court was told that Najib had broke protocol when he did not consult the then finance minister II Datuk Seri Ahmad Husni Hanadzlah, when he approved SRC's transfer of ownership to MoF Inc.
In his witness statement, Najib said the protocol requires the decision to go through the second finance minister, although he qualified his statement by saying that the decision did not involve any financial implication to the government and that it could be approved by either himself or Husni.
 
Sat put when KWAP's RM3.6 billion was frozen 
Even when in 2013, the Swiss government froze RM3.6 billion of SRC's funds (KWAP's loan) over suspicions of money laundering, Najib testified that he did not attempt to get the money back from the Swiss authorities.
And yet, he had blocked Ahmad Husni's request to lead a delegation to Switzerland to retrieve the funds, ostensibly because the latter lacked "a proper plan".
Najib: I was expecting him to tell me in detail how he was going to do it. He needed to submit a proper plan [to the Cabinet for approval first].
Sithambaram: Since this was your baby, and RM4 billion was stuck, did you suggest to him, as a responsible finance minister, a plan?
Najib: I didn't suggest to him.
Sithambaram then asked him if he had come up with a plan.
"No. I left it to the management [of SRC]," Najib replied.