This article first appeared in The Edge Malaysia Weekly, on August 19, 2019 - August 25, 2019.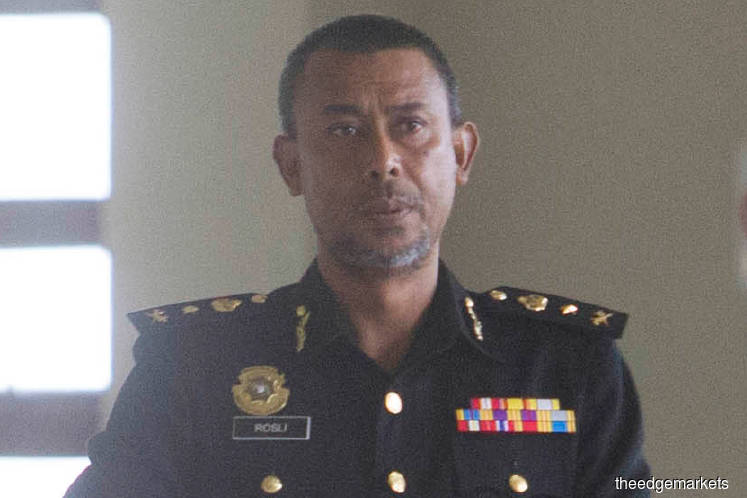 IN 2015, the Malaysian Anti-Corruption Commission came closest to nabbing businessman Low Taek Jho and SRC International Sdn Bhd CEO Nik Faisal Ariff Kamil, who were then overseas.
Officers of the commission managed to track them down for the purpose of recording their statements in relation to 1Malaysia Development Bhd (1MDB). Nik Faisal had his statement recorded twice while Low — better known as Jho Low — once, revealed MACC investigating officer Senior Assistant Commissioner Rosli Hussain last week.
"Nik Faisal's statement was recorded on Oct 17 and Oct 30, 2015, in Jakarta, Indonesia, and Jho Low's statement, on Nov 27, 2015, in Abu Dhabi," the prosecution's 57th witness told judge Mohd Nazlan Mohd Ghazali.
The two were not arrested or bonded as the MACC had managed to record their statements, Rosli, 54, said.
On Dec 5, 2015, the MACC finally managed to record a statement from the then prime minister Datuk Seri Najib Razak in relation to the RM2.6 billion deposited in his personal accounts with AmBank from abroad, following shocking reports of the transactions by Sarawak Report and The Wall Street Journal in early July.
Rosli's testimony in relation to Jho Low and Nik Faisal — both now in hiding — appears to be laying the groundwork for the statements to be possibly admitted as evidence by the prosecution, especially if the court is satisfied that the witnesses could not be found.
Investigators themselves detained following charge sheet leak
The MACC was hampered in its investigations in 2015 as Najib was still in power and calling the shots.
Ironically, when the MACC and police — then led by Tan Sri Khalid Abu Bakar as inspector-general of police — did not see eye to eye in their investigations, Rosli even found himself at the opposite side of the interrogation table.
Together with the then MACC deputy public prosecutor Ahmad Shazalee Abdul Khairi, Rosli was investigated and detained by the men in blue, following the leak of a purported charge sheet against Najib that year.
Also detained were Jessica Gurmeet Kaur — an officer from the Attorney-General's Chambers who was part of a special task force — and Tan Sri Rashpal Singh, a former MACC adviser.
Red notices have only drawn blanks
In court, Rosli recounted how a number of individuals sought in connection with the misappropriation of funds belonging to 1MDB and SRC were quick to fly the coop.
Jho Low — purportedly the mastermind behind the embezzlement of billions of dollars — was one of the first, leaving the country via the Sultan Abdul Aziz Shah Airport as early as May 29, 2015. He has not returned to Malaysia since.
Nik Faisal hung around longer, only fleeing via KLIA on May 7 last year, two days before the  14th general election, when voters threw out Najib's coalition government. Then, the new Pakatan Harapan administration began to seriously investigate the allegations of grand theft involving the two government-owned companies.
Rosli said an arrest warrant was issued for Jho Low and Nik Faisal sometime after GE14 and that their passports were revoked on June 14 and July 25 last year respectively.
An Interpol red notice was also issued for Nik Faisal and Jho Low last year and a similar notice was issued for individuals Toh Lean Seng, 46, and Mohamad Redzuan Adamshah, 44, in relation to SRC.
Why they are being sought by the authorities is unclear, but Redzuan was a recipient of funds from Najib, a witness in the SRC trial had testified.
In addition to the four, four other Jho Low associates, namely Eric Tan Kim Loong, Terence Geh Choh Heng, Casey Tang Keng Chee and Jasmine Loo Ai Swan, were also put on the red notice list.
Tan left the country in May 2015, several weeks before Jho Low. Geh and Tang left a day before GE14, on May 8, while Loo escaped on April 28 last year.
Tan is said to be Jho Low's family friend and the frontman for several of the questionable transactions.
The other three held top positions in 1MDB. Tang was its business development executive director; Geh, executive director of finance; and Loo, general counsel and group strategy executive director.
Rosli testified that they had left the country based on immigration records and that they never returned to Malaysia.
He said the MACC had tried to track them down since May last year and that their passports had been blocked. Subsequently, arrest warrants were issued and Interpol assistance sought. Furthermore, a red notice was issued by the National Central Bureaus in China, Hong Kong, Myanmar, Indonesia, Thailand, India and St Kitts and Nevis for all of them.
Until today, there have been no updates on the red notices, he added.