This article first appeared in The Edge Malaysia Weekly, on March 4, 2019 - March 10, 2019.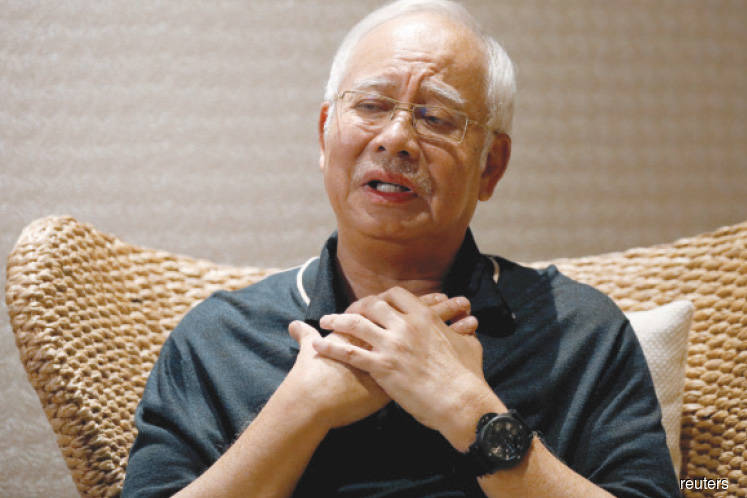 Najib is becoming more visible, coming up with all sorts of stunts and gimmicks
I will state the obvious and be blunt about it. When showing up for one by-election after another — in Semenyih currently, Cameron Highlands before that and probably Rantau after this — Datuk Seri Najib Razak is campaigning more for himself than for Umno or BN.
These by-elections have conveniently presented Najib with a stage to garner public and media attention.
His goals are crystal clear — to portray a positive public image before the criminal charges against him are heard in court and to attack the Pakatan Harapan government. Perhaps by doing the latter, Najib is contributing to BN's cause in the by-elections.
That's my take.
The matter has not escaped the attention of several political analysts and observers, who say that they have discussed it. One analyst tells me, "I really don't know what he is doing … whether he's helping the party or himself."
However, Dr Oh Ei Sun who had been Najib's political secretary, says he is mainly campaigning for himself as he wants to maintain his political visibility and relevance, hoping sooner or later that "he will be able to rehabilitate himself politically and even legally".
But Oh, now a senior fellow at the Singapore Institute of International Affairs, says in the process, Najib would need Umno/BN as a platform to relaunch himself, "so in that sense, he is campaigning for them".
An Umno insider says Najib has been operating (read campaigning) on his own, "aided by Umno leaders but not on an official basis". Datuk Seri Mohamad Hassan, the Umno deputy president carrying out the duties of the party president, has been quoted as saying that Najib comes to the campaign rounds on his own and "we can't stop him if he wants to help".
Najib's detractors are naturally saying that it looks like he is hijacking the campaign from the current Umno leadership, which has put in a lot of hard work in trying to revive the party.
He is also seen "behaving as if he is still Umno president and prime minister". At an event in Shah Alam not too long ago, he was introduced by the event organiser as the "prime minister on vacation".
Given such a scenario, perhaps he should not have quit as Umno president and BN chairman following the disaster of GE14. Perhaps he should have just vowed to carry on and try to get Umno back on its feet. That would justify what he is doing now without being accused of kacau daun or "disturbing" plans laid by the current Umno leaders.
But it seems Najib had never intended to relinquish his party post, going by what Johor Umno leader Datuk Nur Jazlan Mohamad had said days after the May 9 general election. Nur Jazlan was reported as saying, "Even after we lost the election, he refused to immediately resign as party president until he was forced to do so on May 12."
Recall that three days after polling day, Najib announced his resignation, accepting responsibility for the dismal performance of Umno/BN and promising to allow new leaders to chart the course of the party.
Is he regretting that move? And is he going back on his word?
"At the time, right after the unprecedented electoral defeat, all Umno/BN fingers were pointed at him as the culprit, so it was untenable for him to continue," says Oh. "As time elapsed and, seeing the new Umno leadership as ineffective, he was able to rejuvenate and present himself as one of the smarter ones among the lot."
Whether that is true is debatable, of course.
But the fact is Najib is becoming more visible, coming up with all sorts of stunts and gimmicks. He is even rebranding himself — moving from an aristocratic image to a working class one and donning the typical Mat Moto outfit of black t-shirt, jeans and sneakers. The obvious target is the simple kelas pertengahan (middle-class) Malays.
I would expect that there is a sufficient budget to carry out such operations. Perhaps his psywar team, strategists, advisers and cyber troopers are still working for him. "This, I can't confirm and can only guess," says Oh. An analyst claims he was told that "a few are assisting him".
We see a lot of Najib with the rakyat, mostly Malays. Detractors say all that is staged. One observer says: "His recent campaign on Facebook Live was watched by almost 12,000 people. But we can't say if they are genuine supporters or loyalists who follow him around."
One thing is for sure — there is no bringing down the curtain on the Najib show, at least for now.
Mohsin Abdullah is a contributing editor at The Edge. He has covered politics for more than four decades.
Save by subscribing to us for your print and/or digital copy.
P/S: The Edge is also available on Apple's AppStore and Androids' Google Play.