This article first appeared in The Edge Financial Daily, on August 9, 2018.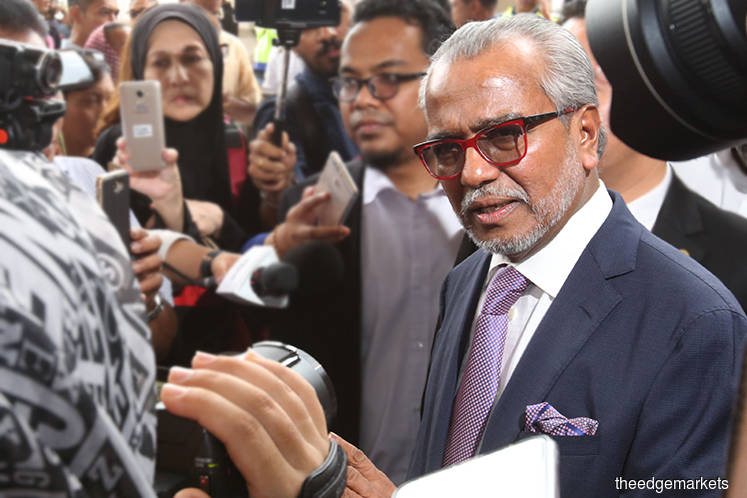 KUALA LUMPUR: Tan Sri Muhammad Shafee Abdullah, leading former prime minister Datuk Seri Najib Razak's legal defence team, is unhappy with the transfer of judges in Najib's case involving money laundering, criminal breach of trust (CBT) and abuse of power in relation to SRC International Sdn Bhd.
During court management for the case yesterday, Muhammad Shafee said the sudden transfer in the midst of "a serious, highly publicised case" like this may create a controversy over Malaysian judiciary's transparency.
He claimed the transfer may also taint public perception towards the credibility of the two judges involved — Datuk Mohd Sofian Abd Razak and his replacement, Justice Mohd Nazlan Mohd Ghazali.
Sofian was the High Court judge who presided over the first day of Najib's CBT and abuse of power case on July 4. However, questions were raised concerning his ability to act fairly when he was found to be a brother of Pahang Umno state executive council member Datuk Seri Mohd Soffi Abdul Razak. Najib, formerly Umno president, is an Umno MP for Pekan, Pahang.
Sofian was replaced by Nazlan and transferred to a High Court Civil Division last Wednesday. The letter of transfer was reportedly signed by the Chief Judge of Malaya Tan Sri Zaharah Ibrahim.
Defending Sofian's appointment, Muhammad Shafee said he was randomly selected for the case via the court's e-filing portal.
"It could very well be a normal transfer, but the administration in the Putrajaya judiciary ought to be sensitive to [the matter], because justice is not only needed to be done but must also be perceived to be done," Muhammad Shafee said.
"If we are talking about how justice must be done in the open court and how justice must be transparent, the system is not transparent. Something is seriously wrong — why do you not transfer judges in the open?"
Muhammad Shafee also cited previous cases, which he said affirmed a judge's political association does not provide sound evidence for a judge's recusal.
The right thing to do, he said, is for the two parties in the case to propose Sofian's recusal or for Sofian himself to consult with them on the recusal — although he thinks Sofian "has no such duty in law" to recuse himself because of his familial ties.
"What is ironical and interesting is neither [the prosecution nor the defence] asked for the recusal of Justice Sofian." He said under Najib's instruction, a letter was sent to Justice Zaharah on Tuesday to address the matter, and to have the letter put on the record at the High Court yesterday.
In response, deputy public prosecutor Manoj Kurup questioned why the matter was raised if the defence has no qualms about Nazlan's credibility as a judge, adding that Sofian's transfer was a normal transfer of judges.
"We are complaining about the process. Justice Sofian has heard the gag order [on July 4], and it is a partly-heard case," Muhammad Shafee said, adding he has no problem with Nazlan's ability in handling the case.
"It is not fair [to Sofian and Nazlan]," he said, adding the public may be looking at both the judges, and the national judiciary, with "jaundiced eyes" following this.
"You do not promote justice by doing this behind closed doors," he added. "It is not fair to do things behind my back on the guise of transfer." The prosecutors of the case and Najib's legal defence team have agreed to wait for a response from the chief judge on the matter.