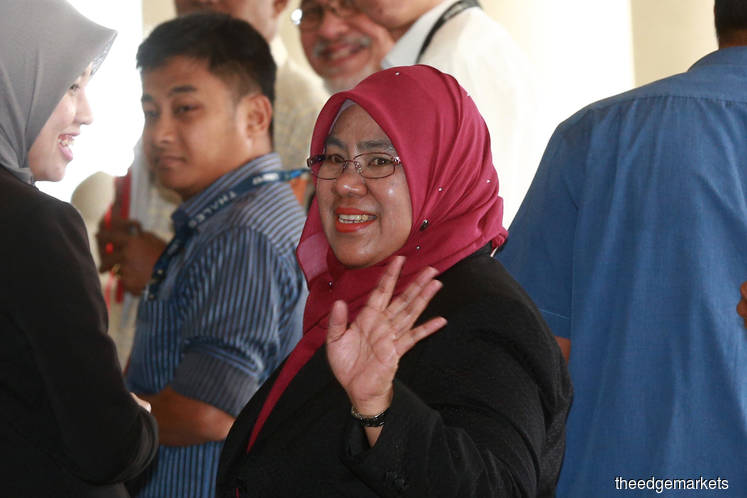 Prosecution witness no. 7: Companies Commission of Malaysia (CCM) registrar of companies Rafidah Yahaya. (Photo by: Sam Fong/The Edge)
KUALA LUMPUR (Aug 29): Six months after Datuk Seri Najib Razak was appointed Prime Minister in 2009, a new article was added to Terengganu Investment Authority Bhd's (TIA) articles of association to grant him significant control over the company, which eventually became 1Malaysia Development Bhd (1MDB).
Article 117 of the articles of association for TIA, which states that any financial commitments, restructuring or anything to do with the government guarantee — for the interest of the company, country or government policy — must require the prime minister's written approval, was inserted on Sept 2, 2009.
Two days later, Najib moved to change TIA's name to 1MDB, Companies Commission of Malaysia (CCM) registrar of companies Rafidah Yahaya told the High Court today.
Rafidah, who is the seventh prosecution witness in the 1MDB-Tanore trial, said Najib signed a letter in his capacity as finance minister saying that TIA's sole shareholder, the Minister of Finance Inc (MoF Inc), has passed a resolution for TIA's name to be changed to 1MDB.
The name was subsequently changed on Sept 25, 2009.
Najib was minister of finance from Sept 23, 2008. He was appointed as prime minister on March 26, 2009.
He now faces 25 charges of abuse of power and money laundering involving billions of the state-owned fund in this trial alone.
In the opening statement of the trial which commenced yesterday, appointed public prosecutor Datuk Seri Gopal Sri Ram raised that Najib made himself "plenipotentiary" over the state-owned fund.
"The accused was instrumental in changing its name to 1MDB. He also caused amendments to be made to the articles of the company to place himself in sole control of important matters concerning the business and affairs of the company," said the opening statement.
TIA was a sovereign wealth fund established in March 2009, and was made into a federal entity a few months later, which paved the way for its transformation into 1MDB.
Rafidah, 48, was present today to authenticate company information documents related to 1MDB and its subsidiaries.
Her examination-in-chief continues at 2.30pm with deputy public prosecutor Mohamad Mustafa P Kunyalam.
See also: Sri Ram's opening statement at Najib's 1MDB-Tanore trial