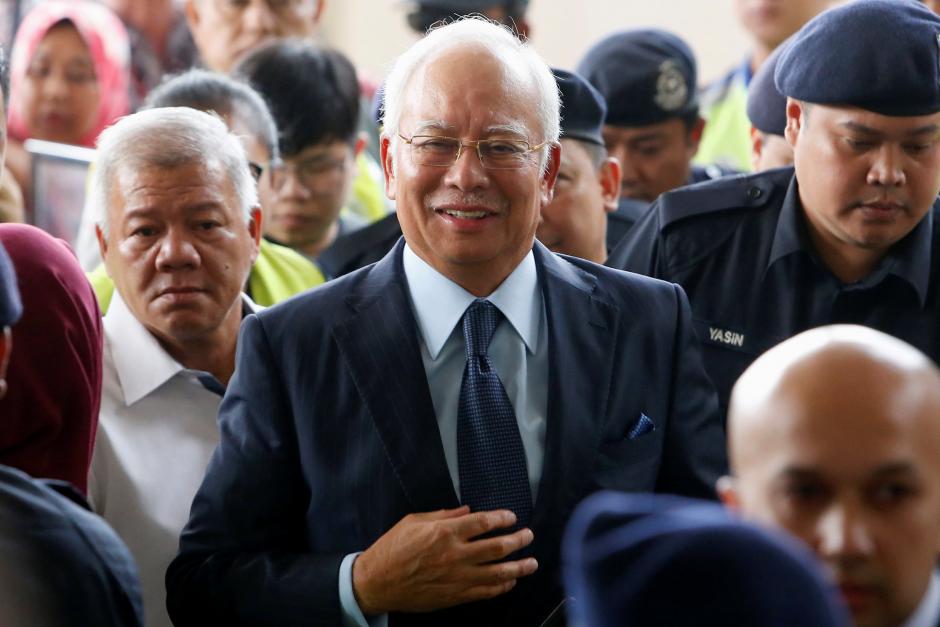 KUALA LUMPUR (April 18): The High Court today rejected Datuk Seri Najib Tun Razak's defence team's application to disqualify the sixth prosecution witness from testifying in his ongoing trial involving SRC International Sdn Bhd funds amounting to RM42 million at the High Court here.
Justice Mohd Nazlan Mohd Ghazali ruled that Zulkarnain Mohamad's testimony was relevant to the seven charges faced by Najib.
Earlier, soon after Zulkarnain, who is the interior designer of ABS Trend Master Sdn Bhd, took his oath to give his evidence, counsel Tan Sri Muhammad Shafee Abdullah, who led Najib's defence team, made the oral application to disqualify the witness from giving his testimony on grounds that the latter's testimony was irrelevant to the charges framed against his client.
"We (the defence team) have to raise this point before the witness begins giving his evidence. His evidence is irrelevant to the charges as my client was charged with receiving the money not on spending the money," he said.
The prosecution led by Attorney-General Tommy Thomas argued that Zulkarnain's testimony might show the trail of money laundering in terms of receiving illegal proceeds.
Deputy public prosecutor Muhammad Saifuddin Hashim Musaimi submitted that the evidence from the sixth prosecution witness was necessary to the prosecution's case for the purpose of knowledge of money trail on the part of the accused.
Ad-hoc deputy public prosecutor Datuk V Sithambaram countered that the prosecution called this witness to prove the ingredients of money laundering charges against the accused.
"That is why the witness is being called. The court cannot rule out his evidence without hearing the evidence first, because it is premature at this stage," he said.
At the opening of the afternoon session proceedings, the prosecution had made another oral application for tomorrow's proceedings to be adjourned as members of the prosecution have to attend a meeting on the separation of the office of the Attorney-General and the public prosecutor.
Muhammad Shafee then concurred to the proposal saying that the defence team members also have to attend urgent meetings.
Justice Mohd Nazlan allowed both applications on the postponement and adjourned tomorrow's proceedings to Monday, April 22 at 9 am.
Najib, 66, is facing three counts of criminal breach of trust, one charge of abusing his position and three counts of money laundering over SRC International funds amounting to RM42 million.