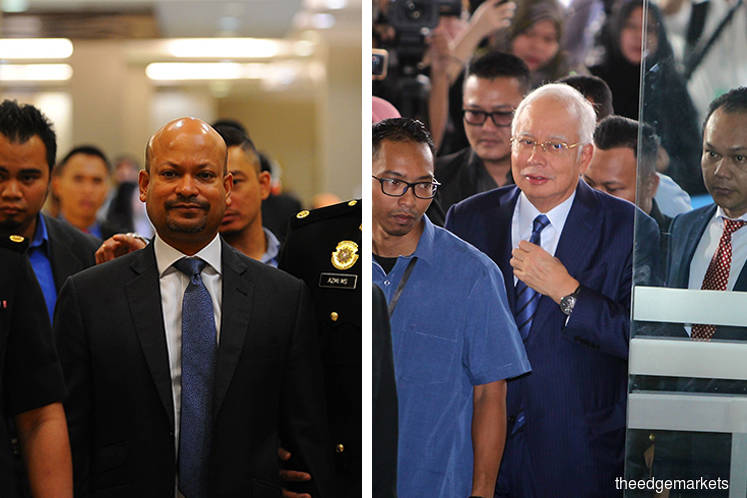 KUALA LUMPUR (April 16): The joint trial for former prime minister Datuk Seri Najib Razak and Arul Kanda Kandasamy for the alleged tampering of 1Malaysia Development Bhd's (1MDB) audit report for the financial year ending 2014 (FY14) will start on Nov 18 this year.
During case mention today, High Court Judge Mohamed Zaini Mazlan set the case management date on Aug 29 this year, in the presence of both accused.
The trial period was, meanwhile, set on Nov 18 to 29, 2019, and Jan 13 to 17, 2020.
Deputy public prosecutor Fatnin Yusof told the High Court the prosecution has 30 witnesses, and will call in around 25 of them through the course of the proceeding.
Najib, who also has his third day of hearing for the case on 1MDB subsidiary SRC International Sdn Bhd today, was seen chatting with Arul Kanda before the session began.
Najib was accused of obtaining bribe in the form of protection from disciplinary action by ordering the amendment of the 1MDB FY14 final audit report while it was being prepared between Feb 22 and 26, 2016 before being submitted to the Public Accounts Committee (PAC) on March 4 the same year.
Arul Kanda, who was formerly the chief executive officer of 1MDB, was accused of abetting the former prime minister on the same.
The charges were read separately against the duo, with Najib charged under Section 23(1) under The Malaysian Anti-Corruption Commission (MACC) Act 2019 and Arul Kanda under Section 28(1)(c). Both pleaded not guilty.
Najib's defence team was led by Tan Sri Muhammad Shafee Abdullah, while Arul Kanda was represented by Datuk N Sivananthan.
Najib and Arul Kanda were first charged on the alleged tampering of the 1MDB audit report in January this year at the Sessions Court, before the case was transferred to the High Court.
The alleged tampering first came to light on Nov 26, 2018 after Auditor-General Tan Sri Dr Madinah Mohamad told a press conference that two amendments were made on the audit report when Tan Sri Ambrin Buang was Auditor-General.
The amendments were the removal of paragraphs mentioning the presence of Low Taek Jho, or Jho Low, at a 1MDB board meeting, as well as a change in the final status of 1MDB.